What's up with… Ciena, Vivo & Nokia, ransomware attacks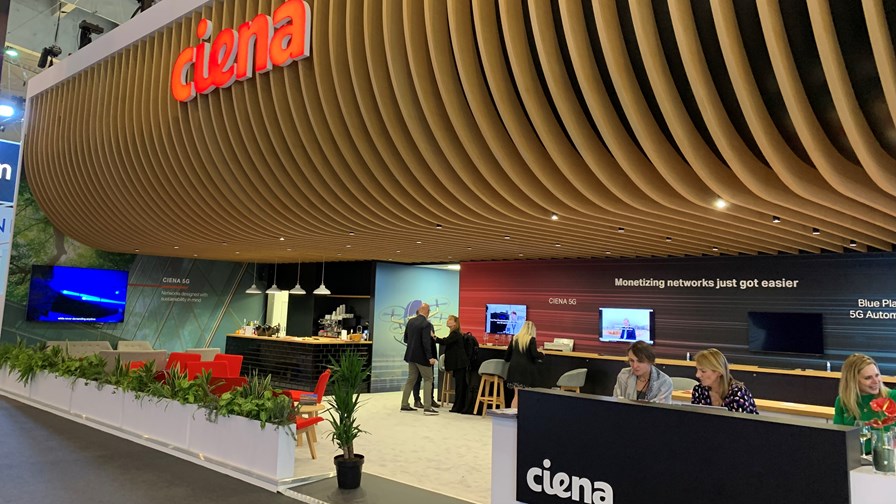 Ciena's sales soar but its stock tanks
Vivo exits Germany after legal battle with Nokia
Ransomware attack costs are soaring, finds Verizon Business
In today's industry news roundup: Ciena's stock slumps by 11% after sales increase by 19.3%; smartphone vendor Vivo says auf wiedersehen to Germany following legal battle defeat to Nokia; Verizon Business report highlights the growing cost of enterprise ransomware attacks; and more!
What does a tech company have to do to please its investors? Apple unveiled a broad array of enhanced and new products on Monday at its Worldwide Developers Conference, including its much-anticipated XR headset, yet its share price slipped for the second day running, losing 0.7% of its value in early trading on Tuesday to $178.24. But if you think that's surprising and disappointing, take a look at the stock performance of optical, routing and networking software systems vendor Ciena: It reported a 19.3% year-on-year increase in fiscal second-quarter revenues to $1.13bn, higher than expected, and adjusted earnings before interest, taxes, depreciation, amortisation (EDITDA) and one-time costs of $180.6m, up by 39.7%, also better than expected, but its share price plummeted by almost 11% to $42.42. "We delivered outstanding results for the fiscal second quarter as we were able to ship more to customers with continued improvements in supply chain dynamics," noted president and CEO Gary Smith. "We are confident in our ability to take market share given our backlog and strategic industry position with market-leading technologies and an expanding addressable market," he added in prepared remarks. But outstanding results aren't good enough, it seems. So why did the stock tank? That's all down to the company's slightly revised full fiscal year sales growth rate forecast – Ciena now believes it will increase full-year sales by between 18% and 22%, compared with its previous forecast of 20% to 22%. Is that enough to justify an 11% share price correction? That's the kind of craziness that makes people stuff banknotes under their beds rather than investing in listed companies.
Chinese smartphone vendor Vivo appears to have exited Germany. In a short message on its website (available here in German), the company said: "Unfortunately, Vivo products are currently not available in Germany. Accordingly, no product information is available on our German website." It added that users of Vivo products can still contact its customer service team and will also be receiving software updates in the future. This comes shortly after the Mannheim Regional Court in Germany ruled in favour of a Nokia demand for an injunction over two patents that have been allegedly violated, reported the blog FOSS Patents. Vivo's latest statement on the matter, dated 30 May 2023, claimed that the company "fully respects intellectual property and is committed to continuous innovation through extensive research and development. In recent years, Vivo has entered into cross-licensing agreements with numerous leading companies. We have negotiated with Nokia about renewing the mutual licences, but so far have not been able to reach an agreement. We firmly believe that Nokia has not yet fulfilled its obligation to offer a licence on "FRAND" (fair, reasonable and non-discriminatory) terms". "We are disappointed with the first-instance judgments of the Mannheim Regional Court of April 6, 2023 and following Nokia's enforcement of these judgments, we have suspended the sale and marketing of the relevant products in Germany. We have appealed the decisions and will review other options. In the meantime, we remain in close contact with Nokia to finalise the licence negotiations in accordance with the FRAND terms", it said (available here in German).
Enterprises are being forced to pay increasing high prices to tackle ransomware attacks (malware that encrypts an organisation's data and extorts money to restore access), according to latest data from Verizon Business. In its 16th annual Data Breach Investigations Report (2023 DBIR), the company noted that the median cost of ransomware has been "soaring" and has more than doubled over the past two years to US$26,000. And almost all incidents, some 95%, have resulted in a loss of anywhere between $1 and $2.2m. Based on the analysis of 16,312 security incidents and 5,199 breaches, the report also found "a dramatic rise" in the frequency of ransomware attacks, with more experienced in the past two years than in the previous five years combined. Ransomware remains one of the top cyberattack methods, accounting for nearly a quarter (24%) of all breaches. However, denial of service (DoS) attacks (compromising the availability of networks and systems, making them unavailable to its intended users), topped the chart, accounting for 42% of all incidents. The report found, though, that the "human element still makes up the overwhelming majority of incidents, and is a factor in 74% of total breaches, even as enterprises continue to safeguard critical infrastructure and increase training on cybersecurity protocols." It added that financial motivation, accounting for 97% of all cyberattacks, is the number one reason behind them, while only 3% are motivated by espionage – a finding that surprised Verizon as it was expecting to see "some increased activity in state-sponsored attacks, be it espionage-related or not, due to the ongoing conflict in Ukraine," according to the report. Responding to a question by TelecomTV at an event in central London, Chris Novak, managing director of cybersecurity consulting at Verizon Business, highlighted education and healthcare as two sectors that have experienced an increase in breaches, as typically they have been seen as easier targets.
The generative AI (GenAI) craze has clearly reached the full FOMO stage, with everyone and their dog announcing integration of GenAI capabilities into their product portfolio. The latest to join the GenAI gang is telecom software behemoth Amdocs, which appears to have provided its marketing team with too many caffeinated beverages because the name of its new product is… amAIz (yes, it's a lower- and upper-case fandango). According to Amdocs, amAIz is a "pioneering telco generative AI framework" that "combines carrier-grade architecture leveraging open-source technology with large language AI models, creating a foundation for global communications service providers, enabling them to benefit from the immense potential of generative AI." Say what? Well, it seems Amdocs is using its recent tie-up with Microsoft (which, of course, is a stakeholder in ChatGPT developer OpenAI) to develop use case templates that address the "telecom industry-specific challenges of security, data privacy, scalability, and the complexity of data governance" that telcos face each day. That sounds useful (possibly even amAIzing)! Find out more in this announcement.
The new CEO of Twitter, Linda Yaccarino, has begun her role at the helm of the social media giant, less than a month after being appointed by owner and former CEO Elon Musk. "It happened – first day in the books! Stay tuned…," she tweeted, without elaborating further. Yaccarino, who was previously chief of advertising sales at NBCUniversal, is reportedly not the only executive that Twitter has nabbed from the media company: Joe Benarroch, formerly senior vice president of communications, advertising and partnerships has also moved to Twitter to take on business operations role, according to Reuters. In December 2022, after a public poll suggested Musk should leave his role as CEO of Twitter, he stated that he would step down "as soon as I find someone foolish enough to take the job". Yaccarino joins the company at a time when it is struggling to make gains from ad revenue.
Indian telco giant Bharti Airtel has been given a mandate to provide cloud and content delivery network (CDN) solutions to India's national platform for open education digital content, dubbed DIKSHA (Digital Infrastructure for Knowledge Sharing). As part of the approval, granted to the telco by the Digital India Corporation (DIC), a not-for-profit company set up by the Ministry of Electronics and Information Technology in India, Bharti Airtel will act as "the trusted partner for end-to-end management of DIKSHA's online platforms across its mobile application and website." Its app and website will now be powered by Airtel Cloud and will be made "seamlessly accessible to students across the country for free educational content in their preferred Indian language," the company noted in its announcement. Another responsibility for Airtel Cloud will be to lead the migration of DIKSHA to Oracle Cloud, as well as to offer its managed services along with CDN solutions. Airtel Cloud is part of its business-to-business arm, Airtel Business, and claims to provide "a one-stop destination for a hybrid cloud strategy".
New Zealand-based operator Spark has joined forces with satellite provider Lynk Global to test satellite-to-mobile services from the end of this year. A "subset" of Spark's mobile customers will be able to opt-in to a free trial of the service, which initially will enable periodic text messaging during the day before being expanded towards "a more regular service during 2024" as more commercial satellites are deployed. This is also when, according to the New Zealand operator, the service will be offered to its customers "more broadly". Its plans for the future also include adding voice and data services to the satellite-to-mobile connectivity offering. "While satellite can't provide 100% coverage – as you need a clear line of sight to the sky to get connected – it certainly adds an additional layer of resilience, particularly now, as we face increasingly severe and frequent weather events due to climate change," explained Tessa Tierney, Spark's product director. Going forward, she added, the telco needs to "integrate the technology into our network and achieve regulatory approval to launch the service". Read more.
- The staff, TelecomTV