Apple's Vision Pro headset boosts telcos' 5G prospects – analyst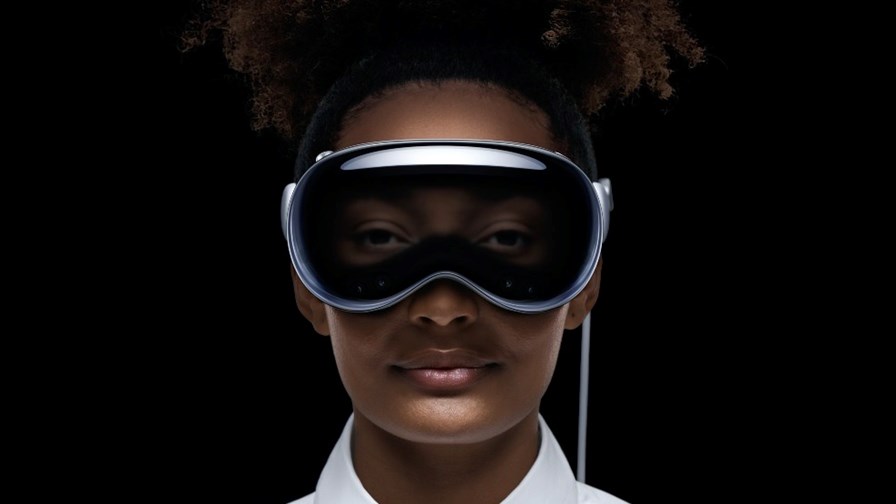 Apple's Vision Pro extended reality headset has been unveiled
Vendor describes it as a "spatial computer"
Market reaction is mostly positive, but the device's high price and power supply are highlighted as potential drawbacks
One experienced industry analyst believes Vision Pro will provide telcos with a great opportunity to make the most of their 5G standalone capabilities
As expected, Apple used its Worldwide Developers Conference to unveil its extended reality (XR) headset, dubbed the Vision Pro, and at least one industry analyst believes it will play a major role in upcoming telco 5G marketing efforts.
The device (pictured above), which the company refers to as a "spatial computer" in its official announcement, has a "fully three-dimensional user interface controlled by the most natural and intuitive inputs possible — a user's eyes, hands, and voice," and is run using "visionOS, the world's first spatial operating system," noted Apple. You can see a range of images and videos of the Vision Pro, as well as details about the technical specifications, here.
"Today marks the beginning of a new era for computing," boasted Apple CEO Tim Cook. "Just as the Mac introduced us to personal computing, and iPhone introduced us to mobile computing, Apple Vision Pro introduces us to spatial computing. Built upon decades of Apple innovation, Vision Pro is years ahead and unlike anything created before – with a revolutionary new input system and thousands of groundbreaking innovations. It unlocks incredible experiences for our users and exciting new opportunities for our developers."
One of those experiences will be a more immersive way to engage with content from The Walt Disney Company, as this trailer shows.
And in introducing the new device to the developers conference (see image below), he added, "It's the first Apple product you look through, not at." It's also the first XR headset that displays the eyes of the person wearing it to those looking at them so that 'eye contact' is maintained, as the image above shows (though in real life I wonder if it might look a bit more like this…). More on this later.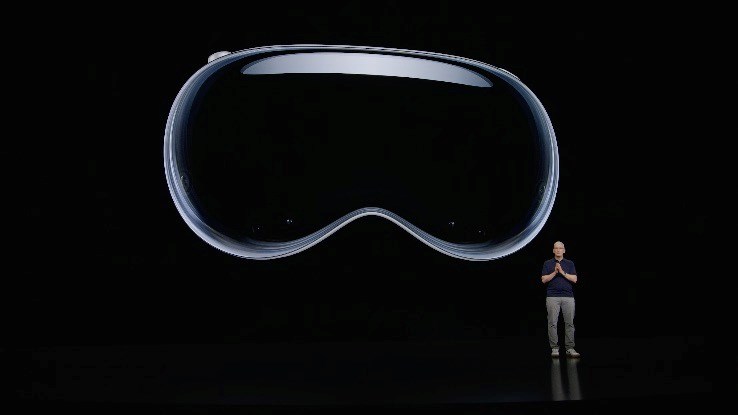 And it's unclear whether an observer might see any eyebrows raised when the retail price of the Vision Pro is mentioned – it will also cost a cool US$3,499 when it becomes commercially available early next year.
But that price tag isn't enough to dampen the enthusiasm of PP Foresight analyst Paolo Pescatore, who was amongst the audience at Apple Park in Cupertino, California, as Cook unveiled the company's XR device.
"Make no mistake, this is a wow moment for the company and the consumer electronics industry. Today marks Apple's biggest device launch in a while (since the watch)... [a device] that will change the way we interact and engage with content forever," noted Pescatore in comments shared with the media.
"In time, this will be another key revenue-generating segment for Apple, which offers plentiful scope for growth among enterprises and consumers. This new platform will generate appeal among enterprises; a key target market for Apple… However, expectations are high and it will take time for this category to stand on its own," noted the analyst. "It is apparent that, for now, it's about Apple putting a stake in the ground, providing developers with all the tools to create next-generation experiences," which it is doing by enabling the Apple developer community to "take advantage of the powerful and unique capabilities of Vision Pro and visionOS to design brand-new app experiences, and reimagine existing ones for spatial computing" using a software development kit (SDK) that will be available later this month.
"This is the start of a long journey," stated Pescatore. "Apple has grand plans to revolutionise this segment as it has done with the iPhone – remember, this is its first foray. The hardware, services and experiences will evolve considerably over time to include other devices. Apple's focus around deftly blending the digital and real world brings a new category into the XR mix: Spatial computing, as Apple positions it, brings with it the start of a whole new platform. This provides a much-needed boost and is expected to reignite interest in the market. If anyone can kickstart demand for this segment, then Apple can," noted the analyst.
And if it does fuel demand, the telco marketing teams, who might remember what a boost the iPhone gave to their 3G contract and device sales when it was first introduced in 2007 (especially for the communications service providers that struck initial exclusive distribution deals with Apple), might find their heartbeats racing.
That's because Pescatore, who has years of telco marketing consulting experience, believes the device "will be paramount for telcos in their quest to bundle more devices, services and subscriptions and drive higher volumes and revenue. It will be launched at a critical time when telcos will be switching on 5G standalone and other new network features that will help to enhance the mixed reality experience."
The analyst added: "These new generations of devices, technologies and networks represent a window of opportunity to drive uptake and sway customers from rival platforms and devices."
And Pescatore believes Apple now has time to boost the potential applications and services market that can take advantage of the XR device. "While now might not be the right time to roll out a new product category," given general macroeconomic conditions and the cost-of-living crisis that is affecting many countries, "providing developers with the tools to create will help fuel desire and demand for a new glitzy product. Having Disney on stage is a strong endorsement and validates Apple's unique approach. Other media giants will now quickly follow. This gives Apple plenty of scope on pricing… For sure, a new device will provide much-needed excitement for the entire developer and creative communities," he added.
The launch also shows that Apple is "quietly stepping up its capabilities in AI. Most, if not all, new features are powered by AI. We should not underestimate the sheer intelligence behind the scenes to optimise experiences for users. Unlike rivals, Apple is not overplaying the role of AI across its device portfolio, platform and services offerings, instead showcasing the merits," added Pescatore.
But there are undoubtedly hurdles to overcome. The Vision Pro might be light and easy to use, but it also relies on a separate battery pack, "which might prove to be a hindrance to some users," he pointed out.
And, of course, the price tag is very high end, which will limit the market, but Pescatore believes that while some will "feel it is too high, this is a premium high-spec device that developers are crying out for. There are no other accessories required due to the very nature of its design and attention to detail," and while "price will always be a factor, creating demand is far more complex than lowering prices," he added.
The price also, understandably, is referenced by long-time tech and investment analyst Richard Windsor in his analysis of the launch: He believes it will buy Apple some time while also giving it a first-mover advantage.
"At $3,500 per device, volumes are going to be very low but crucially, Apple has staked out a position in the metaverse from which it can build over time," he noted in his Radio Free Mobile blog. "This means [Apple] can bring the price down as the technology improves as well as introduce new form factors from this base position when or if the market emerges. The metaverse is something that Apple has to address because if it replaces the smartphone over the next 20 years and Apple has no position, then it will suffer the same fate as many smartphone makers before it. Even if it is a total failure and billions of dollars go down the drain, it is a worthwhile insurance policy to ensure the longevity of the iOS ecosystem – Apple Vision Pro is the first iteration of that insurance policy," noted Windsor.
But in getting a product to market early, Windsor believes Apple has "been forced to make some hideous compromises in order to deliver the kind of experience that everyone has come to expect."
The first of those compromises is the "layering of the real world on top of the virtual instead of the other way around. True AR [augmented reality] is where the world is viewed through a regular pair of glasses but then the virtual world is superimposed on top through the transparent lens. This is a far better method of delivering AR but it is so technically challenging that no one has yet been able to get to grips with it. Doing [it] this way around makes it possible for all-day use as well as negating some of the weird and creepy use cases that Apple has gone with in its marketing material. In order to deliver the kind of user experience worthy of its brand, Apple has been forced to take this route, even if it has no long-term future," noted Windsor, who is not a fan of the "eyesight feature which displays the user's eyes on an external screen."
The second compromise is that the device is "tethered to a power supply. This takes the form of mains power or an external battery pack just small enough to fit into a back pocket that supplies 2 hours of usage. Apple has made this compromise so that the device will not be heavy and bulky and still have a great user experience, but it is much better than full tethering, where the compute [resource] runs on an external computer," noted Windsor.
Despite these compromises and his view that "Apple is not taking the right long-term path with the Vision Pro," Windsor believes the device "provides a placeholder for the metaverse and an insurance policy just in case the metaverse is the next big computing platform."
- Ray Le Maistre, Editorial Director, TelecomTV