Chile tops Ookla's global fixed broadband ranking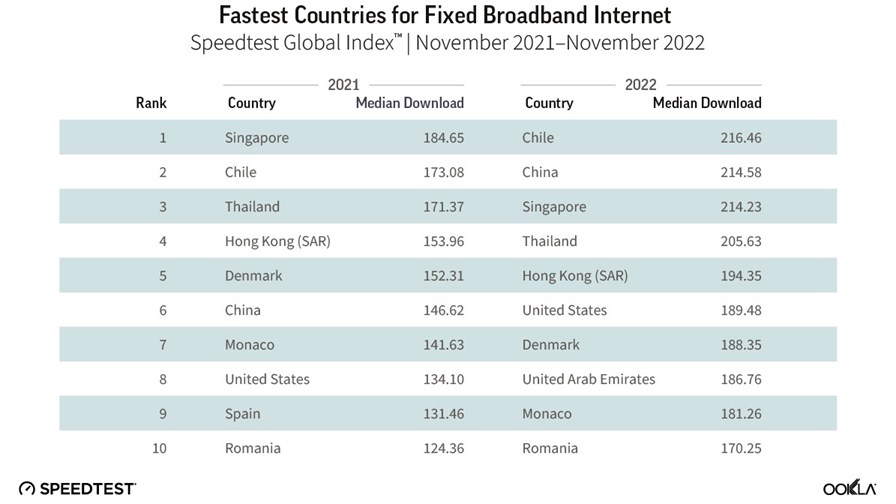 Ookla has published its latest annual Speedtest Global Index report
Median global fixed and mobile broadband speeds have increased
Chile (yes, Chile!) has the highest median fixed broadband download speed
Qatar, which recently hosted the World Cup, has the highest median mobile data download speed
Latency measurements haven't seen much movement
The latest edition of analysis house Ookla's Speedtest Global Index, which covers the period from November 2021 to November 2022, shows which countries have the fastest median fixed and mobile broadband speeds, with Chile and Qatar taking the respective download-speed crowns.
The new report shows that, globally, median mobile download speeds increased by 17% to 33.97Mbit/s, whilst median fixed broadband speeds shot up by an impressive 28% to 74.54Mbit/s. Those are good results by anybody's reckoning, but upload speeds also showed pronounced improvement, with median mobile upload speeds increasing by 9% to 9.34Mbit/s and median fixed broadband upload speeds rising by 30% to 31.75Mbit/s.
Interestingly, latency, which has become the trendy new metric de nos jours, improved only slightly from the 29 milliseconds (ms) reported in 2021 to 28ms last year in the mobile sector, while median fixed broadband latency remained constant at 10ms.
As the chart above shows, Chile had the world's fastest fixed broadband download speed, with a median speed of 216.46Mbit/s (having been second in the ranking the previous year).
China came second with 214.58Mbit/s, while Singapore was in close third place with 214.23Mbit/s (having topped the ranking a year earlier).
Elsewhere, Spain fell out of the top ten and was relegated to 11th place as the United Arab Emirates (UAE) took its place in the ranking.
At the bottom of the league, in positions 179 and 180, are Afghanistan and Cuba, with median fixed download speeds of 2.25Mbit/s and 1.91Mbit/s respectively.
On the mobile broadband front, the Gulf State of Qatar shot to the top spot with a median download speed of 176.18Mbit/s. The result was hardly a surprise given the massive sums the Qatari government and the country's mobile operators spent on infrastructure as host to the 2022 FIFA World Cup: In the previous year, Qatar ranked fourth.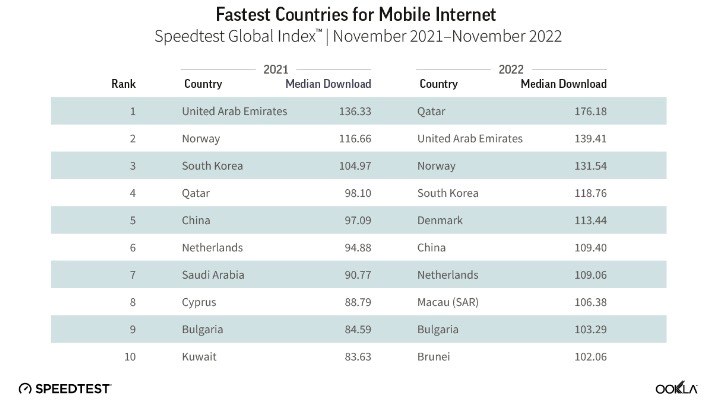 All of the countries in the list of the top-ten median mobile internet download rates had speeds in excess of 100Mbit/s (a significant change from the previous year, when only the top three were above that threshold). After Qatar, these were the UAE, Norway, South Korea, Denmark, China, the Netherlands, Macau, Bulgaria and Brunei. Kuwait, Saudi Arabia and Cyprus dropped out of the top ten and fell to 11th, 12th and 26th place, respectively. Propping up the list from the bottom were Venezuela (5.71Mbit/s) and Afghanistan (5.27Mbit/s).
For further details and insights, see this blog from Ookla.
Email Newsletters
Sign up to receive TelecomTV's top news and videos, plus exclusive subscriber-only content direct to your inbox.