With 5G looming, SK Telecom reduces LTE latency to just 2ms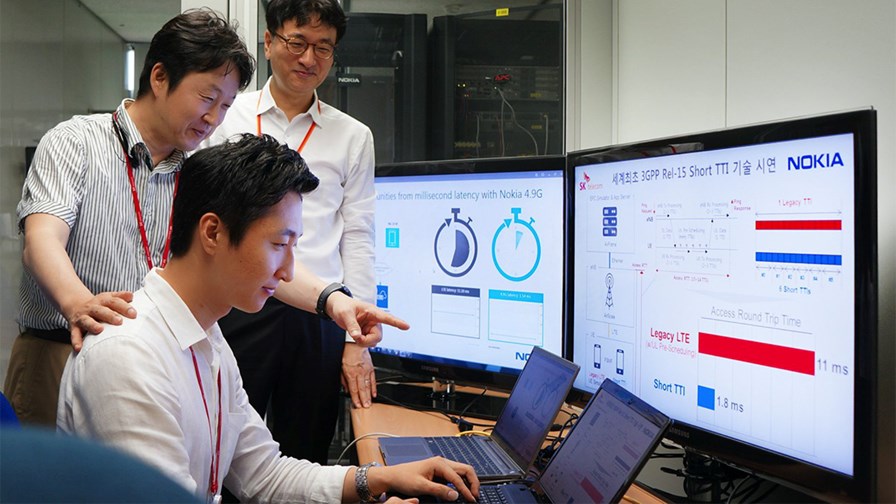 SK Telecom and Nokia have reduced latency between LTE handset and base station
Reduced from current LTE network latency of 25ms to just 2ms
Solution uses Uplink Pre-Scheduling and short TTI
Telco plans to keep enhancing low latency technologies to evolve to 5G
Korean mobile operator SK Telecom has announced that it has collaborated with Nokia to successfully reduce the latency between a handset and base station to just 2 milliseconds over its LTE network. The current latency between handset and base station in LTE networks is around 25ms, at least it is in SK Telecom's network, in accordance with the 3GPP specifications. It should be noted that latency measurements are affected by packet size – the smaller the packet, the lower the latency.
While the round-trip latency of 25ms can support many two-way communication services now, it is not low enough to seamlessly provide future services that require real-time transmission of data, such as autonomous driving and telemedicine. That's where 5G comes into play. The proposed specification for 5G calls for ultra-low latency of 1ms or less – an extreme challenge to network architects as this is constrained by physical laws (notably the speed of light, equipment processing time and frame structures), unless you also factor in advanced MEC thinking and apply AI to various functions (see Has Intel just moved the edge out to the device?).
However, SK Telecom and Nokia have appeared to get very close to the ITU's 1ms benchmark by just using LTE. They achieved this by applying Uplink Pre-Scheduling, a technology that enables the handset to immediately transmit data to the base station, and short Transmission Time Interval (TTI), a technology that reduces data transmission time between base station and handset.
"Low latency technology is essential in realising 5G services such as autonomous driving, artificial intelligence and virtual reality services," said Park Jin-hyo, SVP and Head of Network Technology R&D Center of SK Telecom. "We will continue to improve our low latency technologies to achieve 5G evolution, while applying the latest technologies to our LTE networks to further enhance customer experience."
This is how SK Telecom explains the real-world effect of reducing latency from 25ms to 2ms, using an autonomous driving scenario: if you use the LTE network with its 25ms latency from base station to device to send a stop signal to a self-driving vehicle running at 150km/h, the vehicle travels about one meter further before it actually begins to decelerate. However, if you use the 2ms latency technology then the vehicle moves only 8cm before it begins to slow down. Obviously there are other factors at play, and we have no idea how far away the base station is from the vehicle, but still, such a huge reduction is going to be critically important to the success of autonomous vehicles.
So why not just wait for full 5G coverage and forget about the limitations of LTE? Because, as a recent IEEE paper on the subject explains, "a robust integration with existing LTE is necessary for 5G networks that will enable industries to deploy 5G quickly and efficiently when it is standardized and available". All viable solutions to reduce latency in LTE networks will no doubt be readily welcomed by operators as they start their evolution to 5G. The 3GPP group continues to evaluate such schemes and incorporate them into their ongoing release schedule.
Email Newsletters
Sign up to receive TelecomTV's top news and videos, plus exclusive subscriber-only content direct to your inbox.