While we await 5G, LTE and MEC prove capable of supporting connected cars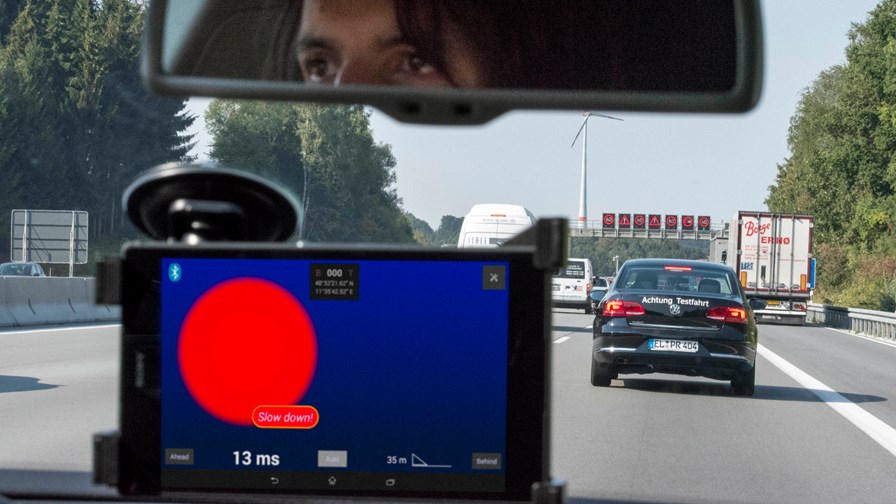 Real-time communication project recognised by Germany's Intelligent Networking Initiative
Participants are Continental, Deutsche Telekom, Fraunhofer Institute and Nokia
Use of MEC at roadside to reduce latencies to 20ms
Follow-up project aims to evaluate vehicle networking
The role of LTE in connected vehicles was recognised in Germany this week by the Intelligent Networking Initiative (Initiative Intelligente Vernetzung) – part of the German government's Digital Agenda. A project between automotive systems supplier Continental, Deutsche Telekom, the Fraunhofer ESK Institute and Nokia won the top award in the traffic category. It demonstrated real-time communications between vehicles using the LTE network on the A9 autobahn in Germany.
The project used the A9 as a digital test track, with specially-equipped test vehicles sharing hazard information via cellular. Along the edge of the motorway, plug-in modules (or "cloudlets", as the project calls them) were installed at LTE base station sites in order to reduce signal latency to less than 20 milliseconds. Not quite the 1ms required by 5G, but an improvement on the 40ms typical on dense LTE networks in Europe (and it tends to average double that in the US).
These cloudlets were provided by Nokia, using mobile edge computing (MEC) technology – a crucial part of future 5G network design for autonomous driving use cases post 2020. The network was, of course, run by Deutsche Telekom, and the Fraunhofer Institute supplied position-locating technology to ensure rapid data transmission. Continental developed the electronics interface for the test vehicles, enabling a range of applications to be evaluated.
"We are convinced that intelligent mobile network technology can help to ensure that the number of traffic accidents will decrease in the future and that driving will be safer," said Markus Borchert, SVP for Europe at Nokia Networks. "Mobile Edge Computing as the technological core of our project brings cloud computing to the road, accelerates the communication between drivers and vehicles and provides the blueprint for the development of 5G networks."
"An important step into the future of digital mobility is the ability to link physical vehicles with the digital data environment, which offers new opportunities and challenges," said Rudi Knorr, Director of the Fraunhofer ESK Institute. "The next step now is to realise new application scenarios for networked driving thanks to seamless and reliable communication concepts over longer sections of the Autobahn."
Continental, Deutsche Telekom, Fraunhofer ESK and Nokia are currently engaged in a follow-up project, focused on vehicle networking, and are joined by Porsche-owned IT consultancy MHP. The "Road Safety Applications Based on Vehicle Communication via LTE and MEC" project aims to draft, develop and test further applications on the already established A9 Autobahn test track in order to position Germany as the market leader in the field of intelligent mobility and automated driving.
"The development of 5G technology has reached an exciting phase globally," said Bruno Jacobfeuerborn, CTO of Deutsche Telekom. "We're not just talking about it – we're trialling it, too. Our joint project demonstrates how driving can be made much safer. This is all possible thanks to an intelligent infrastructure that adapts itself in line with people's needs and, in this case, allows an extremely long time in which to react, and helps to prevent hazardous situations."
Earlier this year, Continental launched a website deisgned to encourage discussion around the topic of autonomous driving.
Email Newsletters
Sign up to receive TelecomTV's top news and videos, plus exclusive subscriber-only content direct to your inbox.