What's up with… Huawei in Germany, SK Telecom, Broadcom and VMware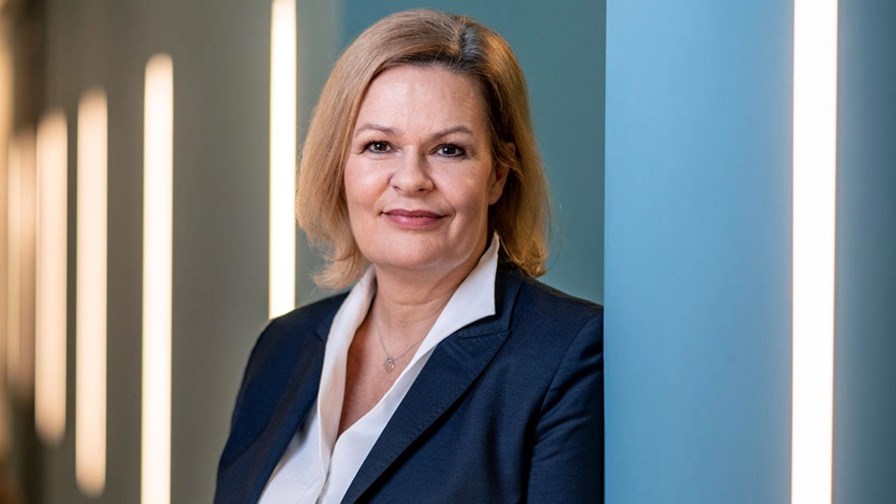 Pressure mounts on Germany's telcos to dump Huawei
SK Telecom invests in yet another AI company
UK's CMA clears Broadcom's acquisition of VMware
In today's industry news roundup: Pressure mounts on Germany's telcos to ditch Huawei and ZTE; SK Telecom takes a stake in artificial intelligence contact centre (AICC) developer Persona AI; the UK's Competition and Markets Authority (CMA) gives its final blessing to the union of Broadcom and VMware; and much more!
Deutsche Telekom (DT) and its domestic peers are stuck between a rock and a very expensive hard place. Pressure is mounting on the operators following the public call by a government minister for the telcos to remove Huawei and ZTE equipment from their networks. In an interview with Handelsblatt, the influential daily German business newspaper, Nancy Faeser, federal minister of the interior and community, stated: "The risks [appertaining to Chinese telecoms equipment] have been known for a long time. Our security authorities have repeatedly warned against one-sided dependencies. I think that the providers had enough time to adapt to this." Her intervention comes six months after the German government announced it was to examine the deployment of every component of any and all Chinese equipment in national networks regarded by the authorities as having "security implications". She told Handelsblatt, "We will ban components where there are serious security risks. The network operators will have to act and dismantle the components." Faesar's comments are an ominous warning to DT, Vodafone Germany and Telefónica Deutschland (O2) that the federal government will intervene to compel them to rip out Chinese kit if they don't do so themselves voluntarily – and quickly. DT and its competitors now find themselves impaled on the horns of a dilemma: Whether to do little more than continue with the leisurely removal of bits of peripheral kit whilst retaining Chinese technology in their most important deployments (such as 5G networks), or face government action to force them to act quickly and immediately bear the very high costs of replacing Chinese equipment with more expensive (and more secure) alternatives from European or other western suppliers. In response to a question from the news site Politico, a DT spokesperson, Stephan Broszio, said the precipitate removal of Huawei and other products "would jeopardise mobile coverage and mobile expansion for years to come." This elicited a quick response from Faesar, who commented, "I don't let the cost argument fool me either." Germany is Europe's largest economy, and it remains widely dependent on Chinese technology in its core telco networks. Indeed, a recent report from research house Strand Consult calculated that about 59% of Germany's 5G radio access network infrastructure installed at the end of last year was manufactured by Chinese companies, mainly Huawei. The minister's overt intervention marks an abrupt volte-face on the part of the German authorities. Hitherto its laid-back, laissez-faire attitude was greatly at odds with those of the US and its other western allies and the government was reluctant to rock the boat having built what it called a "privileged relationship" with Huawei. However, the European Commission (EC) is pushing EU member states to stop dealing with Chinese technology companies on the grounds that Europe "cannot afford to maintain critical dependencies that could become a weapon against our interests" and Germany is belatedly falling into line. It's going to cost many billions of euros to pay for the rip-out and replacement. How long will it be before the cries of poverty and pleas for state aid begin?
SK Telecom (SKT) is well on its way to become an 'AI company', having unveiled its second investment in an artificial intelligence-enabled company in just a week! The telco has acquired an undisclosed stake in Persona AI, a South Korean developer of artificial intelligence contact centre (AICC) technology, the company announced (in Korean). The telco declined to provide details of the size or value of the investment, but said it is now the third largest stakeholder in Persona AI, enabling SKT to enhance its competitiveness in the AICC market by offering a plethora of solutions, including consulting, infrastructure building and maintenance. The pair will collaborate on a joint AICC business and continue to develop callbot and chatbot products that will utilise SKT's speech recognition tool Nugu, as well as Persona AI's language processing and generation technology. New services, such as AI-powered voice recognition robots and kiosks, are also on the development roadmap. With this move, SKT looks to target small- and medium-sized enterprises (SMEs), and startups, alongside increasing its market share in the AICC space (which is said to be the fastest-growing enterprise AI market currently, with an annual average growth of nearly 24%). The news comes at the heels of SKT's announcement of a $100m investment in Anthropic, a San Francisco-based company that is developing a generative AI (GenAI) platform – see SK Telecom to develop telco-optimised LLM with AI partner Anthropic.
Still on AI… UK government officials have reportedly held discussions with Nvidia, AMD and Intel about procuring equipment for national AI research. According to The Telegraph, the government's plan is to spend up to £100m on "thousands of high-powered" AI chips as the nation seeks to become a global leader in this area. The project, dubbed "AI Research Resource", would reportedly be led by research and innovation funding body UK Research and Innovation, which is said to be in advanced stages of ordering up to 5,000 graphic processing units (GPUs) from Nvidia. According to the report, the funding of £100m is likely to increase, as the amount is deemed insufficient to cover the government's goals in the AI space. Read more.
Broadcom is another step closer to acquiring VMware after the UK Competition and Markets Authority (CMA) cleared the proposed $69bn deal. Following an in-depth phase-2 probe that began in April, the regulator gave the deal a green light last month after finding that "Broadcom's proposed purchase of VMware would not substantially reduce competition in the supply of server hardware components in the UK," and then sought market responses to its decision. Its in-depth investigation focused on exploring whether the deal could harm the ability of Broadcom's rivals to compete if the merged entity was to make its products work less well – on which the CMA found that "the potential financial benefit to Broadcom and VMware of making rival products work less well with VMware's software would not outweigh the potential financial cost in terms of lost business." Its findings also shrugged off concerns over innovation risks from the deal. "Broadcom and VMware are US-based companies supplying hardware and software used by thousands of businesses and public bodies in the UK. Even if the UK market represents a small proportion of total sales in a merger, the CMA's job is to scrutinise deals like this thoroughly to ensure they don't harm competition in the UK", commented Richard Feasey, chair of the independent panel carrying out the Phase 2 investigation. And now, "having considered the feedback, the [CMA] panel has confirmed its final decision is that the deal does not substantially reduce competition – clearing it to proceed in the UK," the body noted. Last month, the European Commission also gave the go-ahead for the deal to proceed, under certain conditions. The acquisition is still pending approvals in the US and China.
After 20 years at the helm, Veli-Matti Mattila is stepping down as the CEO at Elisa, which offers communications services in Finland and Estonia, and also owns telecom software vendor Polystar. The company has named the current CEO of national airline Finnair, Topi Manner, as Mattila's replacement: Manner, who has been an Elisa board member and so knows the company well, will take over by 1 March 2024 at the latest. "Elisa's board of directors would like to express their sincere thanks to Veli-Matti Mattila for his long and exceptionally meritorious work and for his successful steering of the company in the fast-developing digital world. Under Mattila's leadership, Elisa has created a continuously evolving culture of excellence that is beyond comparison and has achieved results beneficial for Elisa's customers, employees and owners, all enjoying the industry's best shareholder value creation," the company noted in an announcement to the Helsinki stock exchange. Mattila leaves a very solid company with a reputation for operational innovation for Manner to inherit: For the first six months of this year, Elisa reported a 2% year-on-year increase in revenues to €533m and an operating profit of €116m, up by 3.8%.
In the UK, the country's uber-regulator to the telecom and media sectors, Ofcom, has initiated a consultation into its proposal to set aside a 448MHz slice of the 27GHz-30Ghz spectrum band for use by the earth-station gateways of satellite broadcast service companies. The idea is that the additional frequency will help improve the speed of data transfers and further increase reach into remote rural areas. The spectrum is available because Hampshire, England-based communications and media infrastructure services company Arqiva recently, for operational reasons and at its own request, petitioned Ofcom to vary the terms of its national 28HGz licence: Ofcom did so and Arqiva then returned 448MHz of now "unassigned spectrum" to the regulator. Thanks to this bonus, Ofcom now proposes to make that unassigned spectrum, and the four guard bands that go with it, available to non-geostationary earth orbit (NGSO) satellite earth station gateways. The same applies to geo-stationary orbit (GSO) permanent earth station (PES) gateways. (Guard bands are narrow frequency ranges used to separate two wider frequency ranges to ensure that both can transmit simultaneously without interfering with one another.) The prime beneficiaries of the newly available extra spectrum will be the satellite broadband operators such as OneWeb and Starlink.
- The staff, TelecomTV
Email Newsletters
Sign up to receive TelecomTV's top news and videos, plus exclusive subscriber-only content direct to your inbox.