UK 5G startup AccelerComm raises £21.5m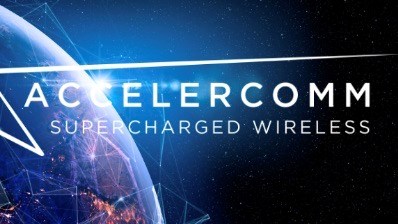 AccelerComm is developing mobile network optimisation technology
It claims it can help to supercharge 5G
Investors think it's onto something
The UK company has just raised £21.5m
It was spun out of Southampton University, as was Lumenisity
While efforts continue to stimulate the next-generation communications technology R&D sector across Europe, there are already some success stories to point to – one being Southampton, UK-based mobile network optimisation technology developer AccelerComm, which has just raised £21.5m in Series B funding.
The Layer 1 intellectual property (IP) development company, which specialises in 5G channel coding technology that "corrects mobile transmission errors caused by noise, interference and poor signal strength," has been around for seven years. It was founded by professor Rob Maunder of Southampton University and is a hotbed of technical innovation, nurturing telecommunications R&D, incubating startups and spinning-out highly successful companies, including AccelerComm and Lumenisity (more on that company later).
The company enables network operators, systems vendors and original equipment manufacturers (OEMs) to, as the company blurb puts it, "supercharge" 5G, with high-performance channel-coding IP that optimises 5G RAN performance.
And now it has fresh funds to fuel further development and help the company grow. Some of the new funding round came from existing investors IQ Capital, Bloc Ventures and IP Group, all of whom are specialist deep-tech investor vehicles backing entrepreneurs capable of building products across cloud, connectivity, data science and security with the potential to impact whole industries globally.
They have been joined in the round by three new investors: Parkwalk is a growth fund that backs "world-changing technologies" emerging from UK universities and research institutions; Hostplus is a pension fund that invests in technology companies; and Swisscom is a major European telecom, 51% owned by the Swiss government.
AccelerComm says the new injection of capital will be used to drive US and global expansion, expand staff numbers and further develop its IP technologies to meet the needs of mobile operators, telecoms equipment vendors and satellite operators.
Channel coding is used to add redundancy to data being transmitted over a comms channel. This improves transmission quality and reliability whilst reducing latency and power consumption. AccelerComm's channel-coding IP is used in a smartphones, base stations and many other wireless devices, and is particularly important for 5G networks, which need advanced coding techniques to be able to handle the very high data rates and low latencies required for applications such as autonomous vehicles, augmented reality and virtual reality.
Tom Cronk, CEO of AccelerComm, stated: "We're thrilled to receive this backing from a range of industry-leading investors combined with the continued backing [and] ongoing support of our existing shareholders and look forward to the company's continued rapid growth and innovative development."
AccelerComm is already engaged and working with communications networking chip giants, such as AMD, Intel and Silicom, and is one of the companies working with Vodafone on Open RAN R&D.
Another AccelerComm product of note is LEOPhy, a physical layer (hence the 'Phy') that incorporates chip technology for low-earth orbit (LEO) 5G satellite communications.
As mentioned, AccelerComm is not the only successful telecom spin-out from the University of Southampton. Late last year, Microsoft acquired Lumenisity (founded in 2017) to get its hands on the latest next-generation hollow core fibre (HCF) solutions that enable very much faster, more reliable and secure networking for global, enterprise and large-scale organisations – see Microsoft acquires UK hollow core fibre specialist Lumenisity.
Microsoft said the purchase will help it to optimise its global cloud infrastructure and serve those of its cloud platform and services customers with strict latency and security requirements. Lumenisity's technology provides very tangible speed and security benefits for a swathe of industries including healthcare, financial services, manufacturing, retail and government.
And in the UK, the search is on to discover the next AccelerComm or Lumenisity: The UK Telecom Innovation Network (UKTIN) is on a mission to identify and nurture a new wave of communications technology startups that can make a difference in the 5G era and beyond – see Can the UK find its telecom R&D niche?
- Martyn Warwick, Editor in Chief, TelecomTV