The race to create a new 5G air interface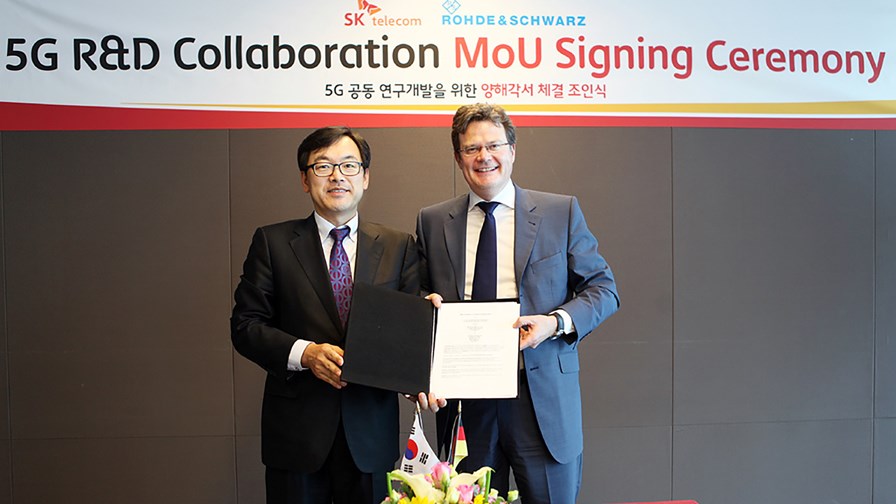 A couple of months ago we held our 5G Week on TelecomTV, publishing video interviews with around 20 executives working towards the realisation of 5G. Now though, it seems that every week is 5G week, such is the sheer amount of media alerts from vendors and associations. Hardly surprising, given that 2015 is the year that companies shuffle for best position ahead of the impending standards and regulatory work that's about to start in the coming months.
SK Telecom is one of those rare companies – an operator that isn't afraid to push its 5G R&D work and let the world know what it's doing. The South Korean telco has signed a Memorandum of Understanding with test and measurement firm Rohde & Schwarz to collaboratively develop key network technologies for 5G.
Under the MOU, the two companies will measure and analyze radio propagation characteristics – including path loss, angular spreading and time delay profile - of 6GHz or higher frequency bands to gain an understanding of these channels. Whilst higher frequency capability is not expected to appear in the first commercial deployments of 5G, it will play a crucial role in realising the advanced use cases that operators are relying upon to justify their considerable investment.
We just need to first understand how these higher frequencies will work in practice, and without any real networks out there, a huge amount of modelling will be required. Remember that today's (modestly) higher frequency cellular is terrific for dense environments but doesn't propagate very far, hence the suitability of lower frequency networks for rural use. Also, the higher the frequency and shorter the wavelength (and we're looking at millimetre waves here), the less capable these signals are of penetrating walls and windows, and the more susceptible they are to signal scattering.
The two companies will also jointly set up a 5G test bed for a new air interface to support efficient transmission of data in the higher frequency bands. They will continue to work together to develop an Active Antenna System (AAS), which can automatically create an optimal mobile communication environment by dynamically adjusting radiation patterns. SK Telecom and Rohde & Schwarz have been conducting joint research and development activities in this area since 2013.
There's a TelecomTV interview with Rohde & Schwarz here, if you want to find out more about their 5G strategy.
Huawei software defined flexible air interface
Meanwhile, Huawei is also making noises about new air interfaces. This is in keeping with China's overall approach to 5G, which for the moment at least appears focused around the creation of a new wireless air interface, rather than the network aspects of 5G. In a white paper that is now available to members of the GSA's website, the vendor explains how its proposed framework is built upon a software defined flexible air interface and radio access virtualisation. It wants the air interface to be optimised to support various application scenarios, and will use virtualisation with self-organisation and coordination algorithms to avoid the geographic limitations of cell architectures.
There's a whole host of new components to its air interface, including Filtered-OFDM (Filtered Orthogonal Frequency Division Multiplexing), SCMA (Sparse Code Multiple Access) access technology, "Polar Code" channel coding, full-duplex mode and massive MIMO technology. Full details are given in the white paper.
Whether there will be one harmonious air interface for 5G or a family of supported case-specific interfaces is still to be decided, although the chances of a single air interface appear to be improving all the time.
Ericsson multipoint connectivity with distributed MIMO
Not to be outdone, Ericsson is also promoting its air interface ideas. It envisages future 5G mobile devices connecting to several 5G cells at the same time, a process known as multipoint connectivity. As well as providing the resiliency to ensure a high-quality connection whilst moving between cells, it also enables the transmission of several different sets of data signals over the same radio frequency channel – distributed MIMO. Put them together and you get Multipoint Connectivity with Distributed MIMO.
"To be ready for commercial networks in 2020, 5G research and development now has to come out of the labs and into live test networks," said Håkan Andersson, 5G Strategic Product Manager, Business Unit Radio, Ericsson. "Multipoint Connectivity with Distributed MIMO, supported on Ericsson's 5G air interface, is just the latest example of 5G initiatives moving into live test network implementation."
The signaling methods involved with Multipoint Connectivity with Distributed MIMO (there really does need to be a new acronym for this) are beyond LTE standards, and form part of Ericsson's 5G air interface initiative, which it refers to as "NX".
There's a TelecomTV interview with Håkan Andersson, conducted earlier this year, which you can watch here.
Email Newsletters
Stay up to date with the latest industry developments: sign up to receive TelecomTV's top news and videos plus exclusive subscriber-only content direct to your inbox – including our daily news briefing and weekly wrap.