The ayes have it: First 5G New Radio standard to be ready by March 2018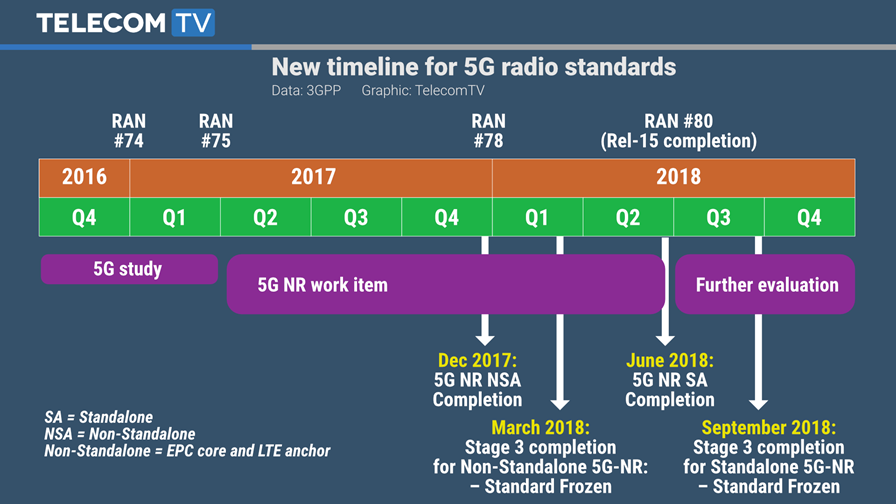 3GPP members vote to speed up standards process for 5G radio
Non-standalone New Radio to be finalised December 2017, standard frozen March 2018
Standalone version to be finalised June 2018, standard frozen September 2018
Core Network standards on course for completion by June 2018
In the end, the Group of 22 companies was more than that – there were several that agreed to the proposal but declined to put their names on the press release of ten days ago, and there were many more that were subsequently won round by argument or who realised which way the wind was blowing. In total, 47 companies supported the final proposal. It was more a case of who wasn't on the list (we're talking about you, Orange).
"A major decision was taken this week in RAN on the 5G New Radio (NR) work plan," said Dino Flore, outgoing 3GPP RAN Chairman. "In particular, the group agreed to have an intermediate milestone for the early completion of the Non-standalone (NSA) 5G NR mode for the enhanced Mobile BroadBand (eMBB) use-case. In Non-standalone mode the connection is anchored in LTE while 5G NR carriers are used to boost data-rates and reduce latency."
The objective now is to complete work on the Non-Standalone 5G-NR eMBB (including low latency support) with its use of EPC and LTE anchor, by December this year. In doing so, the 3GPP will ensure commonality with Standalone eMBB as well as the all-important forward compatibility. The prioritisation of NR band definition, and related band combinations with LTE, will be discussed separately.
By March 2018, an intermediate and ­– most importantly for vendors and operators – implementable version of Non-Standalone 5G NR eMBB will be ready, with the final standard effectively frozen. That means we will see "standards compliant" 5G deployments in a year's time. Of course, it won't be "full 5G", utilising the new Core and fully standalone from LTE, that will come much later. So there is always the danger of inadvertently (or otherwise) misleading users into selling them 5G services that are not the complete package – and we've been there before with previous cellular generations, with all the resulting complications and confusion.
However, we all knew 5G was a race to deploy first, with many influential operators and their vendor partners keen to get new equipment and services in place. This won't make a jot of difference to enterprise sales of network slicing and other innovative 5G capabilities, but it will allow operators and vendors to experiment with capacity and throughput improvements.
Meanwhile, work on the Standalone 5G-NR continues as per schedule. This is due to be completed in June 2018 and frozen and ready to use in September 2018. That's only six months after the NSA mode, but time is short and precious – as evidenced by the 47 dissenting voices. And as for the new 5G Core Network standard, that is due to be completed by June 2018.
Then, of course, we shunt all of this over to the ITU and trundle through the IMT-2020 process. That's not due to be completed until – you guessed it – 2020.
Supporters Association
If you want to check if your company was one of the supporters of the proposal, then here's the list of 47 vendors and operators:
Alcatel-Lucent Shanghai-Bell, Alibaba, Apple, AT&T, British Telecom, Broadcom, CATT, China Telecom, China Unicom, Cisco, CMCC, Convida Wireless, Deutsche Telekom, DOCOMO, Ericsson, Etisalat, Fujitsu, Huawei, Intel, Interdigital, KDDI, KT, LG Electronics, LGU+, MediaTek, NEC, Nokia, Ooredoo, OPPO, Qualcomm, Samsung, Sierra Wireless, SK Telecom, Sony, Sprint, Swisscom, TCL, Telecom Italia, Telefonica, TeliaSonera, Telstra, T-Mobile USA, Verizon, vivo, Vodafone, Xiaomi, ZTE
Email Newsletters
Stay up to date with the latest industry developments: sign up to receive TelecomTV's top news and videos plus exclusive subscriber-only content direct to your inbox – including our daily news briefing and weekly wrap.