Sacramento adds digital vehicle licence plates to its 5G city plan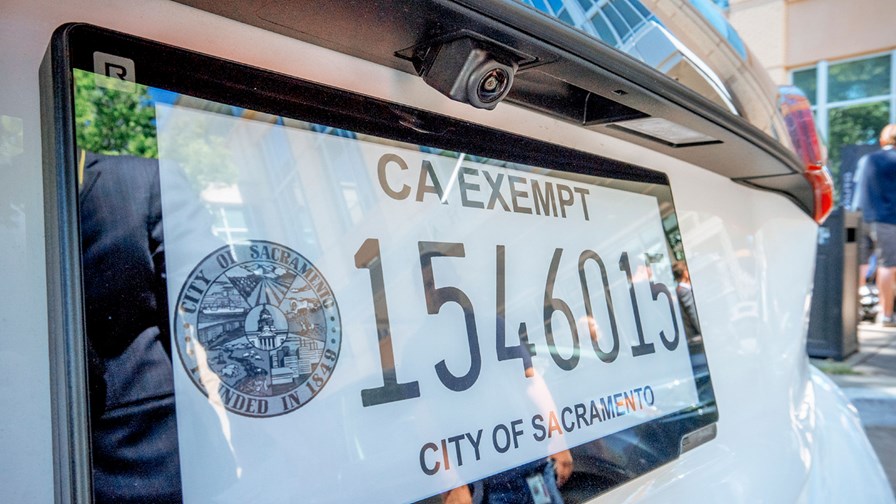 US city of Sacramento is to fit digital licence plates to its electric vehicles
Displays messages and alerts, plus has various telematics features
Automates the licence registration process
Connects with the city's 5G PPP initiative with Verizon
In the various massive lists of potential 5G use cases (and we've seen lists that run into the hundreds), it is almost a certainty that vehicle licence plates didn't even make the cut. Yes, vehicle licence plates; those little rectangular identification plates that dealers have to screw onto your new car, and which the police like to photograph with their speed cameras. Yet these innocuous plates are about to get the connected digital treatment and are being fast-tracked for 5G.
The US city of Sacramento has just announced a pilot scheme to fit digital licence plates to its fleet of electric vehicles. The city has installed 24 of the plates so far and will be installing another 11 when it receives its next shipment of Chevy Bolts. The plates have been developed by Reviver Auto, which says that its Rplate Pro has "completely reinvented the 125-year-old stamped metal license plate into a connected car platform" that digitizes and automates the costly and time-consuming driver licence renewal process. The Rplate Pro also provides telematics functionality and – oh joy – brings "a new level of personalization to the license plate".
So rather than a sheet of stamped and painted metal, the new plates are actually digital e-ink screens, like those found on a Kindle. Features include automated registration renewals, charity plate options, personal messages, vehicle locator, safety alerts, stolen vehicle information, payment solutions for parking and tolls and – you guessed it – "marketing capabilities".
"Reviver Auto has brought license plates into the 21st century, offering modern conveniences to improve the overall driving experience," said Neville Boston, CEO of the California-based Reviver Auto. "We are proud to team up with the City of Sacramento and applaud their leadership as they implement the Rplate Pro into their smart city infrastructure."
The digital plates allow the city to oversee the movements and mileage of electric vehicles, which are currently being used in city departments including Public Works, Utilities and Community Development. The plates will issue a signal if they are stolen, and can also be used to display messages, such as public service announcements and Amber Alerts.
"The Rplate Pro offers a host of capabilities that will not only help us better manage our fleet, but will also serve a critical role in communicating with our residents," said Mark Stevens, the City's Fleet Manager. He noted the city would continue installing digital plates as it adds more electric vehicles to comply with the city's sustainability requirements.
He also said that the digital plates cost slightly less than the GPS system the city uses for its traditional fuel-powered vehicles. However, reportssuggest that the new plates actually cost $699, plus the cost of installation and a $7 monthly user fee (although the local government managed to secure them for just $300 each…).
California legislators permit up to 0.5 per cent of the state's vehicles to use the new plates during the pilot programme period, which ends 2020, equating to about 175,000 vehicles. There are currently believed to be about 116 vehicles equipped with the plates, but Reviver Auto expects increased interest from fleet owners once dealerships begin selling them.
The 5G-enabled city
It's not the only connected innovation from the California State capitol. The city was also one of Verizon's 11 cities and markets selected for pre-commercial 5G services last year.
Speaking at a US Chambers of Commerce event last week, Maria MacGunigal, Chief Information Officer of Sacramento, said that the city has already deployed some 5G sites and expects to have scaled deployment of 5G by the end of the summer.
"We see great potential for this technology to enable us to do so much more that we haven't been able to do in the past," she was reportedas saying. "Especially in high-speed connectivity for our network, our road networks, related to autonomous vehicles."
Which is where the new digital licence plates are expected to play a role. They plug into a vehicle's OBD-II diagnostics port and, according to Government Technologymagazine, they will be used by the city to test the 5G network.
"5G in Sacramento, alone, is expected to create almost 5,000 jobs, investment of about $400 million, and an increase of about $750 million in GDP," said Steve Carlson, California government affairs counsel at the CTIA industry group.
The initiative builds on the pilot 5G deployment previously announced in February 2017 and the establishment of an official Public Private Partnership (PPP) between the City of Sacramento and Verizon in June last year. The development is part of a much broader push by the city to develop policy and streamlined processes to leverage emerging technologies and create PPPs to help provide services more efficiently.
"Sacramento intends to be the state and national leader on alternative fuel technology, on autonomous vehicles, on research and development and on all things innovation," said Mayor Darrell Steinberg. "I'm thrilled that Verizon has chosen Sacramento as the first market it plans to launch 5G wireless broadband service."
In our new era of data sensitivity, Reviver informs us that telematics data from the Rplate Pro is not uploaded to its US-based cloud infrastructure and belongs to the user and is never sold to third parties. The plate features secure elements to deter and detect any breaches or hacking, and Reviver Auto's server infrastructure features a VPN encrypted with 256-bit crypto keys.
Several other US states have approved the use of the digital plates for tests and pilots, and Reviver has also reached a proof of concept agreement with the Roads and Transport Authority (RTA) of Dubai to bring them to the UAE.
"Reviver Auto is ushering in a new era of connectivity for transportation," said.
"The Rplate Pro will play a critical role in aiding communication between vehicles and transportation-related agencies and programs that aim to ultimately make driving safer and smarter," said Abdullah Yousuf Al Ali, CEO of RTA's Licensing Agency. "It is our vision to make Dubai the smartest city in the world and the Rplate Pro will be a key part of our transportation infrastructure."
The company said it is on track to have 100,000 Rplate Pro devices on the road in 2018.
Email Newsletters
Sign up to receive TelecomTV's top news and videos, plus exclusive subscriber-only content direct to your inbox.