Revolution! 22 telcos and vendors lose patience with pace of 5G NR standardisation
Group wants 5G New Radio to be ready for deployment by 2019, not 2020
Advocates an early "intermediate" step for non-standalone LTE-based 5G
Will present their proposal (demand?) to 3GPP next week
Say they also "re-affirm and solidify" the schedule for the complete 5G NR standard
On Monday 27 February 2017, the Mobile World Congress opens in Barcelona. Exactly 100 years ago, on 27 February 1917 (in the old Julian calendar), mutinous Russian Army forces sided with the revolutionaries which resulted in the abdication of Nicholas II and the bloody end of the Romanovs. As Marx put it, it was a time when the workers stormed heaven.
Perhaps fitting then, that on the centenary of the Russian Revolution, another revolution is underway, this one focused on who dictates the evolution of cellular wireless communications.
In an unprecedented move on Sunday, a group of 22 telecoms operators and vendors issued a statement that effectively dismisses the 3GPP's standardisation process for 5G as being inadequate. The G22 (as TelecomTV is now calling them) have mutually agreed to accelerate the process to standardise 5G New Radio (NR) in order to conduct early large-scale trials and deployments. Rather than wait for 2020, they want it ready by 2019. "What's a year?" you may ask, but to these companies it appears that it's the difference between commercial success and failure.
It's unprecedented, in our opinion and based on decades of watching the development of cellular, for such a large and influential group to take the debate out of the 3GPP and into the public domain through the issuing of a press release. One can only infer that this debate has been raging internally for some time without a satisfactory result.
The standardisation process is a monumental undertaking, even under the expert guidance of the experienced 3GPP and ETSI. The pressure from operators and vendors to complete the process as soon as possible is perhaps understandable, but it's the hard-working teams at the 3GPP that have to deal with the consequences.
So what exactly has happened? The G22 have announced their collective support for the acceleration of the 5G NR standardisation schedule to enable large-scale trials and deployments as early as 2019, and will support a corresponding work plan proposal for the first phase of the 5G NR specification at the next 3GPP RAN Plenary Meeting on March 6 in Dubrovnik, Croatia.
The companies within the G22 are:
AT&T
Sprint
NTT Docomo
KDDI
SK Telecom
Korea Telecom
LG Uplus
Telstra
Vodafone
BT
Deutsche Telekom
Telia
Swisscom
TIM
Etisalat
Ericsson
Huawei
Qualcomm
Intel
LG Electronics
ZTE
Vivo
The first 3GPP 5G NR specification will be part of 3GPP's Release 15 and should cover both sub-6GHz and mmWave spectrum bands. Based on the current 3GPP timeline, the earliest 5G NR deployments based on standard-compliant 5G NR infrastructure and devices will likely not be possible until 2020.
Instead, the new proposal from the G22 introduces an "intermediate milestone" to complete specification documents related to a configuration called Non-Standalone 5G NR. It's worth remembering that there are two configuration scenarios for 5G – non-standalone, which uses the existing LTE radio and evolved packet core network as an anchor for mobility management and coverage, while adding a new 5G radio access carrier – and standalone, which involves both a new radio and a totally new core network. See the diagram below and read our earlier coverage of this issue.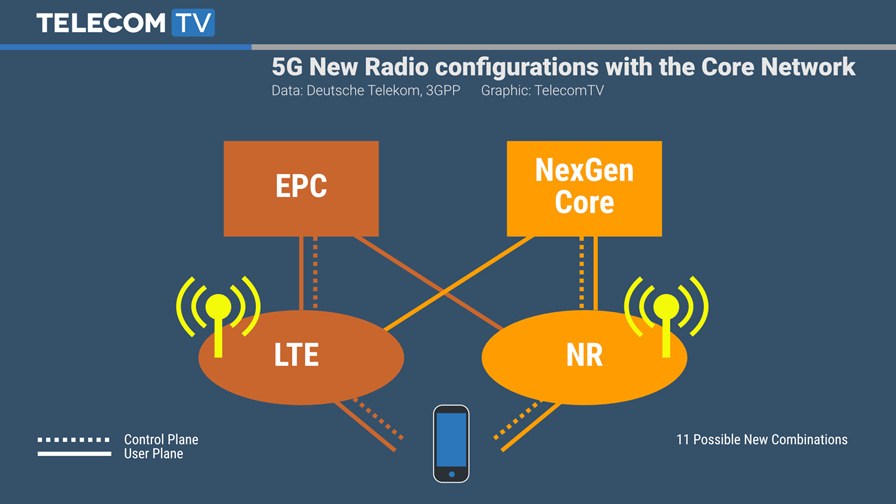 It's a rather contentious split, and different telcos and vendors have a vested interest in advancing one over the other. Whilst some (read the G22) are happy to start work right now on an LTE evolution based on non-standalone architecture, others want a simultaneous development of full standalone mode. For example, Samsung is believed to be pushing extremely hard for standalone to be standardised at the same time as non-standalone (which is why they are not part of the G22). In fact, eagle-eyed visitors to MWC can find a rather significant 5G core demo on one of their partners' booths, if they look hard enough…
The G22 says the new proposal and the intermediate milestone "re-affirm and solidify the schedule for the complete standard, including Standalone 5G NR in Release 15". They also add that they are further committed to make forward compatibility a key design principle for the standardisation of the first release of 5G NR, to enable in-band introduction of new capabilities and features in subsequent releases and "achieving the 5G vision to connect everything to everything".
They add that the proposal is "consistent with 3GPP's commitment to enable a flexible evolution and inter-working of the radio access network towards 5G NR and the evolution of the core network towards the 5G System". Furthermore, they claim; "as proven by the broad industry support, this proposal delivers the ability to address the increasing global demand for enhanced mobile broadband services with 5G NR in 2019, while continuing to address the broader vision for 5G NR in 2020 and beyond."
Not invited to the party, or declined the invitation?
Of course this begs the question, which companies declined to be part of the G22, or which weren't even invited. In fact, based on TelecomTV's experience on Sunday in Barcelona, some of the G22 members themselves appeared to be unaware of the news. And for those that declined and are not part of the "broad industry support", what now? Can they prevent the G22's proposal from being ratified by 3GPP? And what of the 3GPP itself? So many questions, and hopefully by the end of MWC we'll be able to bring you some more answers.
In the meantime, there are plenty of supporting executive quotes from the Ericsson-released press statement from the G22. Here's a selection:
"We support both the Standalone and Non-Standalone configurations of 5G New Radio," said Tom Keathley, SVP Wireless Network Architecture and Design, AT&T. "In the process of defining any standard, it is normal to make some decisions earlier than others. These accelerated decisions on key components of 5G New Radio standards will allow an earlier start on the development of the infrastructure and devices of tomorrow's 5G deployments."
"Docomo plans a commercial launch with Non-Standalone 5G NR by 2020," said Seizo Onoe, EVP and CTO, NTT Docomo. "Acceleration of the standardisation schedule will facilitate early implementation of the standard-compliant 5G NR."
"The faster we commercialise 5G based on 3GPP specifications, the faster we will realise its benefits for the entire industry," said Arun Bansal, SVP and Head of Business Unit Network Products, Ericsson. "We are thrilled to participate in this initiative to accelerate the 5G ecosystem and commercial deployment."
"Global industry collaboration to accelerate the 3GPP NR standard is a lynchpin to making 5G a worldwide success and to scale," Asha Keddy, VP and GM of Next Generation Standards, Intel. "5G is a true inflection point in technology and will transform our lives and society in ways far beyond previous connectivity standards, and as such, the ability to solidify a global standard is more critical than ever."
"As the demand for 5G commercialisation is rapidly increasing, it is crucial to complete globally agreed 5G standardisation in time," said Park Jin-hyo, SVP and Head of Network Technology R&D Center, SK Telecom. "3GPP NR is the global 5G standard and we are making continuous efforts to accelerate 3GPP NR standardisation with partners."
"We are pretty encouraged by the increasing voices heard within the telecom industry that the process of New Radio Specification should be expedited," said YongGyoo Lee, SVP Network Strategy, Korea Telecom. "We believe that early introduction of 5G network, compensated by already-prevailing LTE coverage, is a reasonable approach for the operators when taking the ROI factors into the consideration, and it justifies the slight preference for Non-Standalone mode in terms of priority."
Email Newsletters
Stay up to date with the latest industry developments: sign up to receive TelecomTV's top news and videos plus exclusive subscriber-only content direct to your inbox – including our daily news briefing and weekly wrap.