Qualcomm unveils 5G NR mmWave test device and collaborates with Nokia on testing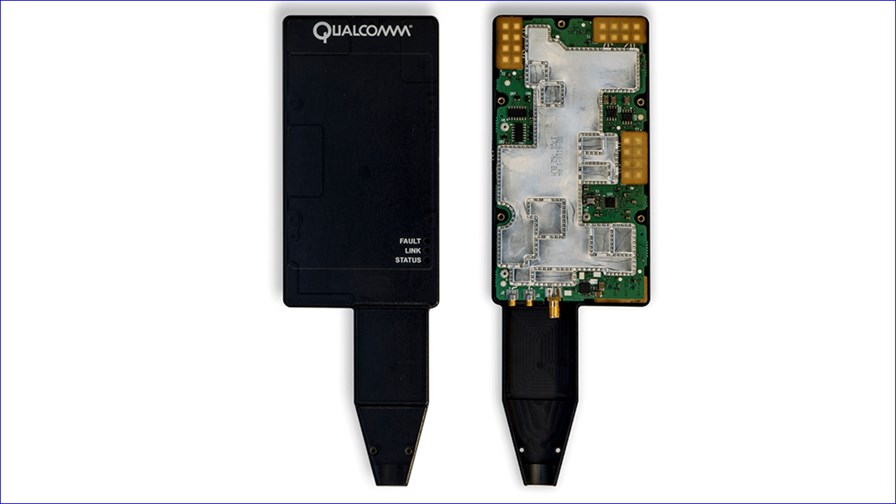 Prototype system will be utilised in 3GPP-based millimetre 5G NR trials
Interoperability testing and over-the-air 5G NR trials underway this year
Follow-up device to Qualcomm's sub-6GHz prototype system
Qualcomm and Nokia committed to make mobile 5G a commercial reality in 2019
Qualcomm has just announced its 5G NR millimeter wave (mmWave) prototype system based on the initial 5G New Radio (NR) Release 15 specifications due to be released by 3GPP in December. The prototype system operates in spectrum bands above 24GHz and features the company's optimised mmWave RF Front-end design in a smartphone form-factor to test and trial real-world mmWave challenges, such as device and hand-blocking.
The prototype will employ MIMO antenna technology with adaptive analogue beamforming and beam tracking/steering techniques. It supports 800MHz of bandwidth and advanced 5G NR technologies, including LDPC channel coding for data channels, and can support peak download speeds of up to 5Gbit/s. Qualcomm already has an existing 5G NR sub-6GHz prototype system, operating at mid-band spectrum from 3.3GHz to 5GHz, which was used to demonstrate the company's first 5G NR connection in February this year.
"We are delivering on the promise of developing 5G NR mmWave technologies to enhance mobile broadband services," said Cristiano Amon, EVP of Qualcomm Technologies and president of Qualcomm CDMA Technologies. "Our 5G NR mmWave prototype system is proving that sustained mobile broadband communications and smartphone form-factor devices are progressing for 2019 launches."
The prototype system is designed to be used in upcoming 3GPP-based 5G NR interoperability testing and over-the-air trials with infrastructure vendors and network operators starting at some point in the second half of this year. Additionally, mobile device OEMs will be able to use it to gain an early start in optimising their devices for the unique challenges associated with integrating 5G NR mmWave technologies in form-factor accurate devices. Qualcomm says it will use feedback from this testing and trials to help drive the ongoing development of its Snapdragon X50 5G multimode modem family to support the commercial mobile network launches that it expects to happen in 2019.
Qualcomm and Nokia collaborate on 5G NR
Qualcomm has also announced plans with Nokia to jointly conduct interoperability testing and over-the-air field trials based on the 5G NR. The two companies intend to showcase 5G NR technologies that will efficiently achieve multi-gigabit per second data rates at latencies as low as 1ms and significantly better reliability than today's network.
The testing and trials will use the Nokia 5G FIRST solution, incorporating its AirScale base station transmitting over the 5G NR radio interface to the device prototype from Qualcomm Technologies. They will test end-to-end applications over-the-air between the base station and the device to simulate real-world scenarios across a broad set of 5G NR use cases and deployment scenarios. The testing will include 5G NR operation in sub-6GHz as well as mmWave (including the 28GHz and 39GHz bands).
"The appetite for 5G technology is clear, amongst both consumers and communications service providers," said Marc Rouanne, president of mobile networks at Nokia. "We firmly share Qualcomm's view that the demand for wide-scale mobile 5G is accelerating, and that is why we are so enthusiastic to work jointly with Qualcomm on developing and driving commercial technology and applications based on 5G NR using our 5G FIRST."
A recent 5G consumer survey conducted by Qualcomm Technologies revealed that 48 per cent of respondents are likely to purchase a smartphone that supports 5G when available Furthermore, 5G was the top feature that consumers were willing to pay more for in their next mobile device.
Of course, you could ask the question "what do consumers really know about 5G?" and the answer will be, by and large, nothing yet – other than catching the early marketing buzz and hype, mainly from tech journalists. Enhanced mobile broadband (eMBB) is just one of the use cases of 5G, and it's pretty certain that all LTE operators will evolve their networks to 5G. And whilst consumers may well pay more for a smartphone that supports 5G, they are unlikely to want to pay a CSP more for a 5G network connection.
Still, the real issue here is making sure that the new networks and user devices are standards compliant and interoperable. Qualcomm and Nokia are already collaborating with network operators to conduct 5G NR over-the-air field trials starting in 2018 across various regions including China, Europe, Japan, and the US.
As they say: "tracking the 3GPP specification is important because it promotes adherence and validation with the global 5G standard, accelerating the time to standard-compliant devices and infrastructure. It will also ensure forward compatibility to future 3GPP 5G NR releases".
It's not the first time Nokia has collaborated with Qualcomm on 5G – they co-authored a whitepaper that you can download here.
Email Newsletters
Sign up to receive TelecomTV's top news and videos, plus exclusive subscriber-only content direct to your inbox.