Nokia and SK Telecom to collaborate on mmWave 5G technology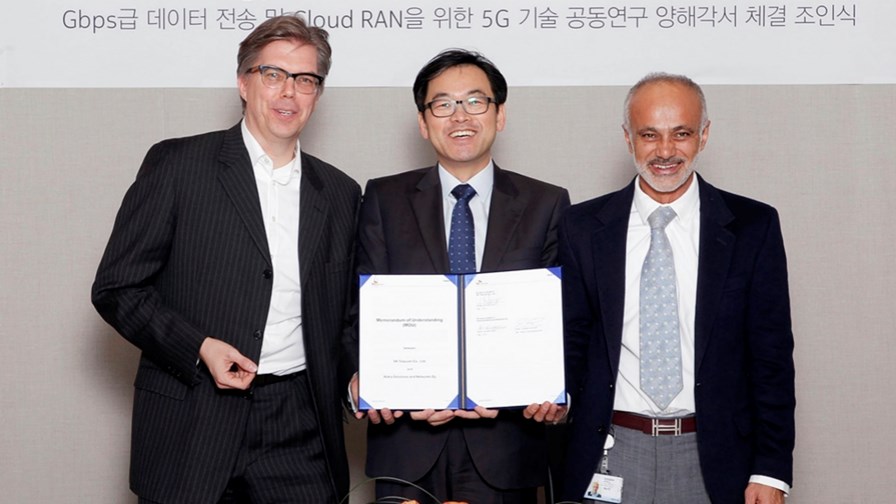 In yet another example of the close cooperation between Europe and Asia on future 5G research and development, Korean telco SK Telecom has signed an MoU with Nokia to strength their partnership. Under the terms of the agreement, the two companies will conduct joint research to develop core 5G network technologies, such as the gigabit-level data transmission and cloud-based virtualised base station technology.
In particular, they will develop millimetre wave high frequency mobile technology (cmWave or mmWave), which uses wideband spectrum in ultra-high frequency bands of 6GHz or higher. The higher frequencies will be essential for the delivery of very-high speed gigabit data services in concentrated areas, when used with complimentary technologies such as MIMO antennas. It is highly likely that mmWave technology will become one of the core 5G technologies when the standards are discussed and created next year.
The two companies first worked together on 5G back in June last year, when they signed an MoU to cooperate on the development of NFV, SDN and next-generation cloud network management. The result of this collaboration was its Cloud vRAN demonstration in November, which they claimed was the world's first base station virtualisation technology.
"The future of mobile telecommunications network will not only connect people, but things as well," said Hossien Moiin, Head of Technology and Innovation at Nokia. "In the end, 5G will further extend human potential through advanced telecommunications technologies."
At the signing ceremony yesterday, SK Telecom and Nokia said they plan to make hold 5G demonstrations in 2018 and commercialise 5G service in 2020. As part of their joint efforts, they intend to establish a test bed facility at SK Telecom's Corporate R&D centre in Bundang, Seoul.
"By joining hands with Nokia, we expect to accelerate our speeds toward the development of core 5G technologies," said Choi Jin-sung, EVP and Head of the Corporate R&D Centre at SK Telecom. "Envisioning an era where all things and people are organically connected, SK Telecom will continue to bring innovative changes to the mobile network structure."
Meanwhile, the US continues to show little interest in 5G and no signs whatsoever of a national development plan.
Email Newsletters
Stay up to date with the latest industry developments: sign up to receive TelecomTV's top news and videos plus exclusive subscriber-only content direct to your inbox – including our daily news briefing and weekly wrap.