Industry report identifies operator roll-out models for 5G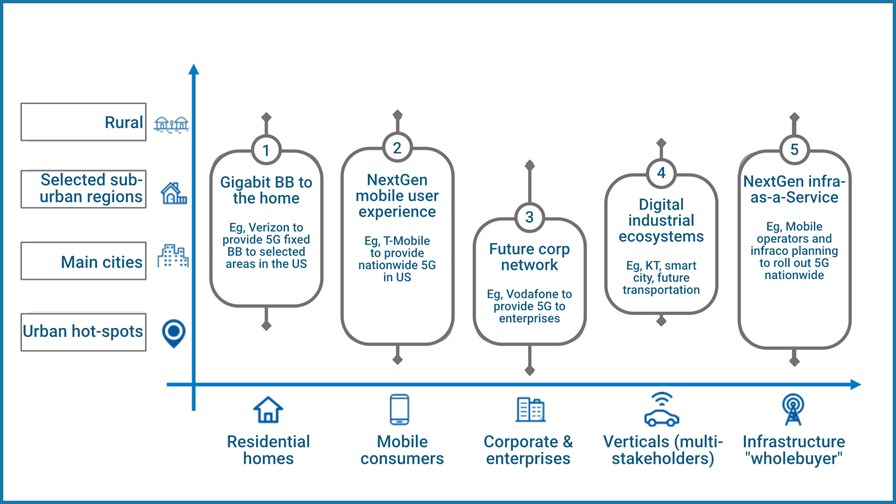 Research from Arthur D. Little highlights telco 5G opportunities
Identifies new business models focused around enterprises
Telcos should anticipate the needs of new ecosystems in traditional industries
5G will be an enabler of new business models
A new report from consultants Arthur D. Little (ADL) examines the opportunities for telcos to create new business models and ecosystems enabled by 5G networks and services. In the enterprise market, ADL notes that several industries are already organising themselves into ecosystems to collectively benefit from 5G connectivity and its related infrastructure.
ADL expects 5G to support the strategic shift of telcos from being predominantly providers of high-speed connectivity, to becoming enablers of next-generation ecosystems. It notes that some telcos are taking a strategic lead in 5G deployment, announcing their future plans with "big bets", which will impact the course of future 5G rollout and the development path for the technology.
However, it warns that non-telecom players are already active in 5G, with pilots in autonomous driving, virtual reality-based infotainment services and other use cases. If telcos don't act fast, warns ADL, these new players will take an increasingly large share of this new ecosystem.
So what steps can a telco take to protect their 5G position? ADL says building an application ecosystem with start-ups and service providers is key to facilitating future 5G use cases. Preparing the spectrum and infrastructure for future 5G macro and dense small cell deployments is another step. Further fibre deployment in the fixed-access network, which will assist in aggregating and backhauling multi-gigabit traffic, as well as the "cloudification" of the core to enable easy scale-up and external partnerships will eventually be required. Finally, they will have to prepare their computing infrastructure to handle this gigabit traffic.
The firm says that 5G deployment models are crystallising and has identified five rollout models for telcos:
To provide gigabit broadband to residential homes and act as an effective last mile complement to existing fibre or cable networks;
To deliver a next generation nationwide mobile experience enabling new use cases and applications driven by virtual reality, tactile internet etc.;
To deliver highly reliable, low latency connectivity and solutions to corporates improving both efficiency and productivity;
To develop digital industrial ecosystems with machine-to-machine connectivity enabling new service ecosystems with multiple partners, providers and end users;
To deliver next generation infrastructure-as-a-service for entire countries.
ADL cautions that telcos should anticipate the needs of new ecosystems in traditional industries such as automotive and move quickly to play a bigger role. With so many new players entering the 5G market, 5G may be more fragmented than expected.
A "big-bang" approach could give telecom operators a head-start on competition, enabling them to offer gigabit speeds with millisecond latency and next-generation services with network slicing. In contrast, an evolutionary approach spreads out investment into multiple areas over multiple years, but eventually also takes the telco closer to 5G. In some models, it will involve a change in the relationship and interfaces between the operators and corporates, moving towards a joint "plan-build-deploy-operate" model. In other models, it will mean reconfiguration of the core networks, linking more closely the core networks.
"Telecom operators have a vital role to play in bringing enterprises and industry verticals together to deliver not just connectivity, but also solutions," said Karim Taga, Global Head of the Telecommunication, Information Technology, Media and Electronics practice at Arthur D. Little. "At this stage, we think delivering productivity to corporations and enabling new business models are likely to be the initial drivers for 5G. We believe 5G will not just be a communications-technology migration towards higher speeds, rather, 5G will be an enabler of new business models, inviting new stakeholders from different industry verticals to benefit from new and efficient ways of doing business."
Email Newsletters
Sign up to receive TelecomTV's top news and videos, plus exclusive subscriber-only content direct to your inbox.