Huawei launches 5G microwave bearer and trials 4K over 5G FWA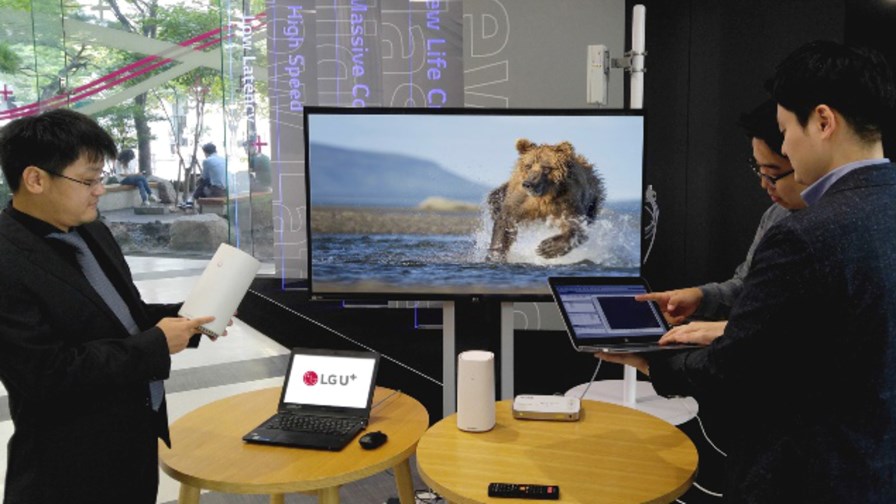 Microwave bearer solution to help telcos evolve networks to 5G
Features intra-band carrier aggregation, and inter-band Super Dual Band and MIMO
Trial of world's first live UHD IPTV over 5G Fixed Wireless Access
Trial undertaken with LG U+ in Korea using a chipset based 5G mmWave CPE
Huawei continues its assault on the 5G infrastructure market with the launch of a new microwave bearer solution, as part of its 5G X-Haul mobile solution, which features 10Gbit/s transmission speed to site, a promised smooth evolution from LTE, plus flexible O&M. The vendor says it supports various 5G application scenarios, helping operators manage future challenges in 5G bearer networks.
These scenarios include the requisite enhanced Mobile Broadband (eMBB), ultra-reliable and low-latency communication (URLLC), and massive Machine Type Communication (mMTC). Huawei cites the ITU's IMT-2020 requirements that specify that 5G should support 10Gbit/s per user, 1ms latency and 1 million device connections per square kilometer. In a refreshingly honest and simple statement, Huawei warns that in practice, "5G deployment is very complex". How true.
Huawei explains that as the number of 5G base stations continues to increase, the fibre to the mobile base station (which we apparently should abbreviate to FTTM, making the FTTx acronym family about as vast as the XaaS cloud service acronyms) rate becomes low and creates huge demands for microwave transport. With about 50 to 60 per cent of the world's mobile base stations using microwave backhaul, 5G transport using legacy microwave links is going to come under scrutiny by telcos.
To address telcos' future bearer requirements, Huawei's new next-generation 5G microwave bearer solution uses both intra-band carrier aggregation technology and inter-band Super Dual Band and MIMO technologies to provide a maximum of 10Gigabit Ethernet to the site, which it says will cover the 5G requirements of most base stations. In addition, 8192 QAM modulation, 112/224MHz channel bandwidth and co-frequency interference cancellation technologies can be used to increase the bandwidth of common bands. Huawei says it is currently the world's only microwave solution vendor that has the ability to aggregate four carriers for common bands.
This brings us to 'Super Dual Band', which Huawei explains as the integration of common band microwave on the live network with E-band microwave to achieve a significant bandwidth increase from hundreds of Mbit/s to the maximum 10Gbit/s. In addition, a modular antenna design can keep the antenna body unchanged and transform single-polarized antennas to dual-polarized antennas by replacing only the feeders.
Huawei's 5G microwave bearer solution incorporates SDN to coordinate backhaul and wireless access networks. During off-peak hours, it disconnects idle links to reduce power consumption by a maximum of about 15per cent, helping achieve energy conservation and emission reduction.
4G IPTV use case over 5G
Meanwhile, Huawei has been busy testing out the next generation of IPTV with its telco partner LG U+ in South Korea. The two companies say they have successfully completed the pre-commercial trial of the world's first live ultra-high-definition (UHD) IPTV over 5G fixed wireless access (FWA) with a chipset based 5G millimetre wave CPE. Aimed at commercial FWA applications, the trial demonstrated 4K IPTV over 5G up to 2Gbit/s in an end-to-end 5G network.
The FWA demo used Huawei's end-to-end 5G products, including 5G gNodeB, NG Core and 5G CPE and was conducted over the 28GHz mmWave band. Huawei says its in-house developed 5G CPE is the world's first such chipset that has a true commercial engineering capability, including use in both outdoor and indoor equipment units. The test demonstrated a peak capacity greater than 2Gbit/s peak usage, far in excess of current FTTx access solutions.
"The rapid maturity of terminals can be a key factor of real 5G service success," said Yang Chaobin, President of Huawei's 5G Product Line. "The world's first 5G CPE pre-commercial verification is an important contribution by LG U+ and Huawei to accelerate 5G commercialisation. The two sides will continue to cooperate in the field of 5G technology research."
"This world's first end-to-end FWA test shows that, following LG U+ and Huawei's successful cooperation in the LTE era, the investment of the two sides in 5G research has had breakthrough results," added Kim Dae Hee, VP 5G Network Strategy at LG U+. "We will work with Huawei to maintain in-depth cooperation, and prepare for the coming 5G commercial launch."
Email Newsletters
Sign up to receive TelecomTV's top news and videos, plus exclusive subscriber-only content direct to your inbox.