Germany's 1&1 launches 5G FWA services and updates on rollout delays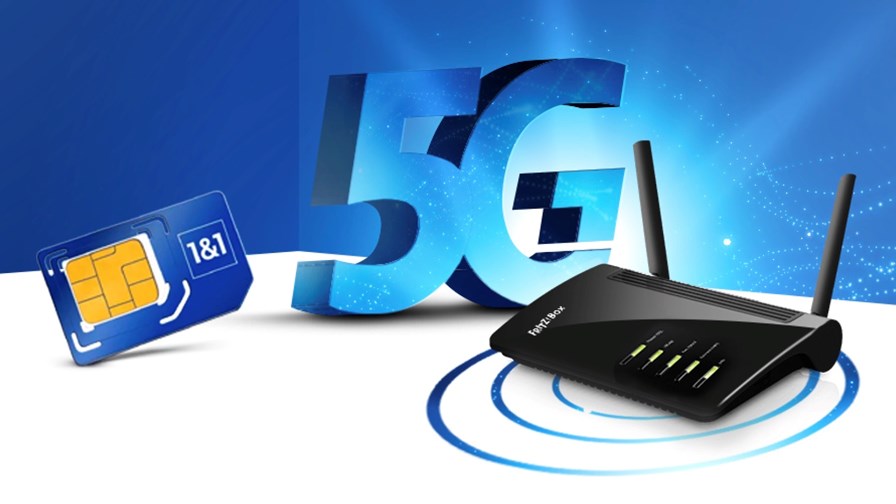 1&1 is Germany's new 5G network operator
Its Open RAN-based network is being built by Rakuten Symphony
1&1 pledged to launch its initial services in 2022
It announced limited 5G fixed wireless access launches days before the year's end
Network rollout is still way behind the original schedule
Germany's new 5G network operator 1&1, which continues to be hampered by network rollout challenges, managed to meet its deadline of launching initial fixed wireless access (FWA) services before the end of 2022 – but only by the skin of its teeth.
On 28 December, the 5G newcomer, which has outsourced the planning, construction and management of its greenfield Open RAN-based 5G network to Rakuten Symphony, announced that its FWA '5G at home' service was available in three locations in two cities, Frankfurt am Main and Karlsruhe.
Then, today, the operator added (in German) that FWA services would be made available from 50 masts in cities such as Hamburg, Essen, Düsseldorf, Wiesbaden, Mainz, Munich and Freiburg over the next few weeks.
The FWA service is provided by the same infrastructure and systems that will support the operator's 5G mobile services, which are due to be launched in the summer, when a roaming agreement with 1&1's current MVNO partner, Telefónica Germany, is due to be activated. According to 1&1, its current multivendor network rollout is based on servers from Dell and Supermicro, routers from Cisco, software from Rakuten Symphony, Altiostar (which is owned by Rakuten) and Mavenir, and antennas from NEC and Communications Components (CCI). It also stated in today's announcement that it is "the only mobile network operator in Germany that does not use Huawei antennas".
The operator had boasted about the quality of its 5G FWA service following field trials in August stating, at the time, that it would launch services during the fourth quarter of 2022 – see Germany's 1&1 hails success for Open RAN-based 5G FWA tests.
It's clear, though, that the network rollout hasn't been as smooth as either 1&1 or Rakuten Symphony, the cloud-enabled Open RAN vendor subsidiary of Japan's Rakuten Mobile, had hoped. In September, 1&1 said its target for having 1,000 antenna sites in place by the end of 2022 would be missed, and delayed by six months, due to one of its three network rollout partners failing to deliver: That partner was subsequently identified as Vantage Towers.
According to today's announcement from 1&1, only 235 locations are currently under construction, with the first interim target of 1,000 radio masts to be reached at an unspecified point this year. "Despite the delays in recent months, we want to continue to meet our existing supply obligation for 50% of all households by the end of 2030 at an early stage," noted CEO Ralph Dommermuth. "Around 12,600 radio masts and over 500 regional datacentres will be put into operation for this purpose."
In an effort to hit that 50% target well before the end of the decade, 1&1 announced a deal on 21 December last year with telecom infrastructure site acquisition consultancy, Eubanet, to gain access to 7,500 new 5G antenna locations.
Naturally, 1&1 is claiming this initial FWA service launch as a tremendous success and proof that Open RAN is "mature". Dommermuth claims the operator is a "pioneer" that is "providing proof in Germany that the world's most modern network technology works". Such statements will not make much impact with the rest of the mobile operator community, which is looking for evidence that Open RAN networks are a viable option at scale, something that 1&1 won't achieve for some time.
And there likely won't be much excitement about 1&1's initial service offer either. With downstream speeds of up to 500Mbit/s and upstream speeds of up to 40Mbit/s, the services, somewhat disappointingly, come with data caps – the highest tier service allows 250Gbytes of data to be downloaded per month for €39.99. If that data consumption limit is reached before the month is up, the service throttles back to just 384Kbit/s.
This doesn't come across as a very enticing offer in a German broadband services market that is increasingly competitive and is currently shifting quickly to fibre access lines.
And it's surprising from a company that has plenty of broadband service experience, as 1&1 already has about 4.3 million fixed broadband customers in addition to the more than 12 million mobile customers that have been signed up via its MVNO agreement with Telefónica Germany (and which, of course, it hopes to migrate to its own mobile network once it is fully up and running).

- Ray Le Maistre, Editorial Director, TelecomTV
Email Newsletters
Sign up to receive TelecomTV's top news and videos, plus exclusive subscriber-only content direct to your inbox.