Ericsson and BT conclude that 5G network slicing brings economic benefits to telcos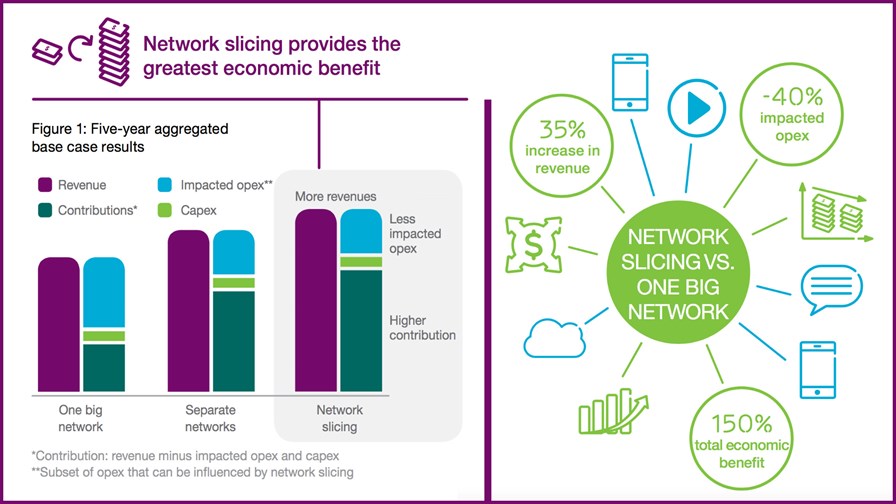 Economic study conducted by Ericsson and BT on network slicing
Potential to offer higher revenues and lower operating expenditures
Requires operational automation and a ramp up of operator service launches
Rapid payback of investment to automate networks
Ericsson and BT have jointly authored what they believe is the first ever economic study that quantifies the benefits of network slicing technology. TelecomTV's summary and analysis follows below, but we strongly recommend that all operators and relevant vendors download and read the full report.
The report was predicated on the basic assumption that there will be an estimated 18 billion IoT devices by 2022, and that the resulting huge amount of data traffic requires that networks adapt to manage this growth. Ericsson segments IoT into two broad categories – Critical Machine Type Communication (C-MTC) and Massive Machine Type Communication (M-MTC). C-MTC services include remote surgery or cloud controlled robots in a factory and are typically characterised by ultra-low latency, high reliability and high throughput, but are relatively small scale. M-MTC services include smart city sensor grids or vehicle tracking fleets and are large scale but have low throughput.
Network slicing is a new solution that promises to provide the capability to enable new business models across a range of industries, allowing operators to segment the network to support particular services and deploy multiple logical networks for different service types over one common infrastructure.
Over a period of four months, Ericsson and BT performed an economic study comparing network slicing with two alternative scenarios for new service deployments – termed in the report as "one big network" and "separate specialised networks". They looked at the economic case for deploying new services using network slicing and the two alternatives. It should be noted that the study was restricted to evaluating the impacts of network slicing in the core network only.
Compelling economic case
"We found that over a five-year period, introducing new services by using network slicing and operational automation generated 35 per cent more revenue than by using one multi-service network," said Marielle Lindgren, Head of Ericsson UK. "The revenue increased 15 per cent when compared to several networks with dedicated resources, demonstrating how the technology enables market stimulation, faster time to market, and opportunities from smaller niche services."
In summary, the research discovered that network slicing enables new revenue generation as well as lower opex and greater capex efficiency, resulting in significantly increased incremental contribution to the bottom line through new service launches. In fact, the more new service launches, the greater the economic benefit gains are to operators. The report's base case model reflects a ramp up to 40 annual service launches (using network slicing) during a five-year period, which included a steady mix of 60 per cent C-MTC and 40 per cent M-MTC services.
Network slicing resulted in the equivalent of 40 per cent reduction in opex. This opex result is largely based on the assumption that operators will deploy operational automation when using network slicing, which has not been assumed in the other scenarios. This all adds up to an overall impact of 150 per cent increased economic benefit, under the baseline assumptions.
"We're positioned to bring millions of devices onto our networks as the IoT ecosystem grows," said Maria Cuevas, Head of Mobile Core Networks Research at BT. "This study gives us guidance as to where our investments will achieve the best results. The more services we deploy with network slicing, the greater economic benefit we will see, enabling us to better serve our customers. In order to achieve this vision, it is important that the industry provides cost-effective solutions to support end-to-end orchestration and adds automation to the operations and management of network slices."
The study admitted that the initial automation investment required for network slicing represents a large overhead, but it can potentially be returned quickly. Investment in automation is paid pack in just one to two years if a high number of service launches is assumed (in this case, 40 by year four). Even if the number of services wasn't as large, the payback is quite short – with just five new service launches per year it can be achieved in three years. Given the upside in the creation of a flexible and scalable network, the investment risk remains low.
"As applications and use cases for evolving technology become more complex, so will the characteristics of connecting them," added Lindgren. "Simply put, networks will need to adapt. The findings clearly show that network slicing provides a logical setup that can be tailored to extend into the as-yet undefined services of the future."
Email Newsletters
Sign up to receive TelecomTV's top news and videos, plus exclusive subscriber-only content direct to your inbox.