Docomo pushes 5G mmWave mobility trials to 39GHz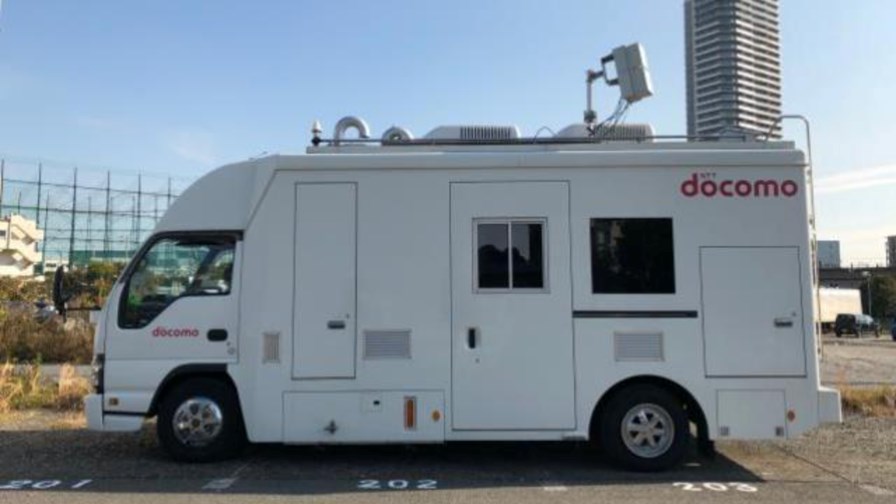 Huawei and NTT Docomo conduct 5G mmWave mobility trial over 39GHz
3Gbit/s downlink on a stationary set-up at a distance of 1.5km
Reluctant to give values for a test vehicle travelling 20km/h
Interest in the 39GHz picking up globally
If you thought the 28GHz band was going to be technically difficult to optimise for cellular radio, with all the hurdles thrown up by using very high frequency and very low wavelength spectrum, then prepare for even more angst with the 39GHz band. Not that such potentially deal-breaking physical restraints such as rubbish propagation characteristics is deterring telecoms engineers in the rush towards very high throughput 5G.
Case in point, news reaches us today that Huawei and NTT Docomo have completed a joint field trial for 5G over "a long distance" (actually 1.8km) using the 39GHz mmWave band in Yokohama, one of largest commercial areas in Japan. The partners say they achieved downlink data transmission speeds that peaked at over 2Gbit/s on a testing vehicle which was equipped with a user equipment equivalent to a mobile phone, while driving at speeds over 20km/h.
"Long-distance transmission over 39GHz mmWave will enable 5G network deployments in a large scale," said Takehiro Nakamura, VP and Managing Director of 5G Laboratory at NTT Docomo. "It opens up the new stage of the 39GHz mmWave technology and will deliver the ultra-fast experience with 5G high data speed."
Huawei notes – quite properly – that achieving wide area coverage and mobility performance on 5G mmWave is still a technological challenge for the industry. The high propagation loss of mmWave signals (a characteristic of the wavelength) limits its coverage when compared to today's cellular networks, while there is also the difficult requirement for a narrow directional beam to focus the transmission power by dynamically tracking a mobile user device.
"It is a technological challenge and opportunity to use the long-distance transmission of 5G mmWave Mobile Communications technology," said Wen Tong, Huawei Fellow and CTO of Huawei Wireless Networks. "The wireless industry will start using the new spectrum 100 times broader than current network to foster the next wave of innovations. 5G mmWave technology will help our customer to reuse the existing network infrastructure, especially for sites resource, to protect their investment."
The joint field trial was conducted in November 2017 and successfully demonstrated that the 39GHz mmWave band can be used for long distance transmission in both stationary and mobility scenarios, even in urban complex deployment environments. The partners recorded over 3Gbit/s downlink throughput on the stationary user equipment at a distance of 1.5km and over 2Gbit/s at a distance of 1.8km.
The test system comprised one 39GHz band base station on Yokohama Media Tower and user equipment in a testing vehicle. It used a Meta-Material Focal Array (MMFA) compact focal lens antenna with advanced beamforming (with a maximum gain of 31dBi) to track the moving test vehicle. When speeds reached about 25km/h, Huawei said the user equipment terminal reported "high speed transmission and stable throughput". Unfortunately, exact figures for performance in a moving vehicle were not made public, implying that they were well under the 2 and 3Gbit/s speeds for the stationary scenario.
mmWave advances
Whilst the 28GHz band may be the front runner for a globally-recognised and supported 5G mmWave band, the 39GHz band is gaining interest from vendors and telcos. In the US, both AT&T and Verizon are supporting it during 5G's trial phase – AT&T acquired Straight Path Communications and Fiber Tower this year and Verizon bought XO Communications, all of whom had existing 39GHz spectrum licence holdings. The 39GHz band also enjoys support from Apple, which applied for a test licence (along with one for 28GHz) in May this year.
In June, Huawei and Docomo demonstrated 39GHz mmWave technology at the Global 5G Tokyo Bay Summit. Coverage reportedly reached up to 2km with "Gbps" peak throughput for a single user. This early test was again conducted in Yokohama, using one base station with 1.4GHz of bandwidth, and two user equipment set-ups. It apparently reached 1.3Gbit/s at a distance of 1.5km.
A final note on mmWave spectrum; don't rule out the 73GHz band. It's one of the favourite contenders in the US market, with support from the FCC. Whilst the even shorter wavelengths make it more of a technical challenge, there is a wide slice available for US operators (at 2GHz, there is more contiguous spectrum than either the 28GHz or 39GHz bands). And of course, more bandwidth means the potential for higher data throughputs.
Email Newsletters
Sign up to receive TelecomTV's top news and videos, plus exclusive subscriber-only content direct to your inbox.