€56bn to deploy 5G in Europe in 2020, but annual socio-economic benefits of €113bn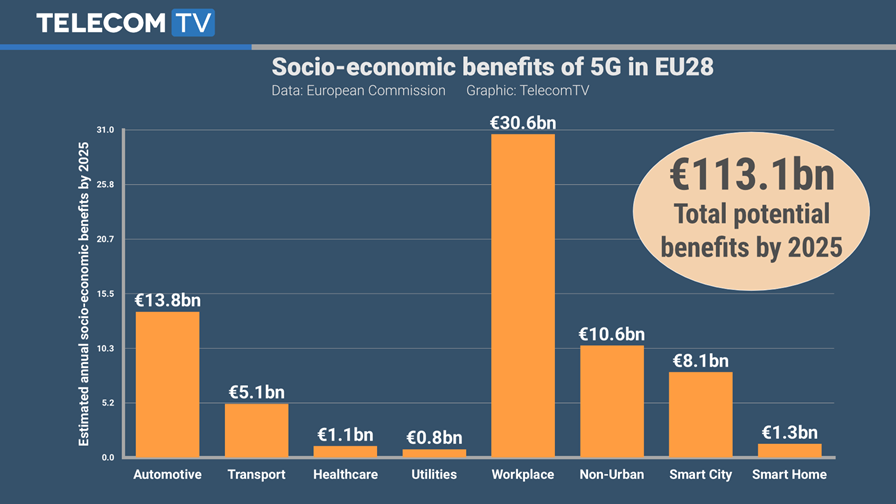 Results emerge of European Commission study into socio-economic benefits of 5G
Total cost of 5G deployment in 28 EU Member States could reach €56bn in 2020
Potential €113.1bn annual benefit to member states by 2025
5G could lead to the creation of 2.4 million jobs across the EU
Finally, after months of waiting, news emerges of the European Commission's study into the socio-economic impact of 5G. And boy, has it been a long time coming, partly due to a delay as the EC sought to harmonise its research activities ahead of its recent 5G strategy revelations.
The EC first called for tenders back in June 2014 for its planned research, entitled "Study on identification and quantification of key socio-economic data for the strategic planning of 5G introduction in Europe", as part of its SMART programme. It then launched the study in May 2015, saying that it "hopes to gain a better understanding of the potential economic impact of 5G networks in new areas such as health and transport, and to gain more information about potential social benefits." The study would be carried out over 12 months by a consortium including Tech4i2, InterDigital Europe, Trinity College Dublin (via the CONNECT project) and Real Wireless.
One of the consortium members, InterDigital, has this morning issued a news release on the report, although there is absolutely no sign of the report itself – either via InterDigital's release or, more importantly, on the EC's media site. So we have to assume that what InterDigital says is correct, until we eventually get sight of the actual repot.
According to InterDigital, the study partners found that in 28 EU Member States the total cost of 5G deployment could reach approximately €56 billion in 2020. A huge figure, but one that is tempered by the potential socio-economic gains. The study suggests that investment in 5G could achieve potential annual benefit to the EU member states of €113.1 billion from 2025, with trickle-down benefits from 5G investment totalling as much as €141 billion. The deployment of 5G is also expected to create 2.3 million jobs in the 28 countries.
This was a serious and thorough study (we've been following it for some time now) into the likely real benefits of 5G, and included contributions from group workshops in Brussels that brought together more than 80 experts from four main vertical industries: automotive, healthcare, transportation and energy. While 5G benefits and capabilities are broad and varied, the study identified three main capabilities that will bring beneficial changes and development:
50Mbit/s everywhere: Truly ubiquitous coverage is expected to help overcome the "digital divide" caused by poor broadband coverage
Scalable solutions for sensor networks: Support for large scale M2M/IoT networks is a priority for all verticals and environments, in particular the four key verticals covered by the study
Ultra-tactile Internet: This has the potential to unlock new applications and services including real-time "sense-respond-actuation" cycles that enable human-device and device-device interactions.
The study partners identified two main groupings of benefits across these key verticals – direct economic benefits attributed to each sector, and secondary socio-economic and environmental benefits arising from four "environments": Smart Cities, Non-Urban, Smart Homes and Workplace.
The first order economic benefits account for €62.5 billion of the identified total €113.1 billion benefits by 2025 and are distributed as follows:
Automotive: €13.8 billion
Transport: €5.1 billion
Healthcare: €1.1 billion
Utilities: €775 million
As can be seen, and as TelecomTV has noted on numerous occasions, the automotive and transport sectors are massive beneficiaries of 5G technology, and should be the prime focus for service providers looking to put their new network slicing capabilities to good use.
Looking at the second order benefits that arise from the different environments, these total €50.6 billion and are broken down as follows:
Workplace: €30.6 billion
Non-Urban: €10.6 billion
Smart City: €8.1 billion
Smart Home: €1.3 billion
Interesting to see that smart cities benefit less than non-urban environments, which makes for a refreshing change. In further findings from the report, 63 per cent of the total €113.1 billion benefits will arise for business and 37 per cent will be provided for both consumers and society.
"The goal of this study was to investigate what 5G might actually mean for industries, including the mobile industry, as well as various other stakeholders," said Alan Carlton, VP at InterDigital Europe. "This study should provide a basis for regulators, other public authorities and various stakeholders to plan future policy in areas such as spectrum allocation planning and future market regulation. The key in all this is to attain maximum benefit, both socially and economically."
We will have further analysis of the report once it is officially released by the EC, as well as comments and insight from some of the other partners.
Email Newsletters
Sign up to receive TelecomTV's top news and videos, plus exclusive subscriber-only content direct to your inbox.