Two more nick-nacks to dust: now you can aspire to own Netgear's latest WiFi 'system'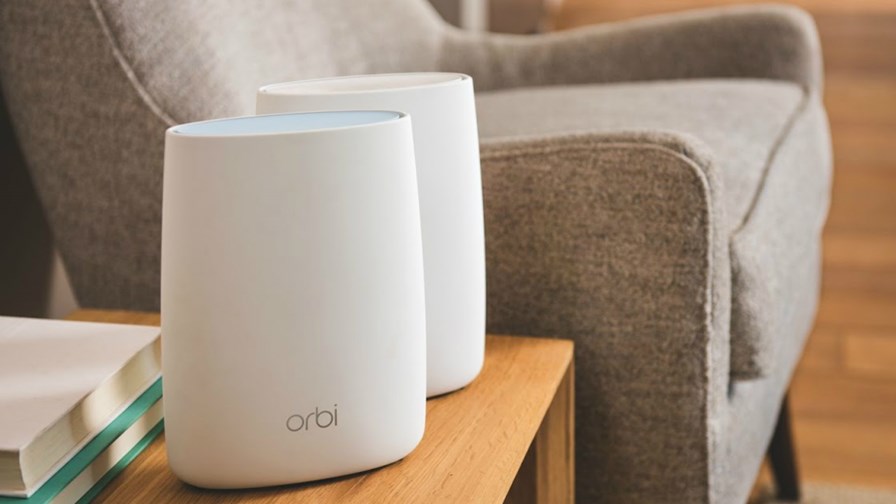 Reach and speed even more important for home WiFi
Netgear announces a 'two unit' solution
Orbi has a hefty price tag
Things are hotting up in what's likely to be one more crucial battleground: the home and its WiFi arrangements. With faster broadband and multi-channel WiFi both arriving, users (and telcos) are probably prepared to put more thought (and money) into the WiFi hub. There are even signs that the hub is being seen as a significant differentiator now - Telstra, for instance, has today announced a mysterious new initiative to beef up WiFi in Australian homes.
That may or may not involve one of the WiFi hub industry leaders Netgear, which has just taken the wraps off its latest router - or rather WiFi 'system'.
Netgear claims the Orbi WiFi System is an "industry first" as it exploits tri-band WiFi. In its full configuration it's actually two routers (see above). The first is the hub attached to the broadband connection, the second is effectively a range extender which when used in combination (on different channels) with its parent, is supposed to be able to cover 4000 square foot of house (that's a pretty big house) and to get its signal into all the nooks and crannies at the same time.
The system supports 802.11ac Wi-Fi over two 2.4GHz and 5GHz radios. Another 5GHz radio uses MU-MIMO across which the Orbi units can communicate at high speed.
Netgear advises Orbi users that the second 'slave' unit should be placed out in the open in the middle of the house (if it has one) and has boldly countered the aesthetic objection likely to ensue from at least one of the household members, by going big, bold and pot-like with the units.
It all sounds perfectly rational, but it had better return a large performance improvement if it's to justify its fairly hefty price tag, especially in markets like the UK where the WiFi hub usually comes for free as part of the broadband deal.
The two-unit Orbi will sell in the US for $399.99 and additional units will cost $249.99 each and add another 2000 square feet to the WiFi footprint. Most houses won't need a third, but offices and commercial spaces might benefit.
Email Newsletters
Sign up to receive TelecomTV's top news and videos, plus exclusive subscriber-only content direct to your inbox.