Telecom Infra Project evaluates unlicensed 60GHz band for access networks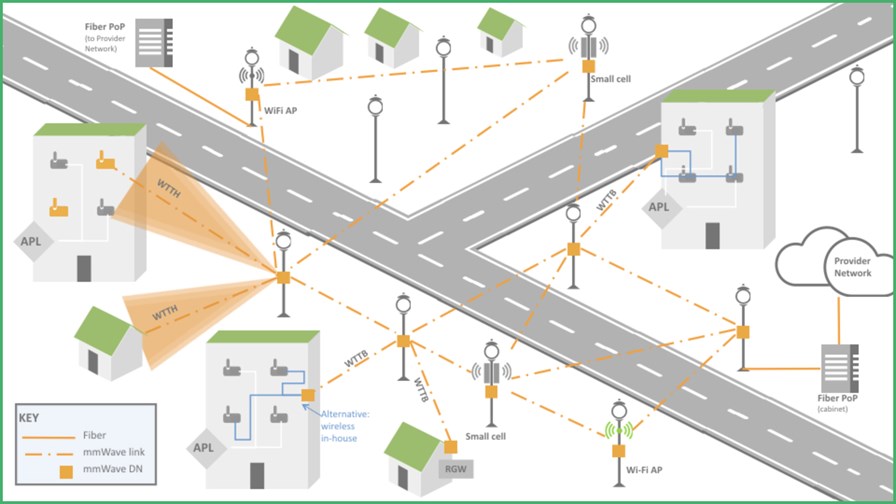 Launch of the TIP Millimeter Wave Networks Project Group
Looking to advance cost-efficient solutions to address bandwidth demand
Initial work will focus on the 60GHz band for metro access
Deutsche Telekom opens TIP Community Lab and Ecosystem Acceleration Center
Deutsche Telekom has announced three initiatives within the Facebook-led Telecom Infra Project (TIP) that take an open ecosystem approach to spur network innovation and improve equipment cost efficiencies. The most interesting of the announcements is the creation of a new Millimeter Wave (mmWave) Networks Project Group within TIP, and which is co-chaired by Deutsche Telekom and Facebook.
The group is supported by the launch of the first European TIP Community Lab in Bonn, Germany with mmWave as the initial focus area. Additionally, a TIP Ecosystem Acceleration Center (TEAC) will be launched in Berlin, Germany focused on network infrastructure innovation.
"Our goal is to deliver the best network services to our customers, and at the same time deliver a superior capital efficiency," said Bruno Jacobfeuerborn, CTO of Deutsche Telekom. "This requires more radical approaches. We value Facebook's contributions to this space and enjoy the excellent partnership we have as part of TIP and beyond."
The objective of the Millimeter Wave Networks Project Group is to develop innovative solutions for very high performance and cost-efficient access and metro networks, initially using the 60GHz unlicensed spectrum range. The project group will focus on key telco use-cases and appropriate system architectures – such as delivering fibre-like gigabit data rates to residential and consumer customers, mobile backhaul, and dense connectivity for smart cities.
"We are aiming to deliver cost efficient solutions, truly innovating within the market," said Andreas Gladisch, Deutsche Telekom co-chair for the project group. "We expect our work to create a vibrant open, community-driven ecosystem, that will meet the needs of telecom and city operators."
The Telecom Infra Project was jointly launched by Facebook, SK Telecom, Intel, Nokia and Deutsche Telekom in February 2016. Building on the community-based R&D model successfully proven within the Open Compute Project, TIP aims to reimagine the traditional approach to building and deploying telecom infrastructure. Deutsche Telekom says it is working within TIP to bring innovation to the telco industry required for mastering the exponential Internet traffic growth challenge.
"Telco is generally a market with high entry barriers and is dominated by established vendors," added Jacobfeuerborn. "Small start-ups have problems entering the telco market, even for proof of concepts. As a result, the venture capital community has been very hesitant to make infrastructure-related investments. The TEAC centre in Berlin will help to break this deadlock. Our work on 5G has shown Deutsche Telekom's leadership in driving telco innovation, and I am very confident that we will also be successful in helping push the broader telecom infrastructure ecosystem forward."
From concept to deployment
TIP believes that the 60GHz frequency band represents a large slice of unlicensed spectrum that can support the bandwidth required by VR, AR, 4K video streaming, smart city sensors and other emerging bandwidth-intensive applications. The group will use data and lessons learned from Facebook's Terragraph solution, a PoC that overcame the signal range and absorption limitations that previously confined the 60GHz frequency to indoor use.
Hardware engineering will focus on promoting the design of nodes that combine radio transmitters and receivers. These nodes will be designed for installation on utility poles, street lamps, sides of buildings and other public locations throughout a city to provide coverage. They will work together in a mesh configuration, with traffic hopping from node to node to reach the reception point, which could be a WiFi access point, small cell or a building.
"This network architecture requires only a handful of nodes to be connected to fibre in order to provide city-wide coverage, which will help minimise capital expenditures," explained Gladisch and Salil Sawhney, Facebook co-chair for the group, writing on the TIP blog. "In addition, the hardware will use a commercial off-the-shelf WiGig chipset components to contain costs."
The group will complement the system with a suite of software tools and best practices to help telcos and municipalities streamline and maximize mmWave deployments. This work will initially be focused on four areas: cost economics modelling; validation; network planning; and best practices for deployments. The use cases being evaluated are fixed wireless access, mobile backhaul, and smart city applications.
"With over 450 members worldwide, our strong community continues to grow and thrive," said Leland Lai, Executive Director of TIP. "We're seeing momentum across our project groups and are announcing several new contributions that will help us execute our mission of finding new approaches to building and deploying telecom network infrastructure." He added that the mmWave Networks Project Group will "share lessons learned and best practices with the TIP community, including design/test plan documents, proof-of concepts, presentations and white papers."
Email Newsletters
Sign up to receive TelecomTV's top news and videos, plus exclusive subscriber-only content direct to your inbox.