Fledgling Orange Bank banks on 'second wave' of uptake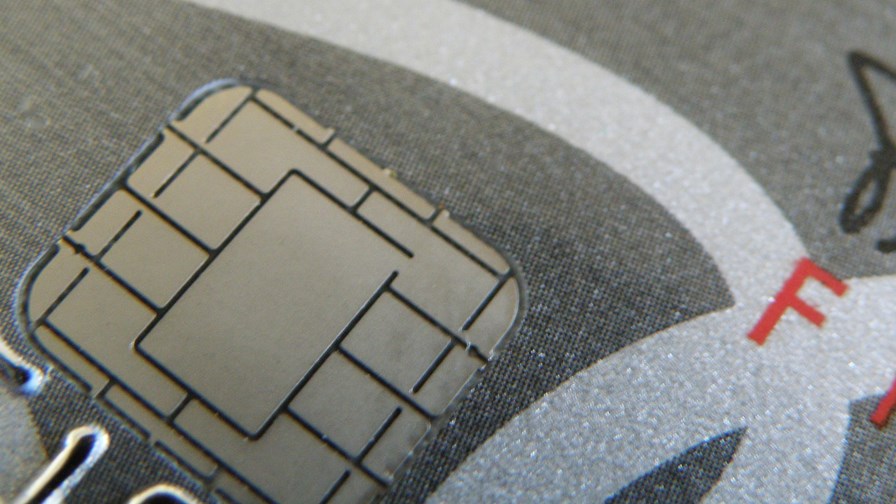 Survey highlights consumer appetite for mobile banking
Smartphones could really, really replace payment cards in five years
As the ecosystem matures, security becomes paramount
Mobile banking is definitely now on the cusp of widespread uptake, according to a new survey published by Orange this week that identified a second wave of consumers, more representative of the general population, who are itching to ditch the traditional way of managing their money.
However, the same survey also revealed a yawning gap between the appetite for m-payments and actual usage, suggesting a lack of awareness and/or a dearth of either compelling services, or outlets at which to use them.
Orange interviewed more than 7,000 consumers spread across five European markets – France, Romania, Spain, Sweden and the UK – to gauge the appetite for digital and mobile financial services.
It found that in France, for instance, 21 percent of people already use an online or mobile bank, or what Orange calls a 'neo-bank'. Orange categorises this group as early adopters when it comes to newfangled banking services: predominantly male, in their late 40s, working in higher-end jobs, and holders of multiple bank accounts. However, a second wave of consumers who represent another 21 percent of the population said they feel comfortable about opening up an account at a neo-bank. This group shows a much more even split between men and women, higher-and-lower income, and it generally holds accounts with just one bank.
"Should we presume that the target population for neo-banks is necessarily limited to the wealthy or tech savvy? This may have been the case for 'early adopters' but our study shows that the customers likely to switch to a neo-bank are now more broadly representative of the overall population. In other words, these new banking practices are becoming more commonplace," said Paul de Leusse, deputy CEO of Orange and CEO of Orange Bank.
As well as a willingness to use online banks, Orange's survey also found evidence that customers in some countries are less inclined to seek out a bank branch to find out about banking services. For example, 70 percent of UK respondents turn to the Internet and social media to find out about banking services, while only 18 percent do so at physical bank branches.
Orange will hope its banking survey is on the money, so to speak. After ironing out a few last minute creases, Orange Bank launched in France in November 2017, giving customers the ability to use their phone to open an account and make contactless payments, as well as the more run-of-the-mill stuff like transferring money and checking balances.
Reuters reported on a strategy update in November last year in which Orange revealed that its bank has signed up 200,000 customers so far, and that it plans to launch in Spain in the second half of this year, followed by Belgium, Poland and Slovakia between 2020 and 2023. It has set a target of reaching 4 million customers and €500 million of net income from banking within five years.
These customer numbers sound more conservative than what we're used to in telecoms, but it is worth noting that Orange is entering crowded, competitive and highly-regulated markets with entrenched players, so a prudent approach is probably quite important. Orange can't afford to tread too carefully either though, or it may show up too late to the party.
That said, when it comes to m-payments, it appears that the party has barely even started, judging by the survey results.
As the chart below shows, in all of the markets surveyed, cash and cards are still the most frequent payment methods, while contactless m-payment barely gets a look in. And yet, a majority of respondents predict that mobile phones will become the dominant form of in-store payment in five years.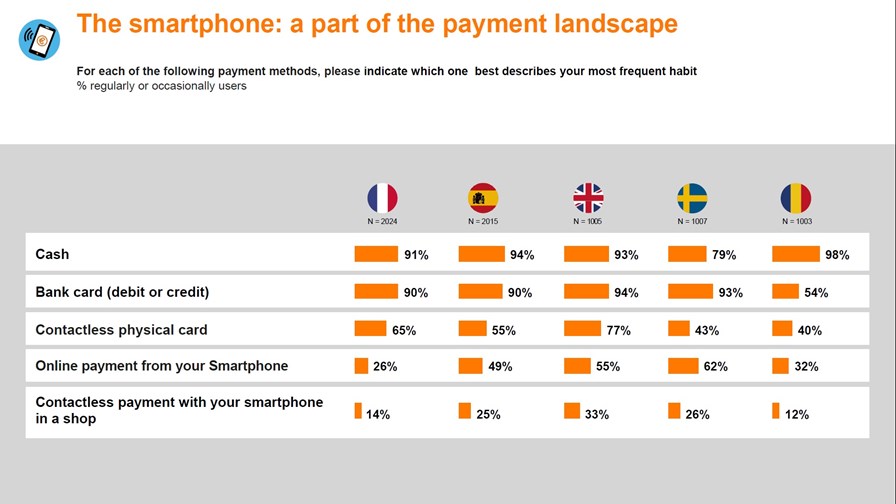 For m-payments to become reality, more outlets need to accept contactless m-payment and banks themselves need to make customers aware when they are issued a new card that they can load that card onto a mobile app.
In the meantime, the popularity of physical contactless payment cards is rising. ABI Research in October said that contactless payment card issuance was set to hit 1.5 billion units in 2018, accounting for more than 50 percent of all payment cards shipped worldwide.
There might come a day when people really do leave home without a wallet or purse, and rely solely on their smartphone instead. But the longer it takes for the m-payment ecosystem to mature, the longer it takes for that day to arrive.
When the m-payment sector does mature, it is also likely to attract more attention from criminals.
According to Symantec's most recent Internet Security Threat Report, the number of newly discovered mobile malware variants grew by 54 percent between 2016 and 2017. 63 percent of malicious apps leak users' phone numbers, which are too often used by organisations to authenticate a customer's identity. 37 percent shared a phone's physical location.
Stats like this can lead to wariness among potential customers.
Indeed, a survey published in late 2017 by Accenture revealed that 69 percent of consumers in the UK would not share personal financial data with a third-party service provider. Attitudes might have changed since then, and what applies in the UK does not necessarily apply everywhere, but it shows that new players in banking or payment services will have their work cut out to overcome reticence in some markets.
So while Orange Bank's survey results are encouraging for any telco with aspirations to get into financial services, they will have to work hard to prove to end users that they mean business, and that they can be trusted.
Email Newsletters
Sign up to receive TelecomTV's top news and videos, plus exclusive subscriber-only content direct to your inbox.