AT&T's acquisition of Vyatta is troublesome news for vendors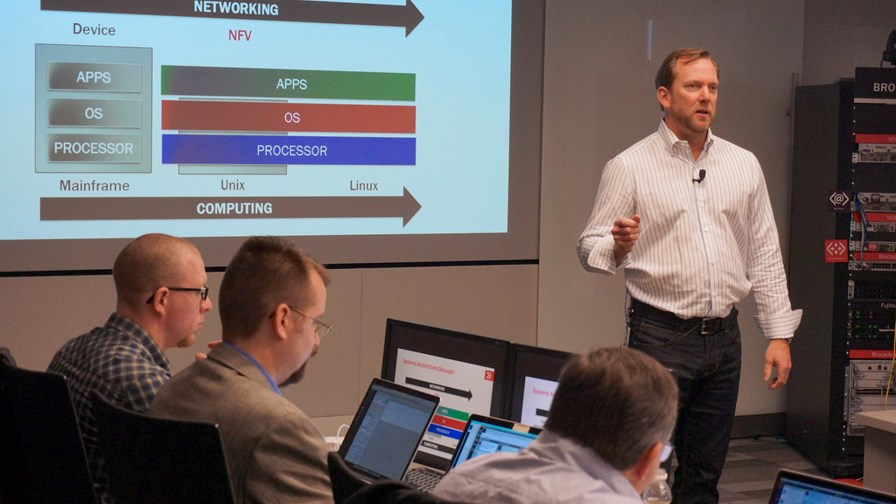 AT&T acquires Vyatta Software Technology from Brocade
Deal expands AT&T's SD-WAN and "white box" capabilities
Will bolster its ability to deliver cloud or premises-based VNFs
Follows its recently completed white box platform trial
Telcos broadly have three choices when dealing with network equipment vendors. They can simply take whatever is on offer from the vendor in what amounts to a closed system; they can tell the vendor what they need and get involved to some degree with the development process; or if they are feeling bullish and empowered they can specify exactly which individual components they require and put it together themselves. It's the third and final choice that has a lot of traditional vendors concerned.
At the end of last week, AT&T announced that it has agreed to buy the Vyatta network operating system and associated assets of Brocade Communications Systems. It's no surprise that yet another part of Brocade has found a new home, as ever since the company was acquired by Broadcom it has been shedding much of its most interesting business units. That the latest buyer is a telco and not a vendor has raised some eyebrows.
The acquisition includes the Vyatta network operating system, its virtual network functions (VNFs) and distributed services platform, software under development, existing software licenses, related patents and patent applications, and the vRouter product line. AT&T says it also intends to hire certain Brocade employees associated with that business based in California and the UK. The deal is expected to close in early summer and, like the other severed limbs of Brocade, is subject to the completion of the Broadcom acquisition. Financial details were not revealed. Vyatta was founded back in 2005 and was acquired by Brocade in 2012.
AT&T says the acquisition will bolster its ability to deliver cloud or premises-based VNFs, starting with its previously announced SD-WAN cloud service with VeloCloud (also worth noting that rival Sprint is also working with VeloCloud). The telco expects to virtualise and software-control 75 per cent of its network by 2020 and says it is on track to hit 55 per cent by the end of 2017.
"Our network transformation effort lets us add new features quicker than ever before at a much lower cost," said Andre Fuetsch, CTO and president of AT&T Labs. "Being able to design and build the tools we need to enable that transformation is a win for us and for our customers."
White box strategy
The Vyatta acquisition will also expand AT&T's "white box" platform capabilities. In March this year, it completed a trial with a number of companies and industry groups to design and build its own white box switches to manage data traffic more efficiently across our network.
The trial – the first such trial of multi-supplier, open source white box switches, carrying customer traffic, according to AT&T – used a common, uniform open network operating system across multiple merchant silicon chips to build a network switch that met its specific real-world data needs. The trial used a route from Washington DC to San Francisco, and provided high performance telemetry for its ECOMP platform to monitor the traffic.
"We see huge potential for increasing the speed of innovation, lowering costs and, most importantly, staying ahead of the needs of our customers," said Fuetsch earlier this year. "We went from using traditional switches the size of multiple refrigerators to a chip that can literally fit in the palm of your hand. We think white box will be a big part of the future of the wide area network."
The telco's partners in the trial were Broadcom, Intel, Edgecore Networks, Barefoot Networks, Delta Electronics and SnapRoute. Not am Ericsson, Nokia or Huawei in sight. Interestingly, the Intel architecture-based processors ran the SnapRoute operating system that managed the Barefoot and Broadcom chips and the various interfaces on the boxes. No mention of use of the Vyatta operating system, though an interesting point is that AT&T is an investor in SnapRoute.
AT&T is now testing the replacement of proprietary routers on its 60,000 cell towers with white box routers. It believes it can dramatically increase the capacity on each tower while keeping costs under control.
Networking ecosystem has reached an inflection point
"Just as open computer operating systems, like Linux, leveraged community contributions to create newly architected, high-performance operating systems, now the networking ecosystem has reached a similar inflection point," said Chris Rice, SVP network architecture and design, AT&T. Mark those words well, if AT&T believes the conditions are now perfect for disruption to the networking ecosystem, then others will follow. It is also doing all it can to encourage other telcos to follow, such as releasing its ECOMP platform to open source, which is now available as the Open Network Automation Platform (ONAP).
Of course AT&T isn't alone in developing a telco white box strategy. US rival Verizon is also hard at work, announcing last month that it has added x86-based white box options with OpenStack to its virtual network services with an aim to "unlock the power" of open source and virtualisation. Verizon's uCPE solution incorporates service chaining and enterprise orchestration and the goal is to enable enterprises to deploy near real-time SDN technologies.
Verizon's aim is to launch its white box initiative with its enterprise customers first, giving them open hardware, open source white box architectures, and so simplifying the transition to software-defined, application-centric network deployments. Its uCPE portfolio comes in a variety of sizes and leverages commercial-off-the-shelf (COTS) hardware with open source architecture, making it easy for the telco's customers to deploy global services through its application library. It's a nicely conceived strategy, with a number of interesting longer-term options.
Email Newsletters
Sign up to receive TelecomTV's top news and videos, plus exclusive subscriber-only content direct to your inbox.