"Something nasty in the woodshed". Yahoo's US$1 billion Mozilla debt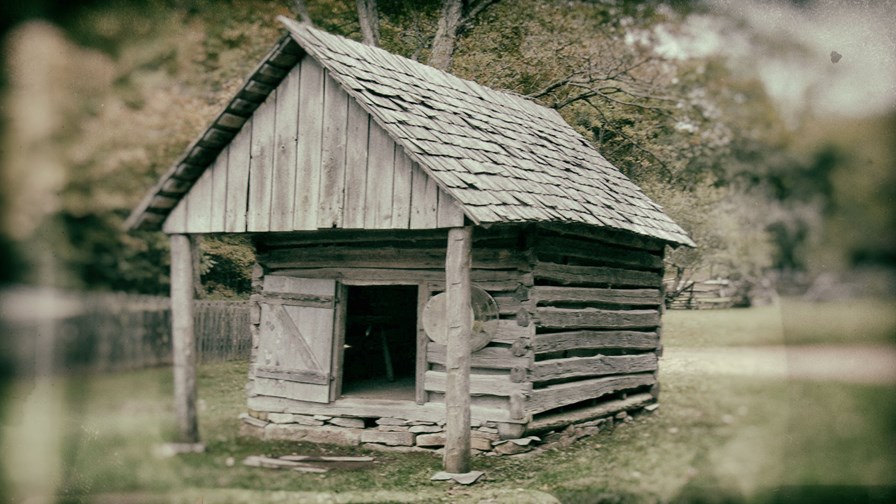 If Yahoo's Sunnyvale HQ is Cold Comfort Farm then Marissa Mayer is Aunt Ada Doom
An unanticipated extra little surprise for Yahoo bidders
$1 billion due for immediate payment to Mozilla
In 1932 Stella Gibbons published her classic novel 'Cold Comfort Farm', a comic parody of rural life in England between the wars. It introduced Aunt Ada Doom, a joyless character who once had an unpleasant experience when she "saw something nasty in the woodshed".
Eighty-four years later the bidders for Yahoo's core assets have had a nasty surprise of their own after the company revealed that it probably owes Mozilla a billion dollars and payment may be demanded immediately. There wasn't much gilt left on Yahoo's gingerbread now anyway but now we can see the more of wood-wormed reality under the tarnished gold paint.
The convoluted tendering process that will - probably or possibly - result in Yahoo selling-off its core Internet assets to the highest bidder finally ends today. As Shakespeare presciently wrote, "for which relief, much thanks."
It has been a tortuous performance that seems to have lasted for about as many months as it takes to gestate an elephant and will almost certainly drop a longed-for and merciful curtain on the lacklustre and unsuccessful tenure of Marissa Mayer as Yahoo's CEO, ironically enough almost exactly four years to the day since she was appointed to the role.
It has taken her some 48 months to destroy a once great company. Under her leadership Yahoo's fortunes first flagged, then the company's value was decimated and the Yahoo search site, once a runaway leader in its field, easily seeing off all competitors, is now an irrelevant, also-ran donkey mooching along the verges and, every now and again, half-heartedly nibbling at a thistle or two.
The bidding process began back in February when, after several failed turnaround attempts to resurrect Yahoo had failed, the CEO had, very, very, reluctantly, to accept the inescapable fact that if anything is to be salvaged from the prolonged debacle the company would have to split and divide its struggling Internet operations from the valuable investments Yahoo holds in Alibaba of China and Yahoo Japan.
As a precursor to the auction of its core assets which include Yahoo's advertising, email, media and web search units, Marissa Mayer was forced to accede to the demands of the activist hedge fund and Yahoo investor, Starboard Value, that it be given representation on Yahoo's board. After a prolonged war of attrition victory finally went to the hedge fund and Starboard Value at last got four seats on a slimmed-down Yahoo board of 11 members and the search for a buyer began in earnest.
A billion buck possible debt? Not significant enough to tell shareholders about it
When the sale of assets was first announced there were some 40 prospective buyers in the wings and Yahoo was demanding a minimum of $10 billion for its collection of 'core businesses'. Now that list has been whittled down to a few serious prospective purchasers led by Verizon Communications and AT&T but also including several private equity companies and an apparent outsider in the form of Dan Gilbert, the co-founder of Quicken Loans, a Detroit-based online home loans and mortgage company. Mr. Gilbert's bid is being bankrolled by Warren Buffet. Wheels within wheels. It now seems unlikely that Yahoo will realise much more than $6 billion in the sale and some analysts are saying it could be as low as $3 billion.
Meanwhile, as the bidding drags on and on, Yahoo's star continues to fall. The company is due to report its latest quarterly figures and they are widely expected to be dismal, recording yet further deterioration in revenues and profits.
And then there's the extra little surprise of the $1 billion owed by Yahoo to Mozilla. When the bidding process was well underway and had become serious, Yahoo suddenly announced to prospective buyers that they might have to stump-up to pay the billion bucks Mozilla says it is owed and wants - with immediate effect.
Back in 2014, Yahoo agreed to pay Mozilla a minimum of $375 million a year to make Yahoo the default search engine on Firefox. That was expensive enough at the time but Marissa Mayer made thins worse by personally negotiating and signing-off a codicil giving Mozilla the right to demand any and all of remaining payments on the deal to be made immediately in the event of Yahoo being sold.
That's bad enough, but Yahoo's senior management made the decision not to disclose to shareholders and investors the provisions of the Ada Doom clause in the contract with Mozilla. It said they were 'not significant enough' even though the US Securities and Exchange Commission (SEC) sent Yahoo a series of letters requiring it to provide the agency with all the terms of the Mozilla agreement and to list and explain any potential risks that Yahoo might face as a result of Ms. Mayer's unhelpful negotiation of the addenda to the contract.
To help put things in context in terms of money down the drain, when Ms. Mayer became CEO of Yahoo in 2012 the company was positioned to become a major force in social media and make a lot of cash from it but instead the CEO persuaded the board to let her spend a billion dollars on buying the blogging start-up Tumblr, an acquisition that has returned next to nothing. She also ignored opportunities in content to concentrate on search and did costly paid-traffic deals (as in it cost Yahoo an arm and a leg) with arch-rivals Google and Microsoft.
And yet Marissa Mayer has led a charmed life, weathering storms of criticism from shareholders and analysts that would have seen many another CEO unceremoniously jettisoned into the briny. That is because she could point to (and take shelter behind) the gains in value made by Yahoo's 15 per cent holding in the Alibaba Group - even though she had nothing whatsoever to do with securing that holding in the first place. And then there's the 35.5 per cent Yahoo owns of Yahoo Japan, also nothing to do with her.
But it now looks as though Ms. Mayer's time at Yahoo is just about up and that someone new and, hopefully, more competent will soon take of control of the depleted but valuable rump of a once great company. With final bids due in today, the Yahoo board is expected to announce a buyer or buyers within no more than a few days. The endgame is nigh for Ada Doom. Mind you, she'll swan-off with a $150 million severance package tucked under her wing.
Email Newsletters
Sign up to receive TelecomTV's top news and videos, plus exclusive subscriber-only content direct to your inbox.