Telefónica receives validation (and a note of caution) for its Telco Cloud strategy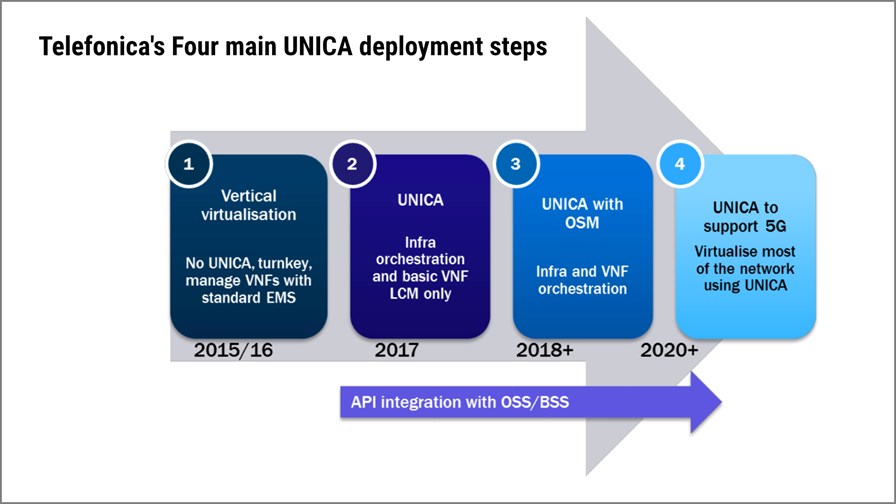 Appraisal of the UNICA project and progress to date
Welcomes UNICA's sponsorship of open-source communities
To date, UNICA is live in four markets
Warns that Telefónica faces three main challenges to further deployment
Spanish operator Telefónica has reason to be pleased with the findings of a white paper from Analysys Mason that investigates its Telco Cloud programme. Mind you, so it should, as Telefónica actually commissioned the report in the first place. So it obviously came as a relief when Analysys Mason concluded:"Telefónica has one of the industry's most ambitious and forward-looking visions for a future network based on NFV/SDN technologies."
The consultancy firm summarises the progress that the company is making in implementing its Telco Cloud programme, which includes the UNICA project – the foundational architecture that the telco is deploying to support future networks based on NFV and SDN. UNICA has been in development for around four years now and Analysys Mason says that as a result, "Telefónica has the authority and insights to overcome the technological challenges and complexities posed by network virtualisation".
The firm adds: "UNICA has a well-founded and thoughtful architecture that does not compromise on original ETSI NFV principles: independence from vendor-lock-in at every layer of the architecture; the use of commodity and, where possible, open-source, cloud technologies, and the encouragement of market innovation through UNICA's sponsorship of open-source communities".
A note of caution
However, it does warn that Telefónica faces three main challenges (and not two, as the press release implies) in implementing a programme as substantial as UNICA – technology challenges associated with market immaturity; challenges around the organisational, cultural and process transformations; and it also needs to win greater support from the commercial side of the company for UNICA (it warns that at present, UNICA is perceived more as a network transformation programme rather than a service innovation platform).
Analysys Mason also encourages Telefónica to increase dialogue with business stakeholders to show them the potential of UNICA and prioritise its internal operational and organisational transformations so "that its operating businesses are fully technically prepared to use the UNICA infrastructure".
Telefónica's plan is to operate a future network that is fully virtualised and programmable, and one which enables the company to cost-efficiently and flexibly align capacity with demand, simplify network complexity and reduce time to market for new service delivery. To date, UNICA is live in four markets: Germany, Argentina, Colombia and Peru. The telco chose to define and build its own infrastructure through UNICA as it believes the available cloud tools and general-purpose hardware have been designed for IT use and do not address the multiple, highly specific requirements of a carrier-grade networking environment.
Instead, UNICA is based on open principles and uses open-source and commercial cloud technologies to ensure it is as future-proof as possible. It is designed to meet the requirements of the network environment, including carrier-grade, performance and operational capabilities. It is also designed for flexible deployment across multiple sites and cloud environments and to include end-to-end management extensions that support distributed deployments and other practical management requirements that are out of scope for the ETSI NFV specifications.
You can download the white paper here.
Email Newsletters
Sign up to receive TelecomTV's top news and videos, plus exclusive subscriber-only content direct to your inbox.