The FCC looks to tackle 5.9GHz spectrum issues between WiFi and vehicle communications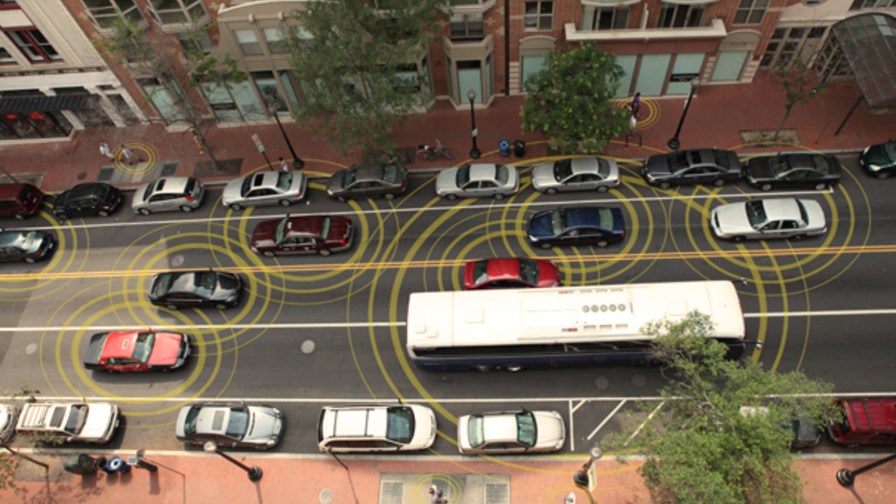 US has licensed 75MHz of spectrum for automotive safety use
Tech industry and FCC keen to share this spectrum for WiFi applications
FCC wants more details from Qualcomm and Cisco on sharing proposals
Car industry warns of impairing safety-critical applications
The debate in the US over unlicensed spectrum use in the 5.9GHz band continues. Yesterday, the FCC regulator issued an invitation for more input and discussion from interested parties, as it is keen to release more spectrum for WiFi use, but with three years already gone there is still no end in sight. However, at least there is now a deadline for completing testing of spectrum sharing in the band – January 2017.
The main problem faced by the FCC is that the US took the unusual step of issuing spectrum to the automotive industry at the end of the 1990s. The Department of Transportation and automotive companies already use this spectrum under license for Dedicated Short Range Communications (DSRC) operations – i.e. vehicle-to-vehicle (V2V) and vehicle-to-infrastructure (V2I) systems – which poses something of a problem for future sharing with other unlicensed users.
The latest move to share this spectrum and support the strategy for more mobile broadband has the unanimous backing of all commissioners (how refreshing). However, it is political election season after all, so there is still a degree of posturing. Commissioner Ajit Pai issued a statement saying he has been calling for more 5GHz since 2012, but the proceeding lay dormant for two years, which "didn't sit well with some."
"The FCC allocated this spectrum for DSRC operations at the end of the last century," explained Pai. "DSRC is intended to enable wireless communications to promote safety for both V2V and V2I purposes. But at the time of the allocation, we did not have the commercial applications or new radar technologies that can play a key role in improving highway safety and thus saving lives."
"Connected cars are using a range of wireless technologies to provide safety functions, and autonomous vehicles are on their way," added Commissioners Michael O'Reilly and Jessica Rosenworcel in a joint statement. "Meanwhile, technological advances have reduced the potential for interference and enabled spectrum sharing, allowing us to explore unlicensed opportunities in this band without causing harmful interference to DSRC safety-of-life functions."
The commissioners want to obtain further information about the two 5.9GHz spectrum sharing technologies offered to date – by Qualcomm and Cisco. The cable industry is understandably keen to get this resolved, as it wants more 5GHz spectrum to enable operators to build out more WiFi capacity.
"Not only does the FCC ask the right questions about how to test both the Qualcomm and Cisco sharing proposals, but it also asks how to distinguish crash-avoidance from non-safety DSRC applications," said the National Cable and Telecommunications Association, in a statement. "NCTA is committed to finding a sharing solution that works and today's FCC action points the country in the right direction."
Auto industry plays the public safety card
The US Auto Alliance's DSRC Coalition wrote a public letter to President Obama last month, following an appeal from a wide-ranging group of unlicensed spectrum supporters (including Broadcom, Qualcomm, Dell, Intel and Ruckus Wireless) to speed up the sharing of the 5.9GHz spectrum.
"Those asking for delay seek to reconfigure the 5.9GHz DSRC band in a way that would impair safety-critical applications and jeopardize their public benefits," claimed the coalition. "This would sweep away more than a decade of research and development, as well as delay for perhaps another decade DSRC's life saving benefits."
The US generously gave the automotive industry 75MHz of spectrum for DSRC, far in excess of the 20-30MHz allocated in Europe, which should provide ample room for all parties to make use of. What's more, DSRC solutions have been slow to emerge, although the industry counters that it has now moved out of the labs and is testing solutions in real-life scenarios, and GM's plan to install it in one of next year's new Cadillac models.
All of which leads the conspiracy theorists to conclude that the automotive industry is playing politics with the spectrum, hoping to extract more favourable economic terms for its release at a later date. Spectrum is, after all, an extremely scarce and valuable asset.
See also this article from my colleague Ian Scales on the 5.9GHz spectrum situation.
Email Newsletters
Stay up to date with the latest industry developments: sign up to receive TelecomTV's top news and videos plus exclusive subscriber-only content direct to your inbox – including our daily news briefing and weekly wrap.