LiFi has long been upcoming, will 5G be its spur?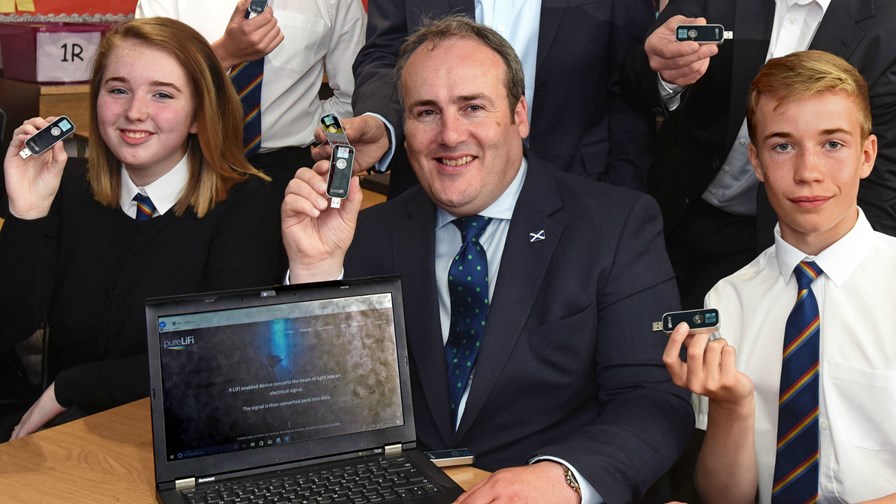 Can LiFi challenge WiFi?
Does it want to?
LiFi - where light signals invisible to humans step in to replace or augment WiFi radio signals - has been around as a concept for nearly a decade, but with the arrival of 5G its time might be coming.
Scotland is claiming a LiFi world first as a South Ayrshire school pilots LiFi in the classroom in a project conducted in conjunction with The University of Edinburgh, the Scottish Futures Trust, and the Scottish government.
The trial is using pureLiFi's LiFi-XC system, comprising eight LiFi-enabled LED light bulbs in the ceiling. Students have been given access to LiFi-XC Stations that plug into their laptops enabling high-speed connectivity through the lights.
The company behind the trial, PureLiFi, was formed in 2012 as a spin-off from the University of Edinburgh to create OEM components, including LiFi drivers and receivers. It has reported year-on-year quarterly revenue increases of over 300 per cent against Q3 of 2014. It says it has significantly grown its international customer base around the world with international partnerships in place with organizations such as Cisco, Rolls Royce and Independence Blue Cross.
It's difficult to see how LiFi can crash the WiFi party any time soon since, at present, it's a technology which can theoretically match WiFi in some ways, beat it in a few, but trail it in connection costs (WiFi has the advantage of scale and a long head start). That's not a great position from which to declare WiFi a legacy technology and attempt a takeover.
So the pureLi-Fi company, at least for the present, is positioning the network as complementary - especially useful where you have many devices all competing to connect via WiFi - as in a classroom, for instance. The systems, it's said, could share the load between them, effectively doubling a space's data capacity. It's also an approach which rules out the nuclear option of declaring WiFi dangerous for children and pushing LiFi as a safe alternative - apart from anything else, the heat seems to have gone out of the cancer issue for the time being.
So what are LiFi's chances of success? With the introduction of 5G and the potential crowding of the radio frequency bands as data demand soars, those chances look good on paper.
We looked at O2's experimental application of LiFi a couple of weeks back (see - Ding! O2 has a lightbulb moment: uses LED lights to send fast data indoors). O2 no doubt partially sees LiFi as one potential tool for overcoming the indoors problem for high frequency 5G. The 3.5 GHz frequencies will find it difficult enough, the circa 28 GHz even more so. LiFi could theoretically wirelessly distribute 5G signal inside a building or room.
And there already appears to be a large number of LiFi device makers ready to shoulder the burden as the market looks set to continue growing. In addition to pureLiFi, the top manufacturers according to market analysts Fentonpost include Lucibel, Oledcomm, General Electric, Osram, Wipro, Koninklijke Philips, Panasonic, Samsung, LG Electronics, Toshiba and Sharp.
Email Newsletters
Sign up to receive TelecomTV's top news and videos, plus exclusive subscriber-only content direct to your inbox.