Ding! O2 has a lightbulb moment: uses LED lights to send fast data indoors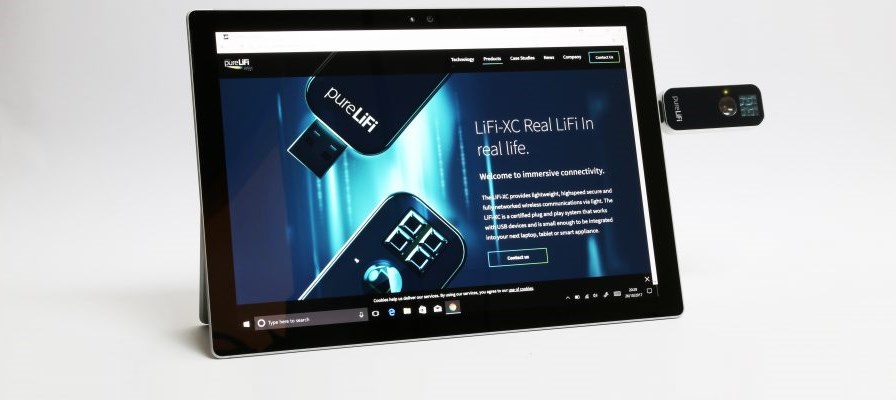 O2 and pureLiFi trialling network using light to transmit data
High speed wireless connectivity vis LED lights
Works securely indoors
Visible light spectrum 10,000 times bigger than the entire RF spectrum
Mobile operator O2 is conducting a network trial using light to transmit data. Working in partnership with PureLiFi of Edinburgh, Scotland, O2 has installed a pureLiFi's LiFi-XC system, (made up of nine LiFi-enabled LED light bulbs) in its 'Explore Room' facility at the operator's headquarters in Slough, to the west of London. Data transmission by light alone permits high-speed wireless connectivity and the transportation of large amounts of data, bi-directionally.
I saw a similar demonstration at a public event held in a snowbound Bristol back in March. It was undeniably impressive and has great potential for deployment in 5G networks because, unlike the radio frequency waves used in WiFi, light can't travel through walls and doors. This makes LiFi particularly secure and considerably easier to manage and control access to a network. What's more, if windows are covered with the correct shielding, access to a LiFi channel is limited to devices that are actually inside the room. LiFi supports multi-used access and handover to enable mobile services.
LiFi is a visible light communications (VLC) technology using light from light-emitting diodes (LEDs) as the means to deliver networked, mobile, high-speed communication in a similar, but potentially superior manner to Wi-Fi. It works in visible light spectrum, ultraviolet and infrared.
VLC operates by switching the current to LED bulbs on and off at a very high rate. LED bulbs can easily withstand the strain of the high-speed switching and the rate of switching is too fast for the human eye to appreciate. Thus the light appears to be an unobtrusive steady white glow. In effect, with LiFi a light bulb acts as a router and, what's more, LiFi doesn't require direct line-of-sight to transmit a signal because light reflected off walls and furniture can still achieve a data speed of 70Mbit/s. Not only does it reduce infrastructure complexity, it also reduces energy consumption.
The term 'LiFi was first introduced by Professor Harald Haas of the University of Edinburgh at a TEDGlobalttalk in 2012. Professor Haas is co-founder of pureLiFi. The world's first LiFi dongle was unveiled at Mobile World Congress in Barcelona in 2016.
The potential for the technology is immense because LiFi has almost no capacity limitations.The visible light spectrum is 10,000 times larger than the entire radio frequency spectrum and scientists have achieved data rates of more than 224 Gbit/s in laboratory conditions. It is expected that the LiFi market will be worth more than US$6 billion this year and is forecast to grow to at least $60 billion within the next three to five years.
Derek McManus, Chief Operations Officer at O2 commented, "Our LiFi trial shows how you can deliver high-speed connectivity to customers in new ways and is another example of how we're future-proofing our network as we pave the way for 5G in the UK."
Original press release below
O2 uses light to transmit data in latest network trial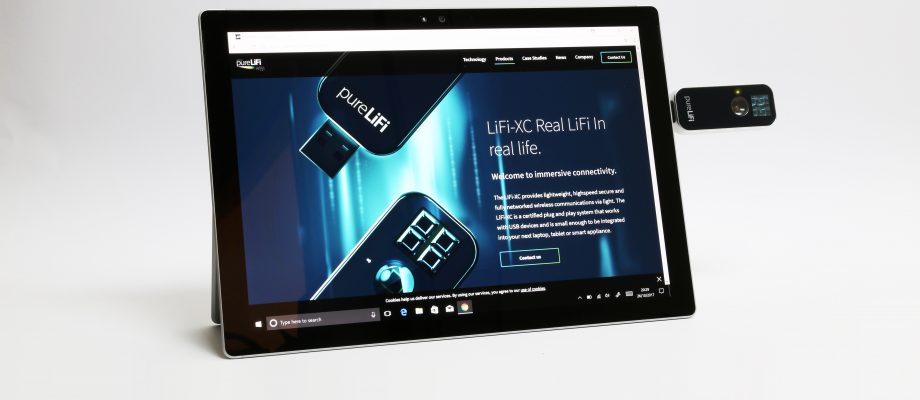 LED light bulbs will be used to provide high-speed wireless connectivity in a brand new network trial unveiled by mobile operator O2 at its HQ in Slough today.
The cutting-edge trial, conducted in partnership with pureLiFi, uses LED lights to send large amounts of data, while appearing as white light to the human eye. The move is the latest in a series of O2 network trials as it paves the way for its 5G launch in the UK.
As part of the trial, O2 has installed pureLiFi's LiFi-XC system, comprising of nine LiFi-enabled LED light bulbs, in the 'Explore Room' of its Slough HQ. The system enables data to be transmitted from a LED light bulb and back at high speeds through adjustments in the bulb's brightness. The result is a high-speed, bi-directional and fully networked wireless communication of data.
The LiFi system has the potential to serve as a serious contender to WiFi, which uses radio frequencies. Its reliance on the visible light spectrum aims to enable safer, more reliable and more secure wireless data communication than WiFi. It also has the potential to reduce infrastructure complexity and energy consumption.
Derek McManus, O2's Chief Operations Officer, said: "At O2 we're committed to building the best network possible for our customers, and a huge part of that is making sure we're ahead of the pack in testing the latest technology.
"Our LiFi trial shows how you can deliver high-speed connectivity to customers in new ways and is another example of how we're future-proofing our network as we pave the way for 5G in the UK."
Alistair Banham, CEO of pureLiFi, said:
"With the proliferation of internet-of-things devices and continued growth in mobile users, the demand for spectrum is under increasing pressure. LiFi is capable of unlocking unprecedented and much-needed data and bandwidth, and we are delighted that O2 has chosen to partner with pureLiFi to explore this tremendous potential. O2 is at the forefront of championing technologies to provide real solutions for 5G and beyond, and we look forward to working with them towards our common goal."
For further information on LiFi technology, please visit: https://purelifi.com/technology/
This content extract was originally sourced from an external website (
O2
) and is the copyright of the external website owner. TelecomTV is not responsible for the content of external websites.
Legal Notices
Email Newsletters
Stay up to date with the latest industry developments: sign up to receive TelecomTV's top news and videos plus exclusive subscriber-only content direct to your inbox – including our daily news briefing and weekly wrap.