Nuage Networks stamps its own take on SD-WAN as it looks to move beyond connectivity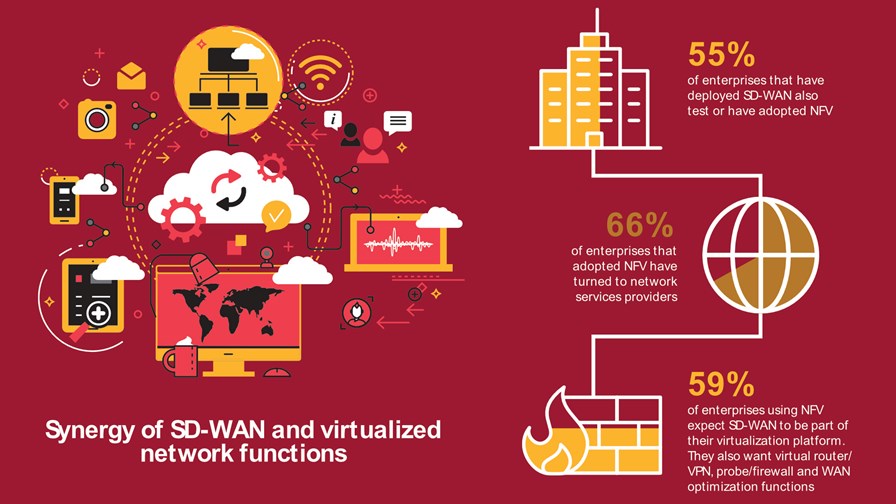 Nuage Networks unveils what it calls SD-WAN 2.0
Describes it as an automated and secure services platform
Enables the delivery of enterprise IT services across any network and cloud
‌Forecast sales of SD-WAN technologies to reach $4.5 billion in 2022
SD-WAN is something of an "interpretive" technology, in that the networking architecture is evolving in a number of different directions. Whilst still relatively new, it's an emerging technology that has already grabbed the attention of many start-ups. We counted about 25 earlier in the year but that number has probably doubled by now. The big guns are also showing interest, with the likes of Cisco and VMware snapping up acquisitions, as analysts start to quantify revenue targets.
This week, Nokia's Nuage Networks announced the release of the latest version of its virtualized network services (VNS) platform, which it is calling the industry's first and only SD-WAN 2.0 offering. This "second generation" solution goes beyond providing just connectivity, with Nuage saying it provides a services architecture to deliver and orchestrate enterprise IT services across data centres, public cloud services, SaaS provider clouds and enterprise branch sites. It believes it to be the only SD-WAN platform in the industry to offer true end-to-end policy and data plane controls extending from users in branches to workloads in clouds and SaaS environments.
Both enterprises and telcos have at least one thing in common – they have global locations and hence use multi-cloud environments for internal and external operations. Nuage wants SD-WAN to be more than just an MPLS VPN-style conduit between data centres and the cloud. The SD-WAN 2.0 approach also addresses the migration to virtualising peripheral applications through the deployment of third-party virtual network functions (VNFs). It's no coincidence that the first iterations of SD-WAN emerged about the same time as NFV in 2012.
The trouble is, telcos have far more interest in extending basic connectivity – which is probably one of the reasons that SD-WAN has been stuck in this phase for (you could argue) far too long. However, the evolution of SD-WAN could well appeal to telcos, especially the forward-looking ones. Its focus on virtualisation features could make it ideally suited to underpinning the Telco Cloud and the move towards cloud-native architectures. Is it too late to play a key role in 5G? Probably not, especially if it can be tied into the sales propositions that telcos expect to offer verticals with the coming of 5G – and they are going to need a compelling sales pitch if they are to successfully compete against the direct-to-enterprise SD-WAN sales from vendors and the channel.
It is a complicated proposition, which only underlines SD-WAN's relative immaturity. There is every chance that the technology will undergo further significant shifts before it becomes firmly established.
"The industry is on the cusp of a big shift towards SD-WAN," said Sunil Khandekar, founder and CEO of Nuage Networks. He adds that his company's approach favours bundling in end-to-end security, VNFs, automation and even artificial intelligence, supporting containers and bare metal implementations and everything inbetween. It's not just about automating the WAN.
Research firm IDC forecasts that the worldwide market for SD-WAN infrastructure will record a compound annual CAGR of 40.4% from $833 million in 2017 to more than $4.5 billion in 2022. IHS Markit comes up with similar growth patterns: "For 2017, the revenue to cloud service providers was over $160 billion, with revenue over $375 billion forecast for 2022," said Cliff Grossner, senior research director and advisor at IHS Markit. "2017 revenue for SD-WAN vendors was $475 million, and is expected to hit $3.6 billion in 2022, signaling a strong need for secure multi-cloud connectivity."
Email Newsletters
Sign up to receive TelecomTV's top news and videos, plus exclusive subscriber-only content direct to your inbox.