MEF announces multi-vendor SD-WAN implementation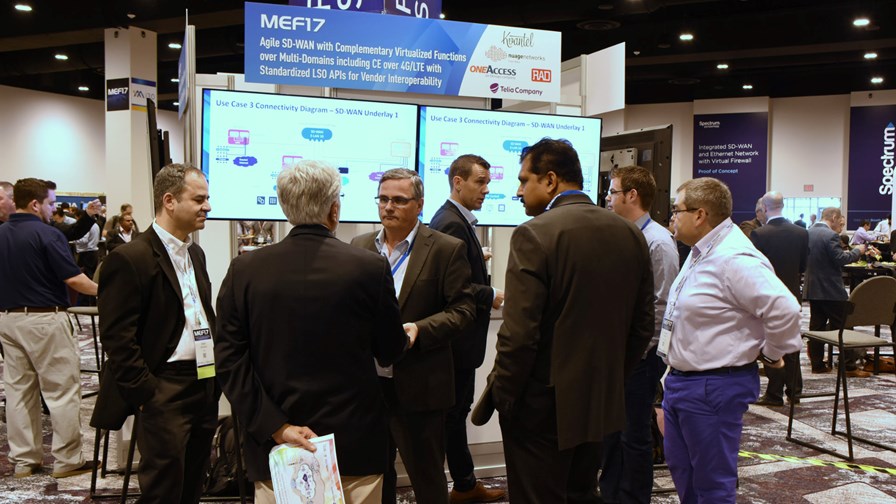 Leading SD-WAN vendors collaborate on MEF 3.0 project
Features new, standardized LSO Presto API
Tests conducted on MEF's cloud development platform
Future phases will add Security as a Service to SD-WAN
The MEF industry association has announced that several of its SD-WAN vendor members are collaborating in the MEF 3.0 multi-vendor SD-WAN implementation project, addressing the problem of orchestrating services over multiple SD-WAN deployments that are based on different technology vendor products. The project is part of the association's ongoing MEF 3.0 framework development to define and certify agile services across global automated networks.
Riverbed, VMware's VeloCloud and Nokia's Nuage Networks are among those vendors participating in phase one of the project. Each member is implementing an SD-WAN based on its own products on MEFnet – MEF's own cloud-based development and test platform – and then interconnecting them through a central gateway. The respective SD-WANs will be orchestrated with a single LSO (Lifecycle Service Orchestration) oriented service orchestrator via the newly standardized LSO Presto Network Resource Provisioning (NRP) API to create connectivity services that span two or more SD-WAN vendor solutions.
"Mergers and acquisitions by service providers and enterprises are increasing the number of environments using more than one SD-WAN vendor's solution," said Tim Van Herck, co-leader of the MEF 3.0 Multi-Vendor SD-WAN Implementation project and Director of Technical Product Management, VMware. "It's not uncommon to speak with service providers that already have three or more vendor solutions for SD-WAN in their networks. Single solution service orchestration in these types of environments is essential for the SD-WAN industry."
The MEF LSO-based approach assumes that each SD-WAN vendor enables the standard northbound LSO Presto NRP API on its SD-WAN Controller products, which has already been implemented in the OpenDaylight SDN controller, providing the SD-WAN vendors with a well-understood reference for porting the API to their respective SD-WAN controllers.
"Nuage Networks believes in an open ecosystem and using the LSO approach gives service providers and enterprises alike the flexibility to deploy services across multiple vendors, allowing for best-of-breed solutions to be developed," said Alastair Johnson, Principal Solution Architect, Nuage Networks from Nokia. "With the market moving as fast as it is, it is essential that we smooth the way for introducing new SD-WAN solutions quickly without the concern of how to get them to operate further down the road."
A second phase of the MEF's project will add security functions to the SD-WAN implementations to demonstrate a SECaaS (Security-as-a-Service) capability for SD-WAN service deployment. Other work planned in future phases includes development of an intent-based LSO Presto NRP API, a VNF license management mechanism, and real-time media-oriented LSO orchestration.
"Expansion of MEF 3.0 standardization work beyond Ethernet to include IP, SD-WAN, and Layer 1 services is critical for enabling the streamlined interconnection and orchestration of a mix of connectivity services across multiple providers," said Pascal Menezes, CTO, MEF. "Combining this work with the ongoing development of our emerging suite of LSO APIs will pave the way for orchestrated delivery of on-demand, cloud-centric services with unprecedented user- and application-directed control over network resources and service capabilities."
Email Newsletters
Sign up to receive TelecomTV's top news and videos, plus exclusive subscriber-only content direct to your inbox.