SpaceX is rekindling memories of Iridium and the multi-billion dollar LEO race to oblivion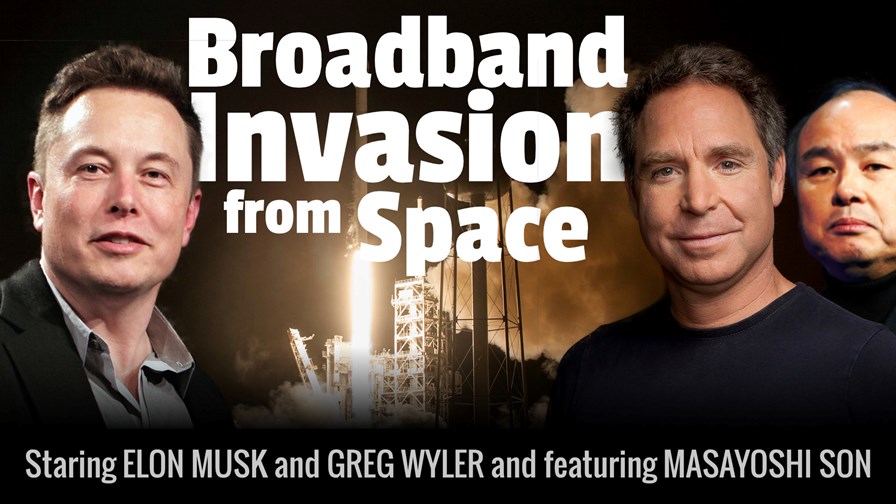 Wednesday is expected to see the launch of SpaceX's broadband test birds
It's Elon Musk vs Masayoshi Son in the clash of the tech titans
The winner gets a global ISP in space; the loser joins a long list of failures
But will this mean 5G is heading into orbit?
Oh no Elon, don't do it! Don't press that launch button! You still have a couple of days to deactivate the reality distortion field and consider the gigantic and phenomenally expensive horror show that swiftly followed the US-led LEO satellite craze in the 1990s. Iridium, Globalstar, Odyssey and Teledesic. Unless, of course, you think you can do better some 25 years on? Well actually, maybe you can.
Saturday should have been the launch of the latest Falcon rocket from SpaceX, the Elon Musk company that recently put his Tesla into orbit. Problems have resulted in a delay until Wednesday 21 February. Alongside the commercial payload of the H30W-6 and H36W-1 communication satellites for Spain's Hispasat, will be two test satellites for the secretive 'Starlink' project from SpaceX. Starlink is the plan to blanket the earth with space-based broadband coverage via a constellation of vast numbers of satellites in low orbits. Sounds familiar? So it should.
History repeating
Back in the relatively sane days of the 1990s there were two major disruptive stories for an ambitious young hack to get stuck into. One was the rather vicious battle between the predominantly European GSM camp and the US CDMA camp over the future of cellular communications with 3G, and the other concerned a 'moon shot' plan by the satellite industry to supplant terrestrial cellular with a space-based network to provide global coverage (mainly via voice, but data soon followed).
Whilst the GSM camp emerged victor of the first disruption, with significant concessions to CDMA as witnessed by the dominant position of Qualcomm today, the satellite industry failed to halt the inexorable rise of cellular and the whole idea crashed and burned. True, the Iridium and Globalstar constellations did eventually get up there and provide service, after a lot of corporate upheavals, but their user base shrank from being the entire global population to select groups, such as maritime, aviation, remote mining and of course the military and security services.
So here is TelecomTV's potted history of what has happened in the LEO sector, based on first-hand accounts and several press visits to ambitious briefings and control facilities:
In 1987 Motorola engineers came up with the idea of a space-based communications network, at a time when cellular coverage was sketchy, analogue and distinctly regional.
In 1993 Motorola announced its $3.7bn Iridium concept – an ambitious constellation of 77 low earth orbit (LEO) satellites providing global mobile voice communications to $3,000 handsets. Why Iridium? Because the element Iridium has 77 protons.
The design then changed to 66 satellites, but the name stuck.
Iridium launched its fleet in 1997 and began operation in 1998.
Unfortunately by then, GSM was already the de facto global system for mobile.
Iridium filed for bankruptcy protection in 1999.
In 1991 Globalstar was created as a joint venture between Qualcomm and spacecraft manufacturer Loral (later Alcatel and Vodafone would invest). They envisaged a constellation of 48 LEO satellites and planned to sell access to local terrestrial service providers; the business was costed at $1.8bn but soon rocketed to $2.2bn.
A launch failure in 1998 meant the loss of 12 satellites and commercial service was delayed to 2000.
Globalstar filed for bankruptcy protection in 2002.
In 1995 Teledesic proposed a $9bn constellation of 840 LEO satellites, providing 720Mbit/s downlink speeds and 100Mbit/s uplink speeds. The original "Internet in the Sky" was led by telecoms veteran Craig McCaw and backed by Microsoft's Paul Allen.
Teledesic never achieved its 2001 launch date, and went out of business in 2002.
ICO was created by Inmarsat as a $2.6bn medium earth orbit (MEO) system of 10 satellites, focused on expanding cellular coverage to under-served areas of the world.
It never entered commercial service, despite later investment from McCaw and a proposed merger with Teledesic.
ICO filed for bankruptcy protection in 1999.
Odyssey was a $3.2bn MEO business created by Teleglobe and TRW in 1991 with 12 active satellites planned, with service scheduled to commence in 2000.
Odyssey gave up and merged with ICO in 1997.
SkyBridge was developed by Alcatel in 1997 and planned a constellation of 80 LEO satellites at a cost of $3.5bn (soon rising to $6bn).
SkyBridge gave up in 2002.
In 2008 Google invested in O3b Networks, but the company was acquired by Luxembourg satellite company SES a year later. Founder Greg Wyler left to join Google, but soon quit to form WordVu Satellites (also known as L5).
WordVu acquired the spectrum licence previously held by SkyBridge and planned two constellations, each of 180 LEO satellites, for commercial launch in 2019 at cost of $3bn.
In 2014 it emerged that WorldVu had established relations with Elon Musk, although there was no formal deal with SpaceX, and WorldVu changed its name to OneWeb.
In November 2014, Musk confirmed via a tweet that "SpaceX is still in the early stages of developing advanced micro-satellites operating in large formations."
In 2015 OneWeb secured funding from Virgin Group and Qualcomm to build and launch a planned constellation of 650 LEO satellites.
Days later, SpaceX announced its LEO plan, focused on ISP and backhaul with a constellation of 4,000 satellite and a commercial launch date of 2020. Apparently Musk and Wyler agreed to disagree and go their separate ways.
In 2016 OneWeb revised its plan to add a further 2,000 V-band satellites in non-geosynchronous orbits, having secured $1bn from SoftBank a few months earlier.
In 2017 OneWeb merged with Intelsat with a $1.7bn investment from SoftBank. Wyler testified at a US Senate Committee Hearing that manufacturing will commence this year, as will the first launch of 10 satellites with Arianespace in May (and later Blue Origin and Virgin Galactic). He said the service will offer up to 2.5Gbit/s direct to homes, and plans to fully bridge the digital divide by 2027".
Which brings us to 2018
Whilst at the time of writing SpaceX has not officially commented on its launch plans, it's a sure fire bet that the first test satellites for its Project Starlink will be balancing atop that Falcon 9 come Saturday. But what do we know if its plans? Following some brief speculation in 2014, it wasn't until May last year that we got some meaty information, courtesy of a statement made by SpaceX before the US Senate Committee on Commerce, Science and Technology.
Patricia Cooper, VP of Satellite Government Affairs at SpaceX, presented a nine-page statement setting out the company's broadband plans. This followed a regulatory filing in November 2016 with the FCC for a license to operate a new non-geostationary satellite orbit (NGSO) broadband internet constellation, and the confirmation that the project has been nearly three years in the planning, which would tie in with the Greg Wyler and WorldVu discussions.
Ms Cooper got straight to the point: "The emergence of new technologies and cost structures make large-scale, space-based broadband internet services more viable today than ever before." This, obviously, is the big difference to the LEO plans a quarter of a century earlier. The exact numbers and financial justifications remain undisclosed. However, SpaceX says it intends to leverage its 15 years of experience in cost-effectively building and deploying large, complex space systems to support its broadband satellite constellation, adopting a vertically-integrated approach from design and production to launch and operations. In so doing, claimed Ms Cooper, "SpaceX is addressing many of the challenges that have stymied past attempts to achieve affordable, high-speed broadband from space."
Incidentally, it's worth noting an ITU definition of satellite orbits: NGSO covers both LEO and MEO orbits –LEO satellites are located between 700km and 1,500km from the Earth, with MEO satellites located further out at 10,000km from the Earth – and move in relation to the Earth's surface.
Ms Cooper cited the continuing digital broadband divide as justification for SpaceX's plans, particularly covering the US (and made much play of being an American company creating American jobs, straight from the Trump song sheet).
The SpaceX broadband plan
So why does SpaceX think it can succeed where countless others have failed? Ms Cooper elaborated on some of the "cutting-edge space technologies" it would adopt, citing dynamic beam forming and phased array antennas, as well as optical inter-satellite links to establish a mesh network in space through which the satellites will communicate with each other.
Initially, the SpaceX system will consist of 4,425 satellites operating in 83 orbital planes at the high-end of LEO altitudes. It will use Ka-band (26-40GHz) and Ku-Band (12-18GHz) spectrum to provide "a wide range of broadband and communications services for residential, commercial, institutional, governmental, and professional users worldwide". It has also requested regulatory approval to use the V-band, via an additional 7,500 satellites operating at the lower end of the LEO range, to provide additional broadband capacity and further reduce latency. V-band is the 40-75GHz mmWave range, which is being used licence-free today for cellular backhaul.
SpaceX says it will be able to allocate broadband resources in real time, placing capacity where it is most needed and directing energy away from areas where it might cause interference to other systems, either in space or on the ground. End users would require "a relatively small flat panel, roughly the size of a laptop" to communicate with the constellation. The inter-satellite links will aid with national and international compliance on spectrum sharing.
SpaceX plans an operational satellite launch campaign in 2019, followed by phased launches through to 2024 when the system will reach full capacity with the Ka- and Ku-Band satellites.
Team America
SpaceX received the blessing of FCC chairman Ajit Pai this week. "I have asked my colleagues to join me in supporting this application and moving to unleash the power of satellite constellations to provide high-speed Internet to rural Americans," wrote Pai, who followed up with a patriotic "If adopted, it would be the first approval given to an American-based company to provide broadband services using a new generation of low-Earth orbit satellite technologies."
Note that over the past year, the FCC has already approved requests by OneWeb, plus also Space Norway and Telesat to access the US market to provide broadband services using satellite technology. And meanwhile, the new-look Iridium is busy replacing its old birds with a constellation of 75 Iridium Next satellites – ironically using the SpaceX Falcon 9 rocket – and the new-look Globalstar finished launching its second-generation constellation of 24 LEO satellites in 2013.
Speaking at a European conference this week, FCC International Bureau Chief Tom Sullivan had this to say: "We have adopted flexible sharing schemes that promote coexistence among services. For example, in the 28GHz band, the FCC adopted specific mechanisms to provide flexibility to satellite operators and predictability to terrestrial operators. And in fact, in our Spectrum Frontiers Second Report and Order, we permitted an even more flexible earth station siting process in the 28GHz band. So it no longer has to be either Satellite or Mobile. It can be satellite and mobile."
Where does 5G fit into this picture?
Ms Cooper made only a passing mention to 5G, when she said satellite-based broadband will achieve speeds, latencies and pricing equivalent to terrestrial and 5G wireless technologies. Her objective at the hearing was to lobby for these systems to participate in national infrastructure investment programs and other federal initiatives, as well as suggesting the FCC takes steps to incentivize and reward spectrum sharing to avoid any warehousing of spectrum by non-operating systems.
So we are no clearer on the technology underpinning the communications architecture, at least not from SpaceX. But could 5G factor into these systems, as an inherent part of the system design rather than just an interconnect gateway?
Surprisingly, satellite systems have not played any part in 3GPP-based cellular communications networks and architectures. However, this may soon change. The roles and benefits of satellites in 5G were first studied in 3GPP Release 14, leading to the specific requirement to support satellite access. The group recognised the added value that satellite coverage brings, as part of the mix of access technologies for 5G, especially for mission critical and industrial applications where ubiquitous coverage is crucial.
A new workgroup item from SA1, called "Study on using Satellite Access in 5G", is currently underway and will lead to a corresponding Technical Report as part of 3GPP Release 16. It is investigating the integration of 5G satellite-based access components in the 5G system, alongside new use cases that may identify new potential requirements for 5G systems. As well as LEOs and geostationary satellites, 3GPP is also studying the role of so-called "non-terrestrial networks" – those that use airborne vehicles such as unmanned aircraft or tethered balloons.
Whilst SpaceX may be being somewhat coy about 5G, its rival OneWeb is more forthcoming. Founder Greg Wyler had this to say about his project: "This global system … will be a foundation for ubiquitous 5G service". Pretty clear then.
At a conference last September organised by the European Space Agency (ESA) and the German Aerospace Centre (DLR), Avanti Communications presented its view of satellite-based 5G – Avanti leads the SaT5G consortium, funded under Phase 2 of Europe's Horizon 2020 project, to integrate satellites into 5G networks. Whilst much of the focus is on various applications of backhaul and edge support, it will be interesting to see what other innovations both SaT5G and 3GPP come up with.
"Satellite communication systems will support the ubiquity, resilience and efficiency of 5G services; and open markets by offering exciting new business opportunities in media distribution, transport and underserved areas," said David Williams, Chief Executive of Avanti. "We are proud to be leading the SaT5G project, with great players in the industry, to ensure the integration of satellite communications effectively into the future 5G architecture."
The future
For now, though we await Wednesday's rescheduled launch of the first Starlink satellites. The original Iridium belonged to a different era, when launch costs were sky high and computing power a fraction of what it is today. Yet the underlying business model remains the same – connect the world. The legacy of GSM is an almost-connected world; it got pretty close, but geographic, political and economic limitations have prevented total coverage. Perhaps it is time to head back into space?
[Updated: 18-Feb; revised launch details and fixed the 'elementary' proton vs electron clanger]
Email Newsletters
Stay up to date with the latest industry developments: sign up to receive TelecomTV's top news and videos plus exclusive subscriber-only content direct to your inbox – including our daily news briefing and weekly wrap.