What's up with… Deutsche Telekom, Cisco, BT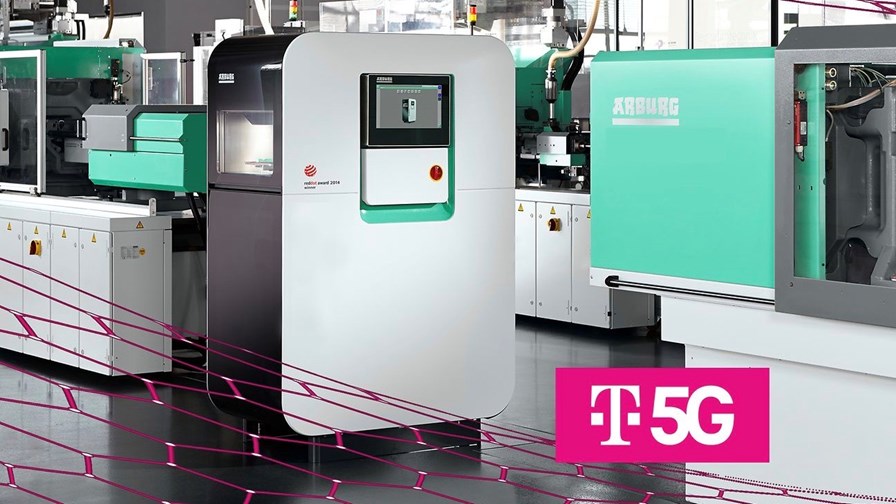 DT lands a private 5G network deal
Cisco's quitting Russia
BT faces unrest in the ranks
In today's industry news roundup: A 5G private network deal for Deutsche Telekom; Cisco becomes the latest tech giant to call time on Russia; BT's CEO fuels pay unrest by pleading corporate poverty; and much more!
Deutsche Telekom (DT) has installed a private 5G network for plastics processing specialist Arburg at the latter's headquarters in Lossburg, Germany. The deployment includes eight antennas that can cover the 2,100 sq metre area of Arburg's customer centre. DT explains: "The campus network is operated via 5G non-standalone in the 3.6 GHz frequency range. It combines the strengths of Telekom's public 5G network with the exclusivity of a virtual private network. On the one hand, Arburg benefits from high-speed and stable coverage via the public 5G network, while on the other hand, mission-critical data traffic, for example from injection-moulding machines, is separated by a virtual private network and can also be prioritised." Read more.
Having previously suspended its operations in Russia and Belarus in March following Russia's invasion of Ukraine, Cisco Systems has decided to close those operations permanently, the company has informed Reuters. It follows in the footsteps of IBM, which is also ending its Russian operations. The move is a blow to Russian businesses as Cisco is one of the world's leading suppliers of networking and communications hardware and software to the enterprise and network operator sectors. However, Cisco's exit opens up potential new business opportunities for companies that continue to do business in Russia.
BT is facing unrest within its ranks following a 'virtual town hall' meeting hosted by CEO Philip Jansen, during which he told staff the UK national telco couldn't afford to increase their wages (at a time when inflation is heading towards double figures) because of increasing costs and low growth, according to Bloomberg, which reported it had seen footage of the meeting. The pronouncement came as BT staff are being balloted by the Communication Workers Union (CWU) on whether they should go on strike to demand higher wages. The union, naturally, is making the most of the situation in this announcement.
Not waving but drowning… A new report from Vodafone UK shows that almost a third of the 5.6 million small and medium enterprises (SMEs) in Britain are focused simply and solely on staying in business. Day by day, week by week, month by month, they are fighting their way through a perfect storm of runaway inflation and business uncertainty caused by the combined results of broken supply chains, inconsistent government policies, the after-effects of Brexit, Covid-19, and Russia's invasion of Ukraine. The report, SMEs Like Me, adds that the daily existentialist grind has created a 'guidance gap' with only 11% of SMEs seeking help from larger companies or funding from a third party. What's more, the relentless and necessary focus on daily survival means that 71% of SMEs in general, and sole traders in particular, simply do not have the time or wherewithal to seek the help to which they are entitled. The report was commissioned by Vodafone and carried out out by the consumer insights company Global Web Index (GWI), which surveyed more than 1,000 SME owners, founders and employees across the UK. The results are varied. For example, although 30% of SMEs describe themselves as technology innovators or early adopters, 20% also agree that they are laggards when it comes to investing in new technology that, properly applied and managed, could well change their fortunes. Instead, that same percentile is prepared to wait as long as possible before being forced, by circumstance, reluctantly to invest in new technology. To make things worse, 26% will only buy established or proven technology. The highest density of SMEs is in London, the south-east and the south-west, while the lowest is in the north-east, Scotland and Northern Ireland. So much for the government's great levelling-up programme. As you might expect, Vodafone also toots its own trumpet when referring to SMEs. It has two central resources: V-Hub, "which offers free expert guidance, knowledge and a constantly evolving range of tools and training alongside free one-to-one advice with an adviser; and Business.connected, in partnership with Enterprise Nation, Cisco and Samsung, which is helping 150,000 SMEs adopt technology, boost digital skills and stay safe online."
Following yesterday's news that Huawei was unsuccessful with its 5G appeal in Sweden, some further background information… In Stockholm, the Administrative Court of Appeal has thrown out the Chinese vendor's petition, which claimed that an earlier ruling by a lower court banning the Chinese company from selling 5G mobile network equipment in the country was unlawful. Back at the end of 2020, citing 'national security concerns', the Swedish Post and Telecom Authority (PTS) prohibited companies and organisations bidding for 5G spectrum from using infrastructure equipment made by either Huawei or ZTE. Huawei filed a lawsuit in the lower Administrative Court to repeal the PTS decision and lost the case. It then went to the Appeal Court on the grounds that the Swedish government "violated the administrative law and the EU laws, as well as the principle of free circulation of goods and services in the EU internal market". That argument got short shrift and Huawei has duly lost again. The ruling was as brief as it was blunt, saying it was "fair to assume that the use of Huawei's products in central functions of the 5G network can cause harm to Sweden's security" and that the ban on placing Huawei kit in Swedish telecoms networks "did not violate Swedish or international law". The court also reiterated the ruling that any and all Huawei 5G equipment must be removed from Sweden's networks by 1 January 2025, at the latest. Estimates are that the appeal court ruling will cost Huawei about $500m in revenues. Prior to the original PTS ruling, the Chinese Foreign Ministry issued a statement to the effect that the advantages provided by Chinese enterprises in 5G technology are "obvious to all" and that sensible countries can "distinguish right from wrong providing a fair, just, open, transparent and non-discriminatory business environment for enterprises' normal operations, development and cooperation". And that is exactly what Sweden has done.
The UK Ministry of Defence (MoD) says it has taken delivery of the UK government's first quantum computer, with Stephen Till, a senior fellow at the Ministry of Defence's (MoD's) Defence Science and Technology Laboratory (DSTL), describing it as a "milestone moment". The PT-1 quantum computer in question has been developed by UK company Orca Computing, which has also just raised $15m in funding. It is claimed that the Orca device is quite small and is the first quantum computer able to operate at room temperature, while others must be kept at sub-zero temperatures to work properly. The MoD says that, initially, the quantum machine will be used to determine if it, in combination with traditional computers, can enable more powerful artificial intelligence-based data-crunching processes. UK government estimates have it that quantum computing will generate some £4bn in economic opportunities by 2024 and that the increased productivity contingent on the new technology will be in excess of £341bn within the next 20 years – or sooner.
Taiwan-based Edgecore Networks has unveiled a 400Gbit/s disaggregated cell site gateway (DCSG), the CSR440, to expand its existing portfolio of open networking products. The gateway hosts software components from different network operating system vendors, including RtBrick, ADVA, IP Infusion and Capgemini, "which enable the device to act as an access or aggregation router in the network, or also fit a role in Broadband Network Gateway (BNG) applications," notes Edgecore in this announcement.
A1, the domestic operation of central and eastern European operator Telekom Austria, is deploying software from Lifemote on the customer premises equipment (CPE) of its broadband customers to perform Wi-Fi analytics that will help improve customer experience. Read more.
SoftBank Group has appointed Alex Clavel as the next CEO of SoftBank Group International, where he is currently managing partner. Clavel, who will take on the role from 30 June, replaces Michel Combes, who "has decided to leave SoftBank to pursue new opportunities". Combes, who many might remember as the CEO of Sprint (and before that of Altice and Alcatel-Lucent), only took on the role about five months ago when he replaced Marcelo Claure.
- The staff, TelecomTV
Email Newsletters
Stay up to date with the latest industry developments: sign up to receive TelecomTV's top news and videos plus exclusive subscriber-only content direct to your inbox – including our daily news briefing and weekly wrap.