Telcos should focus on partnerships and use cases to stimulate the private 5G network sector – poll results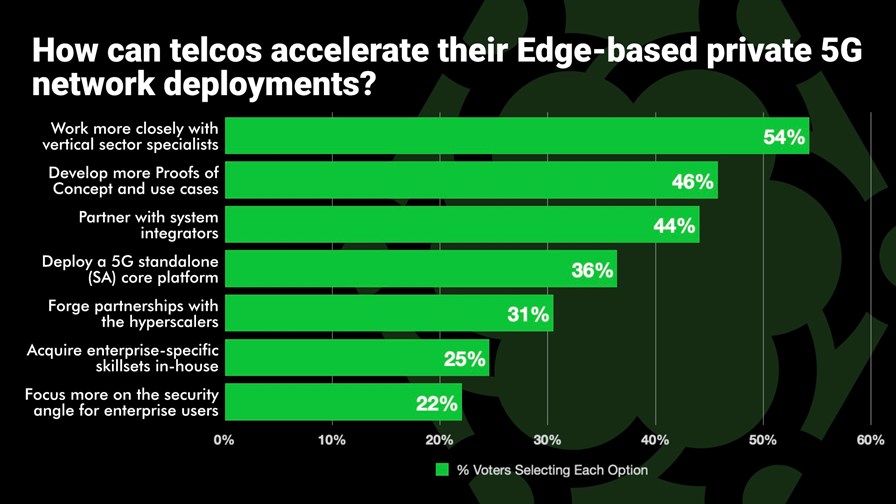 TelecomTV's Private 5G and the Edge Summit took place recently
We ran a poll about ways for telcos to accelerate their edge-based private 5G network rollouts
Operators are advised to work more closely with vertical sector specialists, results show
They would also benefit from more proofs of concepts and use cases to show the capabilities of the technology
Close collaboration with vertical sector specialists, as well as development of increased number of proofs of concept (PoCs) and use cases, are seen as the best avenues for telcos to speed up their edge-based private 5G network deployments, according to the results of a poll conducted during TelecomTV's recent Private 5G and the Edge Summit.
Private networks have long been considered a viable way for operators to deliver services that enterprises are demanding as they seek to improve security of their operations while taking advantage of enhanced coverage, reliability and ultra-low latency which are all set to meet their specific requirements. That's why we asked the summit's attendees to vote in our poll: How can telcos accelerate their edge-based private 5G network deployments?
Presented with seven different options, respondents could vote for as many as they considered correct and applicable to the question posed. And the votes were widely spread, suggesting there isn't a clear, single winning approach when it comes to stimulating the private 5G networking market.
The most popular option, selected by 54% of those who voted, was for telcos to 'work more closely with vertical sector specialists' to accelerate such deployments.
One such specialist might be industrial manufacturing technology giant Siemens, which is already working with multiple partners, such as Qualcomm, on potential private wireless use cases (indeed, Siemens which claimed to have set up "the first 5G private standalone network in an industrial environment using the 3.7-3.8GHz band" in 2019, again in a tie-up with Qualcomm).
In fact, manufacturing was found to be among the fastest-growing industry sectors in terms of private wireless network deployments, alongside mining and defence, in the third quarter of 2022, according to data from Global mobile Suppliers Association (GSA) – see Private mobile deployments near 1,000 mark, reports GSA.
The second most popular option in our poll was 'develop more proofs of concept and use cases', which was chosen by 46% of voters. This maybe shouldn't be a major surprise as successful PoCs are needed to help potential private wireless users to decide whether an investment might be worthwhile and it's unlikely there will ever be too many use cases for this sector, given how many different enterprise deployment permutations might be possible around the world.
Breathing down the neck of PoCs and use case developments, the third most popular option suggested telcos should 'partner with system integrators' to design and build private networks: This was selected by 44% of respondents in the poll. This hardly comes as a surprise, given the technical complexity involved in private 5G rollouts. There are plenty of examples in this area, including partnerships Capgemini has sealed with Qualcomm and Ericsson, as well as Tech Mahindra's work with Nokia and Bharti Airtel.
The option to 'deploy a 5G standalone (SA) core platform' was voted for by 36% of respondents, likely because a 5G SA core is seen as key to enabling network slicing, regarded by many as a useful tool for telcos seeking to meet the various and specific requirements of private network users.
Almost a third of voters (31%) believed telecoms operators need to 'forge partnerships with the hyperscalers' if they want to accelerate their private 5G network efforts. A notable example here is Amazon Web Services (AWS) which recently launched Integrated Private Wireless on AWS, which combines its infrastructure and services with the 4G and 5G networks of its telco partners, in addition to input from more than 100,000 partners in 150 countries to facilitate and speed up processes related to private network deployments – see AWS unveils expanded private networks offering, managed network hosting.
Perhaps unsurprisingly, the option for telcos to 'acquire enterprise-specific skillsets in-house' ranks further down, with just 25% of voters selecting this answer. At a time when operators are facing higher costs and some of them are opting for workforce reductions, in addition to an industry-wide shortage of fresh talent, looking to build new in-house teams is not likely to appeal to many operators.
The poll results are rounded out by the option to 'focus more on the security angle for enterprise users'. This answer was selected by just 22% of respondents.
- Yanitsa Boyadzhieva, Deputy Editor, TelecomTV
Email Newsletters
Sign up to receive TelecomTV's top news and videos, plus exclusive subscriber-only content direct to your inbox.