New European competition commissioner, new approach to telecoms consolidation?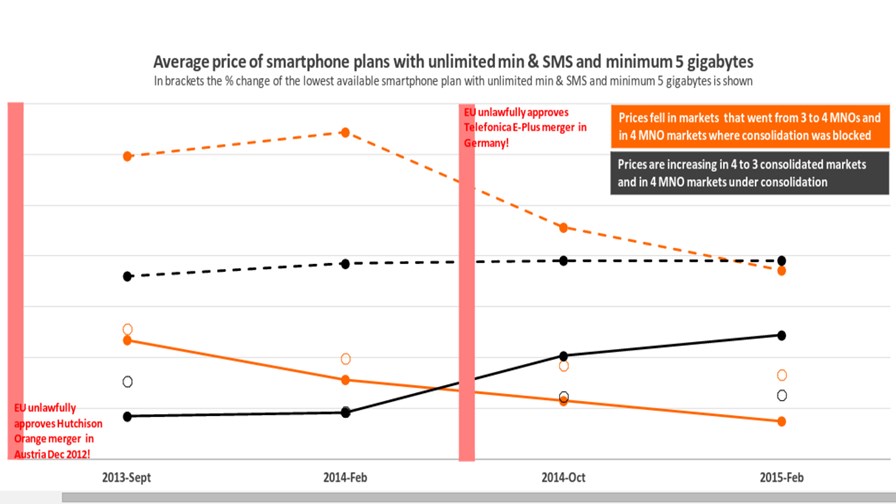 The newish EU Competition Commissioner, Margrethe Vestager, has been clearing her throat with a newspaper interview or two in preparation for what might be a bit of a European kerfuffle over the next year.
To set the tone, the long-awaited Single European Telecoms Market legislation is about to come down the chute to the Parliament for a final run-through once the Council of Ministers and the Information Commission has gutted some key clauses. It's thought that Neelie Kroes' roaming rules have been modified and specialised services have been unshackled again (the shackles were inserted by the Parliament last time around).
As competition commissioner, Vestager may be a crucial backstop to that process. She says that her job is to ensure that European citizens or businesses can enjoy relatively innovative markets at affordable prices.
To further that policy goal she has the power (the obligation, even) to blow the whistle on the mobile network consolidation put in train by her predecessor, Joaquín Almunia, who allowed mergers in return for 'remedies' involving MVNOs that were supposed keep the pulse of competition throbbing and prices down.
They didn't.
According to Finnish pro-competitive consultancy, Rewheel, the record is damning and the consolidated entities weren't even subtle about jacking prices up the minute the mergers were waved through.
Rewheel says that In newly consolidated markets (where four mobile operators became three) average mobile internet access prices rose by up to 56 per cent; while the average price of the 5 gigabyte mobile internet access basket rose by up to 56 per cent while the lowest available price rose by up to 68 per cent.
(see diagram above: Source, Rewheel / Digital Fuel Monitor)
However, markets that travelled in the opposite direction - from 3 to 4 operators and where consolidation was blocked, the average price of the 5 gigabyte mobile internet access basket fell by up to 37 per cent while the lowest available price fell by up to 40 per cent.
That means Vestager is in the spotlight. As was made clear at MWC, the 'other' information commission sees things slightly differently. It is pushing forward to negotiate with the Parliament over a revamped version of the Neelie Kroes compact with the telcos. This time, it's thought, the roaming policy has been watered down and net neutrality around specialised services somewhat shelved, but in return not only is more consolidation is on offer to telcos, but an EU-wide push and funding for 5G, R&D is already on the table.
So Vestager may have to stand alone. Because the past MVNOs haven't worked she could by rights, block the new consolidation attempts, or more likely, seek more onerous merger conditions.
Email Newsletters
Stay up to date with the latest industry developments: sign up to receive TelecomTV's top news and videos plus exclusive subscriber-only content direct to your inbox – including our daily news briefing and weekly wrap.