Could proper EU mobile competition be on the way back?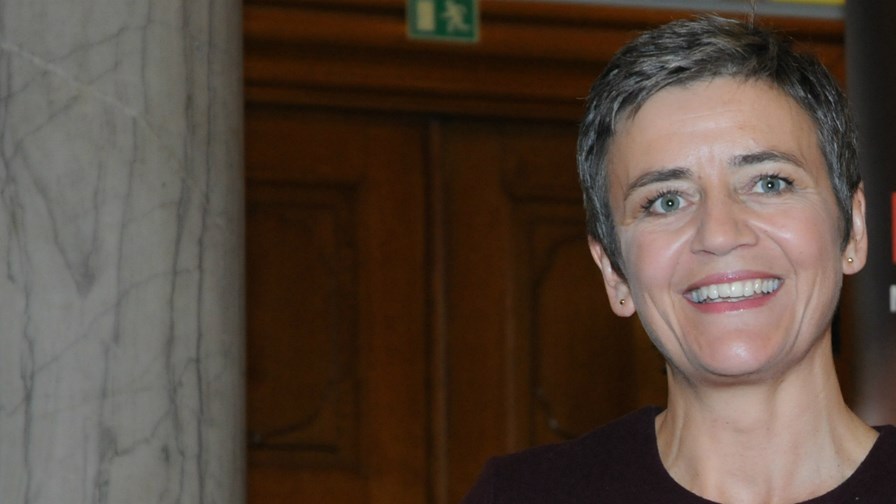 The competition wing of the European Commission may actually now be primed to put up a reasonable fight against the so-called four to three mobile operator consolidation wave threatening to Americanise the competitive parts of the European mobile market.
According to Reuters, Europe's Competition Commissioner, Margrethe Vestager, has sent TeliaSonera and Telenor back to the drawing board to prepare more effective competition concessions as they negotiate the regulatory approval required to merge their Danish telecoms units.
TeliaSonera and Telenor had previously said that they would sell two blocks of 2100 megahertz spectrum to a new player to ease regulatory fears. In addition they would wholesale up to 15 per cent of its network capacity to any new rival and provide an option to buy more than 30 retail stores in Denmark.
According to Reuters, which has been tapping the usual "people close to the situation", that offer from the two telcos to sell mobile spectrum to a new player, didn't cut it with "Europe's competition regulators."
As we reported in January, Vestager, has shown signs of putting up a proper fight to protect Europe's consumers and, we would say, the rest of the mobile industry which is dependent for its long-term health on the availability of abundant, reasonably priced bandwidth (see New European competition commissioner, new approach to telecoms).
If Vestager needs ammunition to bolster evidence that consolidation inevitably leads to price rises (apart from the obvious fact that the financial analyst community cheers the process forward on the basis that it will 'repair' the industry by returning its pricing power) she no longer has to look very far.
According to pro-competitive consultancy, Rewheel, experience in from the Austrian, German and Irish mergers have all resulted in almost immediate price rises for consumers. The MVNO remedies eagerly advanced by the merging parties as concessions, apparently didn't do the trick.
But the most damning evidence of all may be the recent experience in the UK. Before the merger of Hutchison's 3 with Telefonica's O2 has even been executed, 3 (the former price challenger in the UK market) has, according to Rewheel, doubled the price of its flagship 4G LTE smartphone plan. Hardly a surprise - this is what consolidation is all about.
Observers say the Danish merger and its remedies is now the one to watch as it will set the baseline for subsequent consolidation approvals.
Meanwhile, almost as if to show what is possible where proper competition is unleashed, the great scourge of the French mobile market, Free, has just increased its 4G "internet fair use" allowance. Fair use might best be described as a leaky cap, I suppose.
In this case Free has upped the allowance from 20 gigabytes to 50 gigabytes per month, with speed reduction kicking in after 50 gig. The Free Mobile plan price, however, remains unchanged at €19.99 per month and Free claims that it's well ahead of its target to cover 60 per cent of the French population.
Email Newsletters
Sign up to receive TelecomTV's top news and videos, plus exclusive subscriber-only content direct to your inbox.