World domination must be easier than this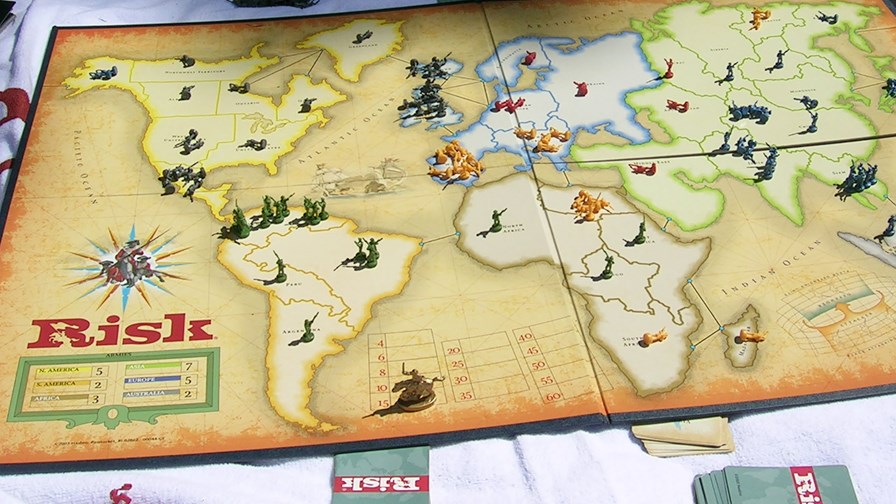 The ongoing legal spat between Apple and Samsung has revealed unexpected insights into the origins of Android, and shows just how difficult it is to assert patents in a highly competitive market.
You've got to sympathise with the tech titans; it's annoyingly difficult to conquer the world. It's like they get stuck in a logarithmic curve – easy at first, gain huge swaths of market share and the love of the populous. Then it starts getting more difficult, extra growth takes time, murmurs of dissent from customers, the end goal drifting further from their grasp. And to cap it all off, they have to deal with their competitors – who also want to achieve global domination. What a drag.
It's when the likes of Google, Apple and Samsung reach the top of this log curve, where it plateaus out and gains take forever to happen, that they inevitable turn to the courts. Why not try and nobble your opponents, because your lack of continuing success must be their fault, it surely can't be your own?
So once again Apple and Samsung find themselves in court, with Apple arguing that Samsung has infringed yet more of its smartphone patents.
Here's a quick background to an incredibly complicated case. In 2012, US courts awarded Apple a staggering $1.049 billion in damages relating to patent infringements by Samsung. This was lowered slightly to $929 million after a retrial in November.
Apple sought to obtain a permanent injunction against Samsung, but this was denied last month by Judge Lucy Koh (who is presiding over the latest trial). It's all to do with levels of competition – and in this case, the only two players in the game (of note) are Apple and Samsung. Therefore, Samsung acting competitively is perfectly acceptable. This is not to say that the ruling over the patent infringements was wrong, only that it is incredibly difficult for Apple to seek an injunction against Samsung on the grounds that Apple's business is being harmed by lawful competition.
Or as the judge herself said: "Apple cannot obtain a permanent injunction merely because Samsung's lawful competition impacts Apple in a way that monetary damages cannot remedy."
So for the time being, Apple will have to continue to slug it out with Samsung in the open market, whilst the lawyers argue over rulings and Samsung does everything it can to delay the $929 million payment.
Of course, this figure could well change later this month. The current trial is expected to conclude on April 29, and Apple is seeking a huge amount of damages. There are five patents involved (including the "slide to unlock" feature, and together, Apple believes that they are worth a royalty fee from Samsung of $40 per device. That's worth repeating – $40 per smartphone or tablet. For five patents.
There are over 100,000 patents in a smartphone, and if each of those were to command royalties at the level Apple is suggesting, then smartphones would become the sole preserve of millionaires. Of course, that's not Apple's plan. More likely, it is becoming increasing frustrated that it can't enforce the existing damages claim in the US. It's all very well being awarded a major payout, but not so good if you can't collect. Hence, try and force an even larger damages award out of this trial.
What does it mean for the comms industry? At this stage, merely confirmation that if you want to seek global domination for your product or brand, you better have deep pockets, because your legal bills are going to be sky high. Meantime, we're going to continue to see new smartphones and devices launched from multiple vendors, most of whom will be playing nicely with patent holders, some of whom won't be. Life goes on.
But there is a strong sense that something is going to snap soon. This constant raising of the ante between tech titans has to end sometime, and it's likely going to end in tears for one or more companies.
Historical Insight
At least this trial is giving us some fresh insight into the claims that Google ripped off Apple's iPhone for its Android business. Some terrific documents have been submitted as evidence in the Samsung case – the most fascinating being a 2006 Google document describing software requirements for its "Android Project". You can read the whole document on Scribd.
Back in July 2006, Android was conceived as a phone system in the (now) old-fashioned sense – it used buttons. There was no touchscreen support in Android, in fact it explicitly stated that "touchscreens will not be supported". It helps explain why the first few Android devices from OEMs (such as the G1) had slide-out physical keyboards.
Google acquired what was to become Android in 2005, when it hired ex-Apple employee Andy Rubin from Danger (the company he founded to produce the SideKick phone, much beloved in the US if nowhere else). Apple, meanwhile, unveiled the iPhone to an unsuspecting mobile industry in 2007, stating that they had been working on the project since 2004. In his launch presentation, former CEO Steve Jobs said: "And boy, have we patented it".
For more analysis of Google's switch from targeting BlackBerry devices to instead following the iPhone, AppleInsider has a good summary.
Email Newsletters
Sign up to receive TelecomTV's top news and videos, plus exclusive subscriber-only content direct to your inbox.