Rakuten holds firm on mobile strategy despite Q3 losses and subs decline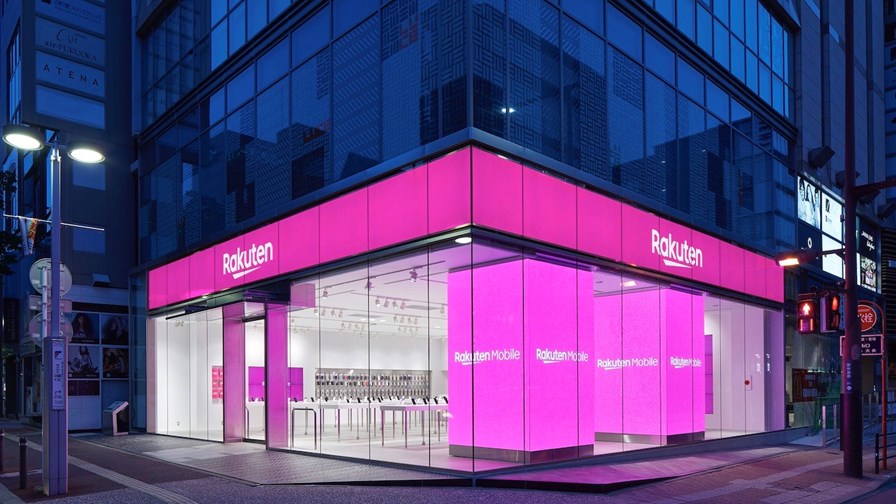 Rakuten Group is keeping faith with its mobile strategy
It predicts profitable operations by the end of 2023
In the meantime, losses continued to mount and subscriber numbers fell in Q3
But key stats are improving and investors seem a bit happier
Vendor offshoot Rakuten Symphony updates on customer and revenue numbers
Japan's Rakuten Group set its mobile stall out for investors again today in an effort to convince its shareholders and the broader world that the massive financial investments of the past couple of years, and the ongoing losses incurred by the mobile business, will ultimately be worth it. The company has been under increasing pressure to address the burden that Rakuten Mobile is placing on the rest of the group and it seems that the sharing of some key statistics and a forecast of profitability for the mobile division by the end of 2023 has placated investors, at least for now, as Rakuten Group's share price gained 5% to end Friday trading in Tokyo at 696 yen, though that's still 40% lower than the value of the stock at the start of 2022.
Rakuten Group's management focused much of Friday's third-quarter earnings call on the strategy and progress of the Rakuten Mobile division, and the headline numbers are still not pretty. Rakuten Mobile's third-quarter revenues came in at 89.3bn yen (US$638m), up by almost 63% year on year, but its operating loss was 120.9bn yen (US$864m), which is massive but at least down sequentially as capital expenditures and roaming costs continue to decline. Rakuten said the losses will continue to fall until an operating profit level is achieved at the end of next year, by which time the operator will have achieved 99% population coverage via its 4G network's 60,000-plus base stations (it is at almost 98% now via 50,400 base stations), with 5G rollout some way behind (currently 6,440 base stations).
Those financial numbers are concerning enough, but the chief concern for the operator is the relatively low number of subscribers. While the average revenue per user (ARPU) is growing, the total number of Rakuten Mobile customers fell in the third quarter to just 5.18 million at the end of September from 5.5 million at the end of June.
Rakuten's positive spin on this is that all 5.18 million are paying customers, as it no longer offers a free introductory service, and it claims that the total number has been rising since the end of September, though no numbers were shared. It's worth remembering, though, that its rivals have much greater customer bases – NTT Docomo, for example, has about 85 million mobile customers.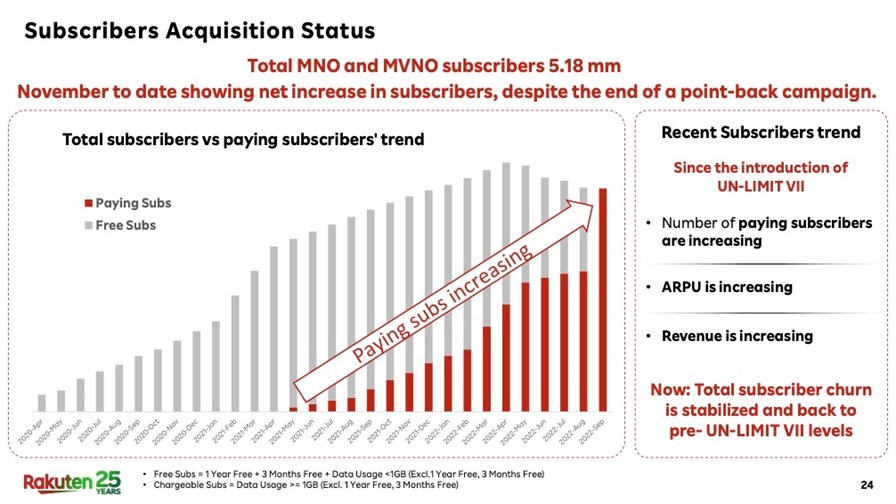 The operator also (finally) is set to launch a portfolio of enterprise services in early 2023, and currently has more than 200 businesses signed up to a pre-launch trial. Underpinning that launch will be the availability of narrowband IoT (NB-IoT) connectivity that will be enabled by a software upgrade to Rakuten Mobile's disaggregated, distributed, cloud-centric network. But again, of course, it's playing catchup here and it will take time, and significant marketing and personnel resources, to develop this line of its business.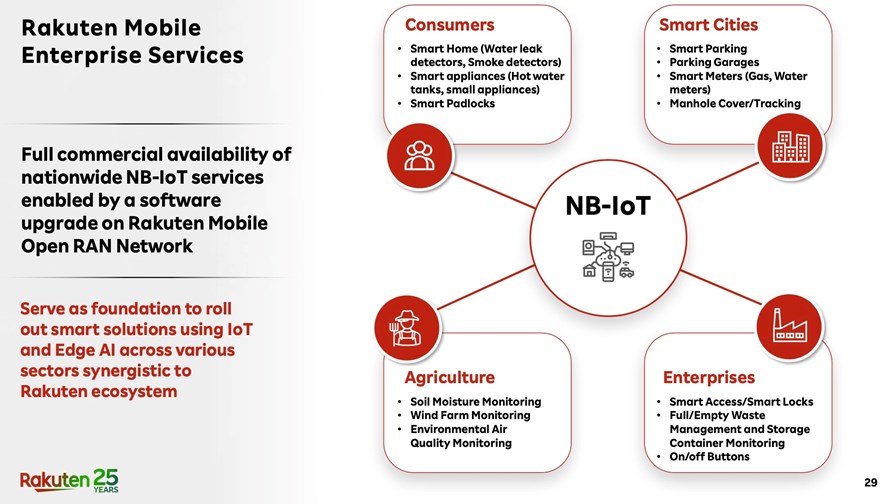 Beyond 2023, Rakuten is talking up a big game for its mobile operations, saying that the addition of satellite-enabled mobile connectivity via the AST SpaceMobile constellation (currently being constructed) will give it 100% coverage in Japan with its mobile data services and that from early 2024 it will be able to use existing network resources to add what it calls Platinum Band services with minimal capital outlay.
That's a long way off, though. In the meantime the company continues to push its bigger picture benefits, as the overall group strategic plan is that mobile connectivity is just part of a broader digital services portfolio comprising a broad spectrum of day-to-day applications (e-commerce, banking etc) that, in combination, will drive portfolio uptake, and use and build a body of loyal customers: Rakuten claims that having its own mobile services is already having a positive impact in this regard.
But it'll be hard for Rakuten's investors to look away from the current impact the mobile business is having on the broader group. Despite record group revenues, Rakuten Mobile's losses are still weighing heavy on the group's bottom line, with the group reporting an overall operating loss of 78.6bn yen when, excluding the mobile business, the group would have reported an operating profit of 47.2bn yen.
Symphony insights
A little over a year after it was formally created, Rakuten Mobile's vendor off-shoot, Rakuten Symphony, has reported some statistics and numbers as part of the earnings report, though the details were limited (for example, operating margins were not published).
Since it was formed, Symphony, which has 3,500 staff worldwide, has generated revenues of $315m and has bookings valued at $3.1bn. Much of that will be coming from 1&1 in Germany, where Symphony is planning, building and will run the German operator's greenfield, Open RAN-based 5G network.
Rakuten says Symphony had 14 commercial customers at the end of September and has another 12 engagements close to becoming revenue generating: Tareq Amin, who is CEO of both Rakuten Mobile and Rakuten Symphony, noted recently that Symphony is close to completing an extensive deal with a brownfield customer (an existing mobile operator that is adding Open RAN to its existing infrastructure – no names were mentioned, but Amin did recently discuss with TelecomTV what seemed like an imminent opportunity with Canada's Telus).
In total, Symphony is claiming to have 69 potential customers in its pipeline in addition to the 14 it already has, and has a target of generating $1bn in revenues between now and the end of 2023.
- Ray Le Maistre, Editorial Director, TelecomTV
Email Newsletters
Sign up to receive TelecomTV's top news and videos, plus exclusive subscriber-only content direct to your inbox.