Open RAN community cranks up the volume at #MWC23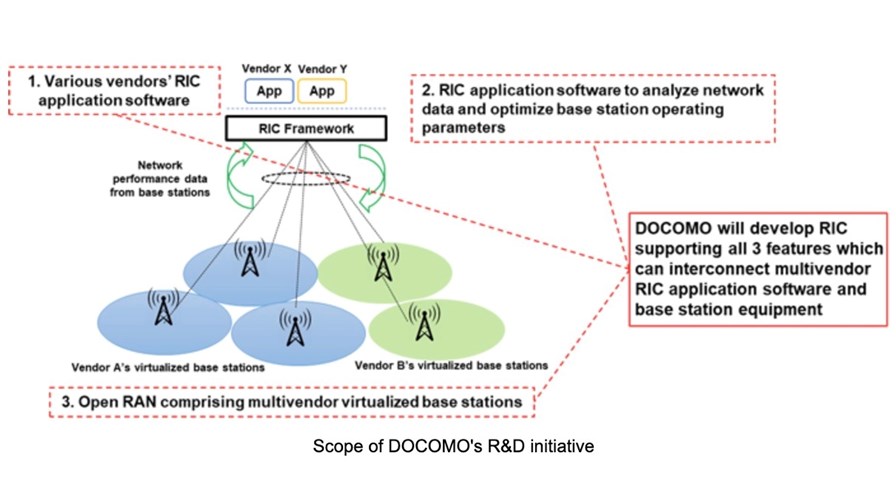 Open RAN is one of the top talking points in Barcelona
Tier 1 operators are dipping more toes into the water, rather than diving in just yet
Japan's NTT Docomo is now collaborating with five other telcos and is developing a RAN intelligent controller (RIC)
BARCELONA – #MWC23 – As expected, the topic of Open RAN has been cropping up regularly during the first two days of this year's Mobile World Congress, with operators and vendors alike providing updates on plans, rollouts and technical advances, albeit not accompanied by the kind of massive investments that supporters of the disaggregated open radio access network approach would like to see.
Deutsche Telekom, as already reported, announced details of some limited but still commercial rollouts in Germany and beyond – see Deutsche Telekom preps commercial Open RAN rollouts.
And that announcement was underpinned by a reference from the operator's CEO Tim Hoettges during his keynote speech on day one of the show about the great potential of disaggregation in the radio access network, and the fixed access network, to help operators "abandon" the "black boxes" supplied by traditional, integrated system vendors and ultimately increase capital efficiencies. It's clear, then, that there is support for Open RAN developments all the way to the top of the executive stack at DT.
Vodafone, meanwhile, has advanced its Open RAN rollouts and trials in the UK and Germany and, in particular, has added Open RAN-compliant massive MIMO radios from Samsung to its commercial deployment in the south-west of England, a move that had previously caused some issues in the labs but is vital if Open RAN systems are to play a serious role in urban areas. It is also deploying Samsung radios at its pilot sites in Germany, while the vendor's technology has also been added to Vodafone's Ciudad Real testbed in Spain, which was "created to benchmark mature RAN providers and compare performance across both traditional and Open RAN," noted Samsung in this announcement.
Japanese operator NTT Docomo, one of the operators encouraging global Open RAN deployments while looking to develop new business opportunities from providing Open RAN-compliant technology to other operators, says it is now cooperating with five other telcos – South Korea's KT, Vodafone Group, Dish Wireless in the US, Singtel in Singapore and Smart in the Philippines – on various developments.
KT is currently verifying an Open RAN system, Smart has "successfully demonstrated" a deployment, and Singtel is exploring ways in which it might include Open RAN systems in its network. Dish Wireless, which is currently rolling out a greenfield 5G network in the US, is to evaluate the performance and stability of Open RAN technology using Docomo's Shared Open Lab, while Vodafone has expanded on its collaboration with Docomo, announced last October, that relates to harmonising systems integration and test processes, and linking their test labs by jointly publishing a whitepaper focused on a defined common test script.
Docomo is looking to work with other operators too, and has adopted the name OREX (Open RAN Ecosystem Experience) to take its mission further afield. The Japanese operator is also developing its own RAN intelligent controller (RIC) platform with the aim of demonstrating how it can "intelligently optimise effective use of radio frequency through new RIC application software that controls antenna beams when signals are transmitted from base stations," the company noted in its press release.
And there'd be something amiss these days if Tareq Amin, who is CEO of Rakuten Mobile and its vendor arm Rakuten Symphony, was not in the news. The Rakuten group is here in force and expanding what it has to offer to other operators: The key to the Rakuten Symphony proposition is that it is bringing together best-of-breed technologies from multiple companies that can be used in Open RAN deployments. One of those partners is AirHop Communications, which has just announced that its portfolio of RAN automation and optimisation xApps, which can run on near real-time RIC, or RIC, platforms, is now available to any operator via the Rakuten Symphony Symworld marketplace. Tareq Amin noted that Airhop's technology has already been proven to work in the Rakuten Mobile network in Japan, with impressive results.
- Ray Le Maistre, Editorial Director, TelecomTV
Email Newsletters
Sign up to receive TelecomTV's top news and videos, plus exclusive subscriber-only content direct to your inbox.