Ericsson lights the Open RAN Fyuz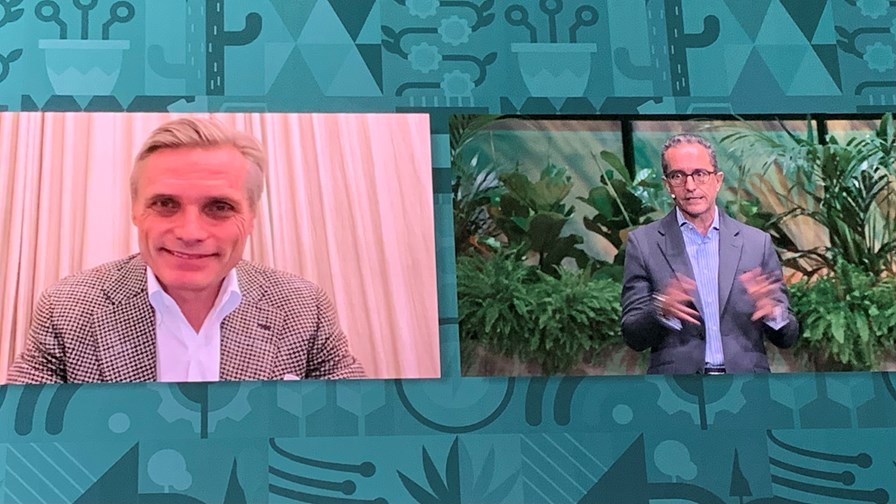 Many from the Open RAN community are in Madrid for the Fyuz event
The first day's keynotes included a surprise virtual appearance by Ericsson's head of networks, Fredrik Jejdling
He pinned the Swedish vendor's flag to the Open RAN mast
The proclamation was greeted with a rictus grin by many
But behind the scenes it sparked fireworks
MADRID – Fyuz 2023 – The opening sessions of this year's Fyuz event, which focuses on all aspects of open, disaggregated networking developments, featured a surprise guest who could easily be described as a fox in the hen house and whose appearance and subsequent commentary sparked some less than positive commentary.
The speaker, who joined the event via video link, was Fredrik Jejdling, head of the networks business unit at Ericsson, one of the companies that stands to lose the most if Open RAN fever grips the global mobile operator community (currently it has not).
Ericsson has long stated it is a supporter of Open RAN because of its development of a service management and orchestration (SMO) solution, which is basically the equivalent of a next-generation OSS (network management) stack. But no one took much heed of such claims: SMO is important but that's not where the money is.
In recent weeks Ericsson has upped its Open RAN rhetoric by announcing "Open RAN support across our portfolio" and then boasting of a deal that will see Telefónica, one of the telco community's most vocal Open RAN supporters, develop its virtual RAN and Open RAN strategy using Ericsson's Cloud RAN platform.
These announcements raised many an eyebrow. The Swedish vendor, understandably, has taken a number of swipes at Open RAN over the past few years – it spent quite some time and effort telling the whole industry that disaggregated networks are a major security threat – and reportedly lobbied hard and long against the European Commission's support for Open RAN.
But now, apparently, it's got the hots for a network architecture that really isn't conducive to its sales growth.
These recent developments generated so much industry murmuring that the Telecom Infra Project (TIP), which organises the Fyuz event and is ardently pro-Open RAN, invited Jejdling (the fox) to clarify Ericsson's position to the Fyuz event attendees (largely comprising the hen house of Open RAN-friendly executives).
So Yago Tenorio, TIP's chairman and a Vodafone fellow (as well as being the operator's network architecture director) asked Jejdling a very simple question: "Are you doing Open RAN?"
Jejdling didn't have a one-word answer. "We think it's time to create the next chapter in our industry and define the future of telecom… I think it's time for the industry to come together and shape this future. Our perspective is that we want to build a 5G network platform leveraging cloud-native technologies built on Open RAN standardised interfaces… this allows automation, more AI-driven networks and, from a broader perspective, it addresses the revenue-generating perceptive of the industry" through the exposure of network capabilities via APIs to monetise 5G use cases and other business cases "and come together as an industry to ensure revenue generation – that's the end goal for us and the enablers for us are cloud-native technologies based on Open RAN interfaces."
And are Ericsson's radios Open RAN ready?
Well this is going to be a gradual evolution… Ericsson announced last week that it has 1 million radios already deployed by operators that can be upgraded to support Open RAN fronthaul interfaces and that can happen from some point in 2024 when the software upgrade is ready. When pressed for timescales by Tenorio, Jejdling did not want to commit but he waxed lyrical about research and development investments and Ericsson's ambitions for software-defined networks. He did note, however, that Ericsson is fully committed to supporting all of the relevant interfaces.
Tenorio applauded Jejdling's statements and noted this was good news for the industry. After all, this is the RAN market leader (excluding China) saying publicly that it is supporting Open RAN. That's a big deal and an announcement that could potentially persuade more mobile operators to explore Open RAN's potential – it could help deliver the scale that the Open RAN sector is currently lacking.
But… it can't be that simple, surely? Is Ericsson really saying that an operator can deploy Ericsson radio units alongside a distributed unit running RAN virtualised software from another vendor and manage it using an SMO system from yet another vendor? Or deploy third-party radio and connect those to Ericsson's Cloud RAN platform?
Certainly Mavenir, one of the companies that has long championed and developed products for Open RAN deployments, and which has its technology deployed in multivendor open networks, such as the one run by Dish in the US, is not convinced Ericsson's technology would make the grade in such scenarios.
"We welcome Ericsson joining the Open RAN community," stated a magnanimous John Baker, senior VP of business development at Mavenir. However… "until [Ericsson] has certified its products and interoperated with other vendors, it does not have Open RAN.
The proof is in the eating – it must be more than just words," he added.
And Baker wasn't the only person to greet Ericsson's proclamation with major scepticism. Industry executives with real-world Open RAN deployment experience, as well as network operator executives and industry analysts, all talking on background, were not convinced that the Swedish vendor's version of Open RAN is the same as others'.
They all had the same takeaway: There's Open RAN, which enables multivendor best-of-breed deployments using truly open interfaces, and then there will be the Swedish vendor's version of Open RAN, with slight differences and tweaks that will result either in an Ericsson-only version of Open RAN or in an alternative set of specifications that would fracture the market and create incompatible architectures.
Ericsson isn't alone in attracting criticism from the broader Open RAN community. Nokia has long been a vocal supporter of Open RAN, despite also potentially risking existing business by doing so. It has used this approach to court operators and proclaim itself to be a company that will support all the needs of its operator customers, but its position is also distrusted. "Both Ericsson and Nokia want Open RAN to fail right now," stated one senior operator executive bluntly.
So what does any of this achieve?
Most here at the Fyuz event believe it's all part of the usual political games that everyone needs to work around but which ultimately, and deliberately, slow down developments and progress: Classic incumbent vendor tactics that have been practised and witnessed many times before across the technology sector. This isn't a new scenario.
Others believe that while Ericsson's position is not to be taken at face value, it's a position that the vendor won't be able to row back from – "this opens a door that the major vendors will find very hard to shut," said a network operator executive.
Of course, any scepticism and criticism could be nullified if Ericsson were to interoperate with other vendors and put its products through specification body certification processes – then more in the industry might be convinced that Ericsson really is 'doing Open RAN'.
- Ray Le Maistre, Editorial Director, TelecomTV
Email Newsletters
Sign up to receive TelecomTV's top news and videos, plus exclusive subscriber-only content direct to your inbox.