Virtualise that! EMC and HP in merger talks to fend off hedge fund predator, Elliot Management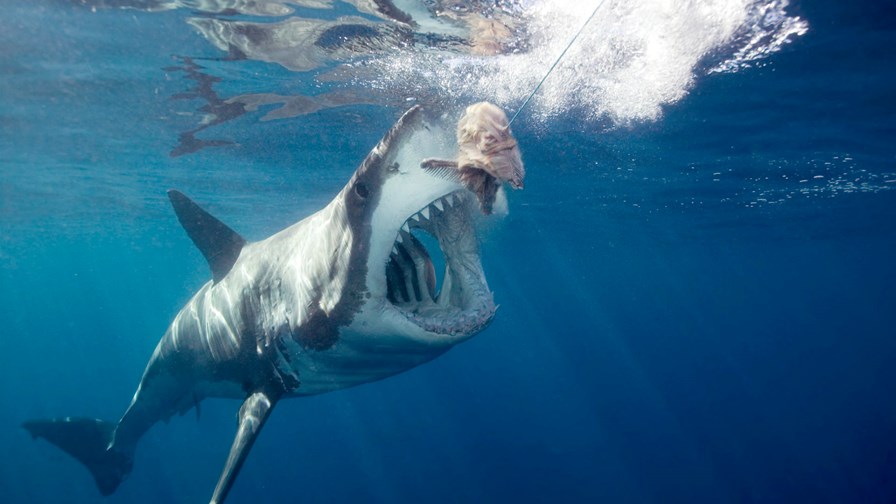 EMC Corporation the US-headquartered cloud computing, data storage, security, and virtualisation company has long been a competitor to Hewlett-Packard and has behaved accordingly - keeping its distance and its powder dry in an ongoing guerrilla war, sniping here and there as circumstances have allowed and then slipping back into the landscape to wait for the next opportunity for a skirmish.
But then changing circumstances make for some strange bedfellows and the former rivals have for some time now been in discussion about take-overs and acquisitions and even a good old-fashioned "marriage of equals."
The courtship (and the possibility of a shotgun wedding) has come about not because the two companies have suddenly fallen madly in love with one another but rather as a rational, strategic, dynastic defence against a perceived potential greater threat to both companies.
Shark repellent
HP may be an industry giant but has been under pressure several times in recent years and now EMC is being stalked by a major predator, a big and hungry activist hedge fund by the name of Elliot Management.
As SDN and NFV captures the headlines, Elliot Management has turned its gimlet eyes on EMC not because of the attraction of EMC itself but because EMC owns 80 per cent of VMWare and VMWare is increasingly important in the world of virtualisation software, and that's where the money is going to be in over the next few years.
HP is betting big on NFV and the acquisition of, or a merger with, EMC would give it a stronger position in a nascent market that is likely to be very lucrative in the medium- to long-term. EMC, meanwhile, is somewhat exposed on its own and would be all the better and safer if it had the strengthen and resources of HP behind it. In union HP and EMC would have a combined market value of some US$130 billion and would be strong enough to see off any possible aggressive takeover bid from elsewhereWhat is worrying though is the PR guff about "a merger of equals". We have been down this particular primrose-lined byway many times in the past and history shows us (Alacatel and Lucent being a classic case in point) that a gentle and amatory amble along pastoral footpath across a sunlit meadow can quickly turn into a forced march down the rocky road to hell. Marriages of equals are never that; there'll always be a struggle for dominance and that is where disaster lies waiting.
VMWare, majority owned by EMC, is worth $40.5 billion. Elliot Management has $25 billion at its disposal and CEO Paul Singer is known to be keenly interested in getting control of the company. Indeed he has already started nibbling around the edges and, back in July, bought $1 billion worth of EMC just to get his feet under the table.
Languishing EMC share price triggers hedge fund aggression
That pushed up EMC's stock by $3 a share, an 11 per cent overnight increase, but also put the wind up both EMC itself and HP. At EMC's last earnings call on July 23 (when the company's figures met and exceeded analyst's forecasts), Jeremy Burton, the president of products and marketing at EMC said, "We were able to attract great talent to VMware, giving them equity in a startup and later exposing a portion of it to the public markets. And the $600 million we invested in VMware is now worth $39 billion."
He added, "VMware is like Switzerland — it is neutral among different hardware vendors which means that a VMware customer can buy hardware from many vendors. We think that this approach will help us tap into emerging technologies."Once upon a time, back in 2000, EMC shares traded at over $100 but eventually fell back to just $8. It has been a long, slow and painful climb back from there and the stock has plateau'd having risen by a single per cent since 2011.
And now, Joe Tucci, who has been the president and chairman of EMC since 2001, has announced that he will retire in February 2015 (although he has announced his retirement before and then decided to stay on). Mr. Tucci was always determined never to sell EMC's interest in VMWare but if he does leave the stage all bets will be off.
Meanwhile, the Wall Street Journal, which originated the EMC/HP talks story now says the negotiations, undertaken sporadically over the course of the past year or so, are in stalemate over financial terms.
Email Newsletters
Sign up to receive TelecomTV's top news and videos, plus exclusive subscriber-only content direct to your inbox.