Orange's 'test and learn' approach to AI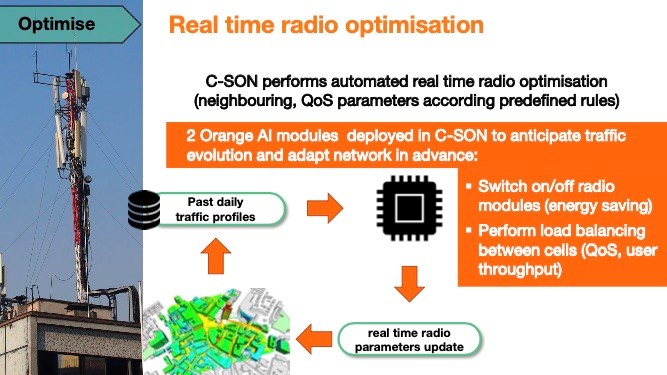 Part 2 of our look at how Orange is using AI in its network operations
Mobile network optimization techniques deployed in multiple markets
AI used to better target relevant services
Orange is "taking a test and learn approach" to using artificial intelligence (AI) tools in its network operations, according to Steve Jarrett, SVP of Data and AI at the international operator.
"AI today feels like the Internet did in 1995 – we know there is massive potential but the tools are quite immature but there is amazing innovation and there will be many unexpected developments. We are very use-case centric. When we see things that work well, we scale," added Jarrett during a recent online briefing for industry analysts and media.
Orange is already using AI in a number of ways to run its networks more efficiently, to save opex and, in turn, provide a better service to customers. In the first of this two-part look at how Orange is using AI, we looked at how mobile capex planning, FTTH opex management and wholesale voice fraud prevention are all being enhanced using AI tools. (See How Orange puts AI to good use in its network operations Pt. 1)
But there are further use cases.
Real-time optimization of the radio access network
C-SON (centralized self-organized network) technology has been in use for a number of years to automate the configuration of a base stations, noted Jarrett's colleague, Emmanuel Lugagne-Delpon, SVP at Orange Labs Networks, and now it is being enhanced in two ways using AI capabilities (see the graphic above).
The first is "predicting the evolution of the traffic of a cell and the congestion of the cell. The tool is making decisions to re-route traffic to neighbouring base stations, to help avoid congestion, improve customer service and make better use of network resources," noted Lugagne-Delpon.
The second is using real-time traffic predictions to switch modules (such as antennas) off when not needed to reduce power consumption, which can cut base station energy consumption by a few per cent, stated the Orange executive.
"In these instances we can close the loop – AI is not only providing data but is also taking decisions and actions and the use case is automated," he added.
Orange has implemented C-SON in 18 countries, with closed-loop automation being used in about half of those markets, mainly in Europe (including France) but also in Africa, including Burkino Faso and the Republic of the Congo.
Targetting relevant services
In response to questions from industry analyst Chris Lewis, MD of Lewis Insight, Jarrett noted that Orange is already using AI to identify the optimal services for different customer groups. "Identifying which services are the most appropriate to offer customers is particularly useful where we have converged offers, where we are looking to cross-sell customers between mobile and FTTH and other services," noted Jarret, who added that Orange also has AI-enabled churn prediction models that can not only identify which customers might want to leave, but also identify why they wanted to leave. That allows the operator to "make changes that improve customer satisfaction and retention across the board, and not just focus on those that might leave."
Jarrett says Orange is constantly looking for additional use cases and ways in which it can better use the huge volume of data produced each day by its networks. "Thanks to big data and AI we can make the full benefit of this data… we can train AI algorithm to build knowledge and help decision-making and, as with C-SON, we can close the loop" and further introduce automated processes.
Such principles apply to all parts of telecom networks, noted Lugagne-Delpon, who identified AI and automation as one of the three main areas of disruption in networking, the other two being: NFV (network functions virtualization) and cloudification, where operators are only at the very early stages… it will be a very long journey in transforming the way we design, build and operate the networks; and "full Phase 2" standalone 5G, an architecture that is natively virtualized, and which allows the full promise of 5G.
"These three building blocks of future networks will enable them to be smarter, to adapt to real-time needs and be more resilient," noted the Orange man.
Ray Le Maistre, Editorial Director, TelecomTV
Email Newsletters
Stay up to date with the latest industry developments: sign up to receive TelecomTV's top news and videos plus exclusive subscriber-only content direct to your inbox – including our daily news briefing and weekly wrap.