Automation for the people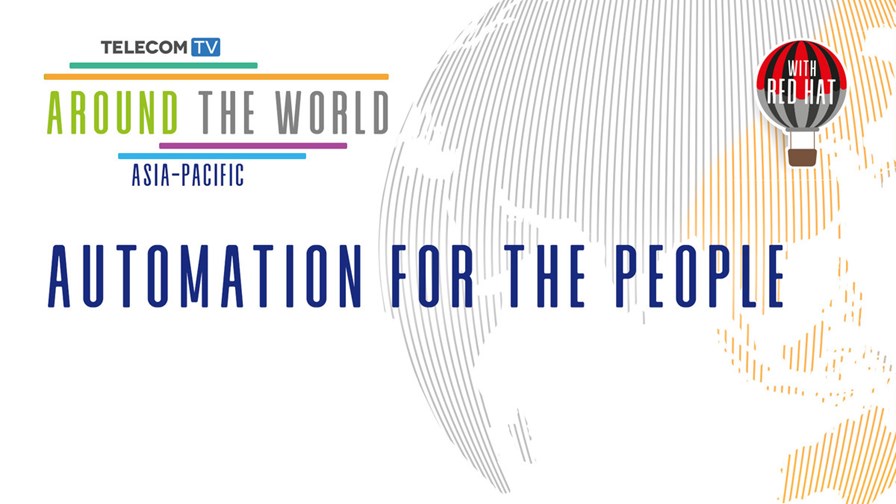 To say there are a lot of people in the Asia-Pacific region would be something of an understatement. The region is home to a staggering 60% of the world's population, according to the UN, living diverse lifestyles across a myriad of markets. But there is a unifying factor: many Asia-Pacific economies are home to sizable young and dynamic populations with insatiable demand for connectivity and increasingly, expecting the kind of seamless, instantaneous and flawless experiences in areas such as gaming and streaming video, that need low-latency connectivity and extreme broadband speeds; both defining characteristics of nascent cloud-native 5G technology. Alongside this; 5G promises to unlock new, richer, more dynamic and cost-efficient use cases across manufacturing, automotive and other sectors. In order to fulfil this demand, telcos in the region are showing the rest of the world the way when it comes to migrating to the cloud.
To give the people what they want, telecom operators need to embrace a new generation of cloud-native capabilities and new agile ways of working. Automation is – or should be – high on their list of priorities because with flexibility comes operational complexity, so manual processes are no longer fit for purpose.
To date, telcos have relied upon technicians and engineers sitting in a traditional service operation centre, troubleshooting problems as they arise. But with low-latency services in critical areas like telemedicine and driverless cars on the horizon, the existing operator model needs to evolve in parallel to the market's growing sophistication, or risk losing out on lucrative new revenue streams.
"The latency that is inherent with the human factor is incompatible with the real-time imperative of these 5G ultra-low latency services," says Mounir Ladki, President and CTO at MYCOM OSI.
Automating telecom operators' network and service operations provides them with the ability to integrate real-time closed-loop orchestration into their operations, introducing a predictive and proactive approach to running the business. Services will be delivered over a much more fluid and cloud centric infrastructure footprint. As an example, core network functions increasingly live in the data center environment, which itself is spreading across the network all the way to the edge. From a commercial perspective automation is essential if we are to succeed in monetizing advanced 5G services, particularly when you bring network slicing into the picture, as Mounir Ladki explains:
"[It's about] the inherent profitability of these businesses," says Ladki. "A typical operator in the Asia-Pacific region would have 2,000 employees to manage the network, while a company like Facebook will have maybe just 10 people to run their data center for the entire region. There is a massive gap in productivity between the two and I think operators are looking to reach the same level of productivity and automation as...the hyper-scalers." Boosting profitability and investing in innovation and new services could enable telcos to capture more of the opportunity they missed in the early days of OTT.
This is a huge opportunity to provide high-end services to industry verticals and the enterprise market requires both investment and agility. "They can't afford to continue business as usual if they want to compete and win in their market," says Ladki.
One major operator in the Philippines has embraced this philosophy, adopting a full cloud native service assurance solution from MYCOM OSI, running on Red Hat's OpenShift container platform, which enables deployment on any infrastructure, be it public, hybrid, private cloud, or bare metal. In this case, the operator has gone down the hybrid cloud route and is deploying the application with Openshift running in Amazon Web Services (AWS) and certain latency sensitive functions running locally.
"We have delivered a lot of automation capabilities for them," says Ladki. "And they've recently completely converged their network and IT organisation," he adds, moving away from the traditional IT and network silos that are familiar in the telco world. "Our solution is used across both network and IT," and therefore manages the entire network and IT performance, and quality of services out of the public cloud.
Red Hat and MYCOM OSI have proved that distance is no barrier to telco cloud adoption, even for mission critical operations. The solution is hosted in AWS' Singapore Availability Zone data centre in Singapore, around 2,000 km away.
"We're doing things in near real-time and we have found a way to still maintain the performance, despite these distances between the place where the application is hosted and where the user sits," says Ladki. "It's possible through some highly optimised processing of data and also through dedicated broadband giga Ethernet links...between the AWS or the cloud data centre and the customer."
Of course, running your network from half a continent away brings some challenges, the main one being regulation, with some jurisdictions imposing strict rules on the offshoring of data.
"In South East Asia we're seeing a lot of flexibility left for the operators to adopt the cloud model that fits best their interests and their economics," says Ladki. "We're seeing operators adopting these AWS-based solutions, [while] other operators might have a preference for Google Cloud ,Azure or maybe some also would prefer to have a private cloud, but I don't see the regulators imposing strong restrictions on those operators." MYCOM OSI and Red Hat OpenShift gives telcos the total flexibility they need.
Singapore is one exception, where there are stringent rules governing the use of data and the transfer of data outside of the country. But with an AWS data centre within the national borders, that is not proving to be a major obstacle. A tier-one Singaporean operator has also adopted a public cloud approach, again on AWS and using Red Hat Openshift. This customer was looking for similar benefits to the Philippines operator, around automation and network management, but "their priority is the rollout of the 5G network," Ladki explains.
Meanwhile, some operators – be it for regulatory or cultural reasons – have not embraced the public cloud.
Regulations in India dictate that data is stored in-country, but the scale of some of the operations there, and the operators' preference for keeping tight control of their data and operating their own clouds, makes private cloud a more palatable choice. Red Hat and MYCOM OSI are delivering that solution to a major Indian player right now. This operator is the largest mobile network in the world, outside of China. "It's larger than anything else you can find, even in the US. It's as big as 24 European networks," Ladki says. Facing competition from a rapidly growing newcomer, the operator came to Red Hat and MYCOM OSI with the objective of automating up to 95% of its operations. Having previously outsourced all network operations, the telco moved to insource those services and to do it in a cost-effective manner. Red Hat and MYCOM OSI are able "to give them that high level of automation capability that allows them to be very agile and innovative in their market," Ladki says. Furthermore, should that telco decide to migrate from the private cloud model to public cloud, the fact that it is running on Red Hat's OpenShift makes that possible.
Most places are not as vast and highly populated as India, but there are many sizable markets and large telcos in the Asia-Pacific. Many are gearing up for 5G and potentially new services, with telcos looking to the cloud to enable them to leave behind the role of the traditional connectivity provider and become digital services providers.
"The scale of these operations demands that they make bold moves on the automation side," says Ladki.
And the work of MYCOM OSI and Red Hat demonstrates that many in the Asia-Pacific region are doing exactly that.
Email Newsletters
Sign up to receive TelecomTV's top news and videos, plus exclusive subscriber-only content direct to your inbox.