When network promises aren't worth the paper they're redacted on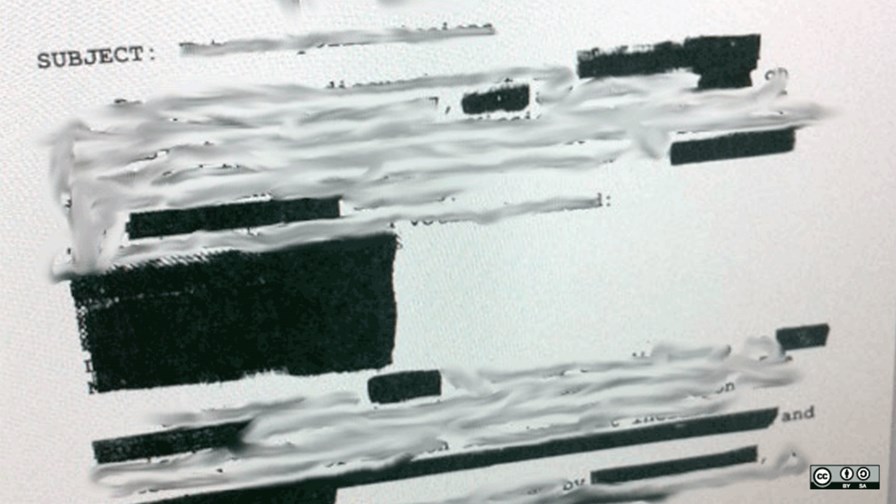 Sometimes a burst of waffle unintentionally crystallises a valuable insight: "Don't be naive, politics is all about making compromises," I was once told. It doesn't matter what the conversation was about specifically (I can't even remember now) but it came when Neelie Kroes was pushing hard on her Connected Continent scheme. The gist was that you couldn't just tell big companies what to do, you had to negotiate - give a little to take a little.
But why? As far as I'm concerned they (big companies) should do what they're told, just as we little people do as we're told. They shouldn't get to argue with - and unduly influence - the referee.
But they do - and the result is a telecoms market dominated by powerful corporate interests. Or had you already noticed that?
Exhibit A is the US telecoms market. The mask slipped there a week or two back when FCC chairman, Tom Wheeler, at last showed some backbone and called AT&T's bluff. AT&T Chairman, President & Chief Executive Officer Randall L. Stephenson, feeling grumpy about Network Neutrality, announced that his company would limit its fiber deployment to the "2 million additional homes" that are "commitments to the DirecTV announcement (this is AT&T's palliative to the regulators in its quest to take over DirecTV) and that any other fiber deployment would depend on the outcome of the Commission's Open Internet Proceeding."
In other words, "Bring in Title II to finally seal the network neutrality issue and you won't be getting any fibre out of us, Sunshine!"
In response, Wheeler slightly surprised everyone, even himself, by asking for AT&T's deployment plans. Cue mild panic down at AT&T's legal affairs department as it sought to get the papers ready while at the same time putting it out that Randall didn't mean it, or waffle to that effect.
According to dogged AT&T-watcher and arch-critic, Bruce Kushnick. Executive Director of the New Networks Institute, the really amusing bit came when AT&T gave the FCC the required papers but completely redacted their content for public consumption, citing commercial confidentiality. Here's what such a thing looks like...
But then Kushnick, writing in the Huffington Post, found an unredacted footnote which gave the game away. "It states that the numbers presented do not represent 'homes' but "locations", which includes businesses. But it also says that, well, technologies continue to change so the deployments may not be fiber-to-the home, (FTTP), but fiber-to-the-node, (FTTN). I.e., AT&T is including U-Verse, which is a copper-to-the-home network using the existing legacy copper wires and the fiber optics wire are somewhere within ½ mile from the actual location."
"If I was cynical," writes Kushnick, "I would say that AT&T didn't want the FCC to actually audit their commitments in detail as they were just kidding all along and made up the deployment announcement and plans, just like they have done in the past."
Kushnick goes on to itemise a brief history of AT&T's 'redacted' network investments. Here's just a few (you can read about all of them in his book).
1) AT&T-Bellsouth Merger was to have 100% of 22 States Capable of at Least Minimal Broadband Speeds by 2007. It would appear that 25% didn't get upgraded.
2) SBC Was to Compete for Wireline Service Out-of-Region in 30 Cities by 2002 -- Never happened.
Then we have the closing of fiber optic broadband deployments that were underway in almost every state SBC (now-AT&T) took over.
3) Pacific Telesis -- was to spend $16 billion on 5.5. million homes in California by 2000. After the merger in 1997, SBC shut down everything being built and never spent about $15 billion….and so on.
Back in Europe we're now getting some detail on that 'Connected Continent' deal-making.
It was pretty clear, just from a close reading of Neelie Kroes' statements at the time, that a complex and, no doubt hard-fought, informal deal had been put together. The 'give' was a promised loosening of competition rules which maintained a minimum three mobile operators in any national territory; the take was mostly (and most noisily) tough action against expensive roaming and apparently stiff network neutrality regulations.
Except the network neutrality detail included provisions that compromised the whole - so-called specialised services were framed in such a way that would have let just about any service (such as video) delivered across the Internet off the neutrality hook. That was fixed by amendments and now we're at the European Council Stage where the legislation gets taken out and looked at again.
The new issue, which I suspect was also quietly waved through by its not being mentioned in the network neutrality regulations, is so-called Vertical Price Discrimination which involves techniques such a 'zero rating' by telcos of specific services or content.
That's a live issue now in the European Council discussions. According to consultancy Rewheel (which has just issued a note on the matter) several member states (those who support or who have already enshrined net neutrality) are adamant that it is a neutrality issue. So the likes of The Netherlands, Slovenia, Hungary, have lined up to have vertical price discrimination ruled out, mostly on the basis that the move would commercially incentivize telecom operators that venture into the content business to drive down the price of open internet access. If you think about it, high pricing would otherwise be a barrier to their own content services.
The European Commission itself is against ruling out vertical price discrimination - could it have been part of that political 'compromise' so necessary to get the connected continent show on the road?
Email Newsletters
Sign up to receive TelecomTV's top news and videos, plus exclusive subscriber-only content direct to your inbox.