White Spaces community meets in Ghana to plan future wireless strategy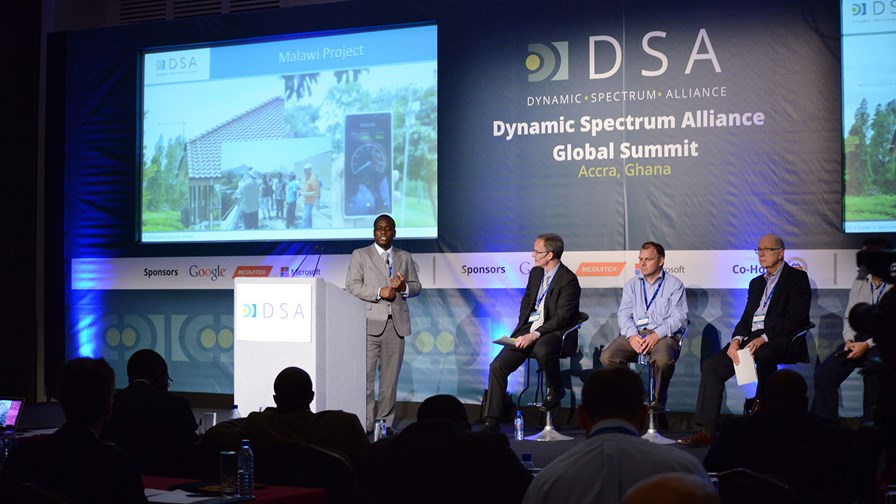 The second annual event of the Dynamic Spectrum Alliance (DSA) opened today in Accra, Ghana, as the industry seeks to widen the technology's appeal from TV White Spaces to other frequency bands and applications.
The event seeks to explore dynamic spectrum access technologies, business models and regulations, which are particularly relevant to Africa. Although dynamic spectrum access has to date been mainly associated with so-called White Spaces spectrum (the frequencies in the VHF and UHF TV broadcast bands that are either unassigned or unused) it has far wider relevance.
Dynamic spectrum access encompasses a range of emerging wireless technologies that can use radios frequencies more efficiently than cellular – allocating available spectrum to people and devices as and when required. This approach promises to increase the availability of bandwidth whilst reducing its cost. It's also proving to be highly feasible for connecting rural areas to broadband, improving in-building wireless, creating hotspots for Internet access and for offloading cellular traffic.
Microsoft is a strong supporter of dynamic spectrum sharing and the DSA, and has today announced new White Spaces partnerships and projects on four continents, bringing its total involvement to pilots in 10 countries.
"TV white spaces technology, when combined with other low-cost wireless technologies, such as Wi-Fi, offers a substantial opportunity for businesses, consumers and governments around the world to improve the economics of broadband network deployment and service delivery," said Paul Garnett, director in Microsoft's Technology Policy Group. "Through these projects worldwide, we are working with local private- and public-sector partners to enable new consumer experiences, while encouraging governments to make needed legal and regulatory changes to allow this technology to be deployed more broadly."
Following successful White Spaces trials in Accra, new deployments will soon take place at selected Ghanaian colleges to connect campus buildings. Microsoft is working with SpectraLink Wireless and Facebook to deploy networks as part of its 4Afrika Initiative. The project is operating under a pilot license granted by the Ghana National Communications Authority and is the only TV White Space license currently issued in West Africa.
Facebook's main involvement in the project, through its Connectivity Lab team, will be to lead efforts to better understand how TV White Spaces spectrum and equipment can support wireless Internet users today. The work is part of the Internet.org initiative launched by Facebook to make Internet access available to the two-thirds of the world not yet connected.
Global trials
In Asia, Microsoft has helped to pioneer white spaces pilots in Singapore and the Philippines. Last week, the company became a founding member of Taiwan's Dynamic Spectrum Access Pilot Group, which aims to contribute to the creation and development of a world-leading dynamic spectrum access ecosystem in Taiwan. The group will conduct pilot projects in Taiwan for both rural broadband access and Internet of Things applications using TV White Spaces.
In Latin America, Microsoft is involved in the region's first White Spaces pilot in Uruguay, providing technical support to Plan Ceibal, an initiative supporting the integration of ICT into the country's public education system. And in the UK, Microsoft is working with Ofcom and other partners on a pilot in Glasgow, led by the Centre for White Space Communications at the University of Strathclyde.
"Progress is being made within Africa and around the world, however we need to achieve much in order to meet the surge on data demand and the availability of spectrum," said 'H' Nwana, the recently-appointed Executive Director of the DSA. "The Global Summit aims to demonstrate the potential future offered by dynamic spectrum access technologies and effectively encourage discussions that will usher the next leap forward in connectivity for emerging economy regions like Africa and in other developing and developed regions around the world."
Email Newsletters
Sign up to receive TelecomTV's top news and videos, plus exclusive subscriber-only content direct to your inbox.