Power to the people's steeples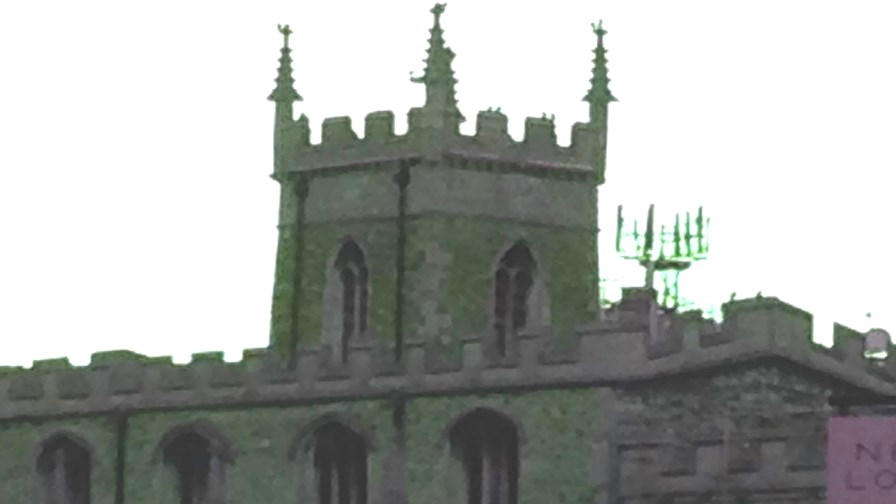 Heaven's Above! England's church spires to double-up as broadband beacons

Government broadband targets are all gas and gaiters

But floundering rollout of "Broadband Britain" rescued from on high

The Wi-Fi spire. The answer to a rural prayers
Over the centuries Christianity in England has been witness to some arcane and prolonged theological debates ranging from whether or not Christ owned a purse through arguments about the pseudo-scientific methodologies of calculating exactly how many angels could dance on the head of a pin.
Some of these arguments were conducted over several hundred years and it was rare indeed for any consensus on a particularly fine piece of doctrinal dialectic to be reached over as short a period as a mere generation or so. However, times have changed and the Church of England as proven that, at least in as far as helping to bring broadband to England's remote rural areas is concerned, it can be pretty nippy when it needs to be.
England is justifiably world famous for its remarkable and hugely impressive showpiece of cathedrals, minsters and abbeys. However, they form no more than the architectural icing atop a countrywide cake - for England is dotted with thousands of parish churches and other religious buildings dispersed across the country as liberally as plump raisins in a Fortnum and Mason fruitcake. Much of our vernacular ecclesiastical architecture was placed stone-upon-stone between the 11th and 14th centuries and has been summoning the English by bells ever since. Now though, as congregations dwindle and broadband users multiply, the bells are being supplemented by whistles and go-faster stripes as mobile phone and Internet subscribers are connected from steeple to steeple.
In November of last year the UK prime-minister, David Cameron, publicly promised that by 2020 every household in the UK (not just England) will have access to what the government is pleased to call "fast broadband" (and what almost everyone else calls under-ambitious pettifoggery). That was a mere six months ago but by extrapolating from the dictum of Harold Wilson, one of Mr. Cameron's predecessors, that "a week is a long time in politics" the government has now been rowing-back on that pledge for the parliamentary equivalent of an epoch.
The rollout of the much vaunted "Broadband Britain" has been slow overall and positively glacial in rural English areas including Cornwall, Norfolk, Suffolk, Lincolnshire, Yorkshire, Lancashire, Northumberland and Cumbria. Desperation has resulted in many private and co-operative initiatives to promote the deployment of fast broadband access in such regions but, while generally successful, they have necessarily been small and piecemeal because BT and its ilk simply are not interested in spending what is needed to bring broadband to the five per cent of English households that remain totally cut-off from the digital age and economy.
According to the National Farmers Union (NFU), in agricultural areas of rural England just four per cent of farmsteads have any Internet access, and of that derisory number, the service they do get is both limited and expensive. Guy Smith, the NFU's vice-president says, "Poor access to broadband is neither sustainable nor acceptable. We have hears of farmers waiting 15 hours h just to download a countryside stewardship guidance booklet." Blimey! Thirteenth century monks working in an abbey scriptorium could have produced a beautifully illustrated manuscript vellum version of one in that time.
Anglicanism: Both a broad church and a broadband church too
So, step forward to the rescue the Church of England! Via the Church Buildings Council, it is offering its ancient network of more than 10,000 country churches as antenna sites so that the rollout of rural broadband may be completed. It is already working with 40 dioceses on a broadband rollout plan.
The Minister for Rural Affairs, Rory Stewart, a government poodle conspicuously missing a dog collar, says, "The offer from the Church Commissioners is greatly appreciated and we are working closely with our colleagues in the Department of Culture, Media and Sport to take advantage of the technological opportunities". (Did the remit of a government department ever betray its essentially philistine nature via its cobbled-together name alone?)​
In point of fact, the Church already operates a broadband network called WiSpire. It provides Internet and mobile services from 47 church towers and spires across Norfolk. Each church transmits wireless access within a 2.5 mile radius of each building and several of them overlap to provide contiguous connectivity.
Of course, many, indeed the majority, of England's rural churches are ancient listed buildings ,the main fabric of which cannot be altered or adapted. Steve Mann the CEO of WiSpire says that the organisation goes to great lengths to ensure that the churches are not damaged during or by the installation of antennas and other broadband equipment and that visual impact is reduced to an absolute minimum by tucking most of the kit away behind parapets and walls.
It just goes to show what can be done locally and it puts to shame the major operators and the government alike. It is a wonderful and practical notion that such venerable buildings, for so long an utterly integral aspect and part of England and the English landscape and psyche, can be used to provide a 21st century technology without affecting the beauty and aesthetics of ancient monuments. And what is perhaps even more important is that it provides connectivity to the wider world and brings rural communities into the digital fold and economy whilst simultaneously providing some much-needed funding to help parishes with the expenses of maintaining old churches.
The WiSpire wireless broadband project providing fast Internet access across the the Diocese of Norwich is a joint venture with an ISP called FreeClix. The service supplies speeds of up to 8Mbps and unlimited downloads for £23 a month plus a £60 installation fee. What's not to like or applaud?
By the way, broadband transmission from the top of Lincoln Cathedral would provide an enormous radius of coverage. As it was meant to, the cathedral towers over the city and completely dominates it - and it can be seen from more than 40 miles away. Construction began in 1088 and was completed in 1311. It was built to last and at the time the building was finished the tower and its spire reached 524 feet, making it the tallest building on the planet surpassing, as it did, the height of one of the seven wonders of the ancient world, the Great Pyramid at Giza. As Sir Michael Caine might say, "Not many people know that."
Email Newsletters
Stay up to date with the latest industry developments: sign up to receive TelecomTV's top news and videos plus exclusive subscriber-only content direct to your inbox – including our daily news briefing and weekly wrap.