MulteFire Alliance unveils Release 1.0 of its vision to bring LTE to unlicensed spectrum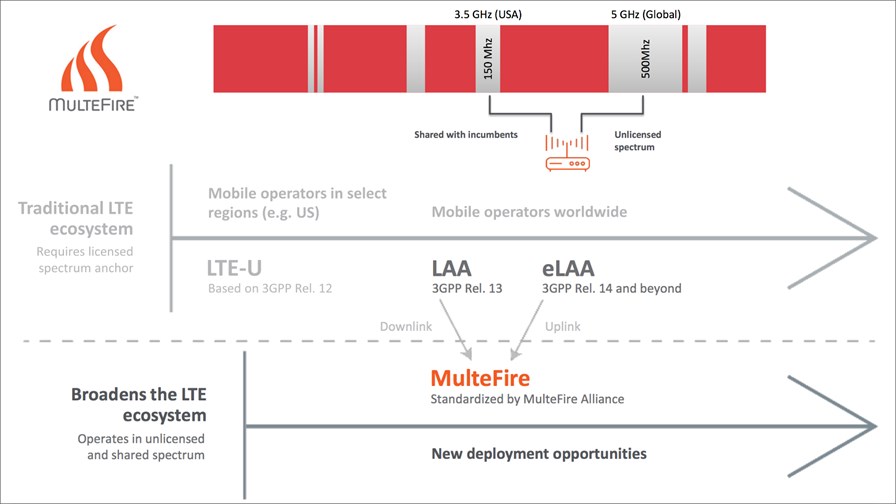 Release 1.0 based on 3GPP Releases 13 and the forthcoming 14
Defines LTE operation in unlicensed and shared spectrum
Built around a "neutral host" access mode, no need for a cellular anchor
Authentication can work with or without a SIM card
The idea of using cellular-standardised technology in licence-exempt spectrum bands is perhaps the most divisive concept faced by the mobile industry. Cellular operators love the idea of stretching their service away from their expensive and (apparently) congested licensed spectrum and into the vast spaces currently occupied by WiFi providers. However, the same can't be said for the pure WiFi providers, who are practically apoplectic at the thought of being muscled out by deeper-pocket rivals. Not to mention the whole "open" culture idea of WiFi access, nor indeed the reported interference problems that arise.
Whether it's LTE-U or LAA, the arguments are pretty similar. The "listen before talk" (LBT) procedure is one divisive difference, with the more European-friendly LAA incorporating it (mainly due to national regulatory requirements) whereas the US-focused LTE-U currently avoids the use of the contention-friendly method. The 3GPP is working towards an official global standard for LBT; it is already specified for downlink LAA operation in Release 13 and an uplink version should make it into Release 14 within the next few months.
An alternative approach that may be better received rests with MulteFire. This week, the MulteFire Alliance announced the completion of its Release 1.0 specification, a key milestone in bringing MulteFire technology to market. Release 1.0 is based on 3GPP Releases 13 and the forthcoming 14, and defines LTE to operate in unlicensed and shared spectrum, while ensuring fair sharing of spectrum with other users and technologies such as Wi-Fi. The difference here is, MulteFire removes the requirement for an anchor in licensed spectrum.
"By eliminating the requirement for licensed spectrum, MulteFire will enable innovation around the world with a number of exciting new use cases," said Stephan Litjens, MulteFire Alliance Board Chair and VO of Innovation Steering at Nokia, "from deploying a standalone network in an underground mine for industrial IoT applications to ensuring robust connectivity for mobile broadband. With Release 1.0, the Alliance is delivering on its promise of a new way to wireless."
The MulteFire Release 1.0 specification builds on elements of 3GPP Release 13 LAA for the downlink and Release 14 enhanced LAA for the uplink, including enhancements for operation solely in unlicensed spectrum – such as robust procedures for mobility, paging, initial access and efficient uplink control channels.
Like LAA, it implements LBT for fair coexistence with technologies using the same spectrum (in other words, WiFi and LAA) as well as co-existence between different MulteFire networks. The specification defines a "neutral host" access mode (i.e. no need for a cellular LTE anchor) where the same deployment can serve multiple operators, as well as a traditional access mode for a single network operator. Access authentication can work with or without a SIM card, which again covers both cellular and WiFi use cases, and the technology can also support the elusive VoLTE.
The Release 1.0 specification is available to MulteFire Alliance members today and will be made available for download by anyone with an interest in MulteFire technology by mid-2017. A white paper providing a detailed technical description of MulteFire can be accessed here.
Email Newsletters
Stay up to date with the latest industry developments: sign up to receive TelecomTV's top news and videos plus exclusive subscriber-only content direct to your inbox – including our daily news briefing and weekly wrap.