India's smartphone market continues to grow by leaps and bounds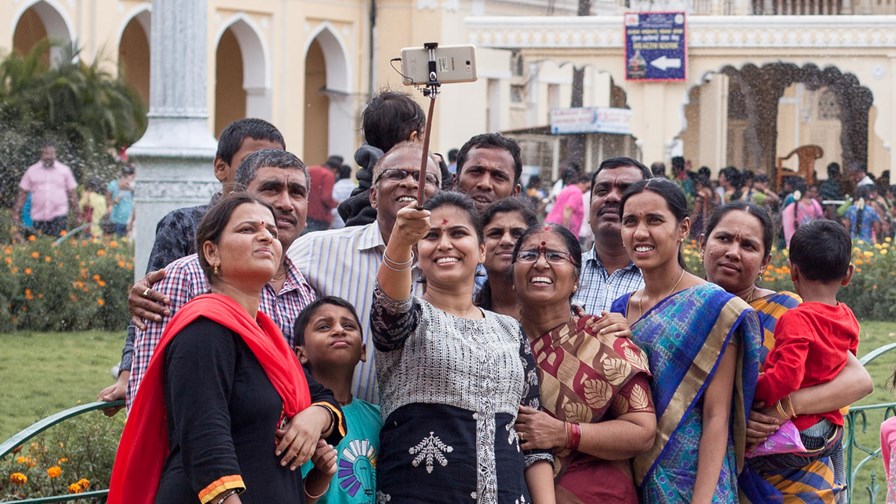 But consolidation means the Top 5 vendors have a 79 per cent market

Chinese manufacturer Xiaomi in the vanguard

Both online and offline channels forging ahead

2G sector in terminal decline
A total of 33.5 million smartphones were shipped to India in Q2 of 2018. That equates to year-on-year growth of 20 per cent and the Indian smartphone market is continuing to forge ahead. However, market consolidation is well under way and India's Top Five vendors now account for 79 per cent market share making it more and more difficult for smaller vendors to maintain a meaningful share and will perhaps drive at least some of them to the wall in due course.
Chinese smartphone manufacturer Xiaomi dominates the market in India. It has a huge online presence (it has cornered 56 per cent of the web market for smartphones in India) and is also rapidly increasing of offline channels such as bricks and mortar retail outlets. Indeed, 33 per cent of Xiaomi smartphones went through offline channels in Q2 this year.
Rival Chinese handset manufacturer Huawei is making strong inroads with its 'Honor' range and now has an eight per cent share of the online market. That might not sound like much when compared to Xiaomi's apparently unassailable place at the top of the pole but Huawei already sells more handsets in India that does Apple thanks to a wide and appealing suite of products and very competitive pricing. Other important players in the online sector are OnePlus and Asus. New handsets from these companies have resulted in an annual growth of 44 per cent in online channel shipments.
Indian consumers are responding positively to clever and appealing financing deals across the entire portfolios of products being offered in the offline sector. Affordability and a wide range of handsets is boosting the market.
Meanwhile at the top end of the market, the 'premium' sector that applies to handsets costing $500 dollars and more (well beyond the reach of the average Indian but being snapped up in great numbers by the burgeoning and monied middle-classes, has doubled in size year-on-year. In the premium sector Samsung's Galaxy S9 series, the OnePlus 6 and Apple iPhones continue to fly off the shelves.
Elsewhere the less glamourous feature phone market remains buoyant and important. Some 44.0 million units were shipped in 2Q this year which translates to a 29 per cent growth over the same quarter in 2017. The iconoclastic and amazingly popular operator Reliance Jio continues to drive the feature phone segment with its JioPhone range but, overall, the 4G feature phone market has experienced a 10 per cent drop quarter-on-quarter QoQ to 19 million units, mainly because of exceptionally high levels of product inventory. Meanwhile the rapidly ageing and increasingly technologically irrelevant 2G feature phone segment continues its marked and presumably terminal decline.
Original press release below
India smartphone market sees a healthy growth of 20% in Q2 2018 as Xiaomi retains leadership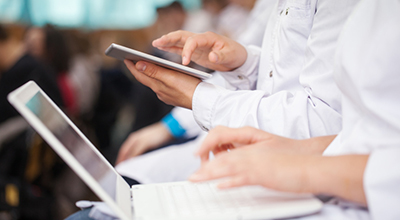 NEW DELHI, August, 13th, 2018: According to the IDC India's (International Data Corporation) Quarterly Mobile Phone Tracker, smartphone companies shipped a total of 33.5 million units to India during the second quarter of 2018 (2Q18), resulting in a healthy 20% year-over-year (YoY) growth. IDC believes that this is the result of a slew of online exclusive launches and strong shipments by offline heavy vendors on the back of high decibel promotional activities and channel schemes.
The market, however, is seeing rapid consolidation at the top end, as the top 5 vendors made up 79% of the smartphone market in 2Q18, marginalizing smaller brands" says Upasana Joshi, Associate Research Manager, Client Devices, IDC India
Xiaomi remains the leader in the smartphone market with growing offline presence while maintaining dominance in the online space. Xiaomi contributed more than 56% of the shipments in online space, while 33% of its shipments went through offline channels in 2Q18.
In the online segment, Huawei with strong shipments of its Honor branded phones, climbed to the second position with an all-time high of 8% share in online segment in 2Q18.
"Huawei has had a stellar quarter worldwide moving into the second position, toppling Apple. In India, with a refreshed focus it has been able to grow its share in the online space in the last two quarters, on the back of several new launches across price segments. IDC believes Huawei should be seen as a serious long-term player in India market with all the ingredients to challenge Xiaomi and Samsung" adds Joshi.
Other online-focused vendors with online exclusive launches were OnePlus with its new launch OnePlus 6, Realme with Realme1 and Asus with Zenfone Max Pro series, all of which led to an annual growth of 44% in the online channel shipments and taking the online share to 36% of the smartphone market.
Offline segment growth was driven by vivo which had strong shipments during the quarter on the back of high decibel marketing campaigns around new launches like V9 including advertisement campaign featuring popular movie star Amir Khan, title sponsorship in Indian Premier League cricket tournament and attractive booster schemes available for channel partners.
"The growing popularity of financing schemes in the offline channel across model portfolios by almost all vendors is driving affordability and thus pushing the overall smartphone ASP's to a record high of US$167 in 2Q18 from US$157 in 2Q17.", adds Joshi.
The premium end of the market (US$500+) grew almost two times year-over-year (YoY) mainly due to continued strong shipments of Samsung Galaxy S9 series and OnePlus 6, with OnePlus surpassing Apple to be the second biggest player in the US$500+ segment with a share of 21% in 2Q18.
The feature phone market remained resilient with shipments of 44.0 million units in 2Q18, seeing a growth of 29% over 2Q17. Reliance Jio, the telecom operator and the main driver of the 4G feature phone segment with its JioPhone range of phones, remained the top vendor in the overall feature phone market. However, the 4G feature phone market saw a slight decline of 10% QoQ with 19.0 million units. IDC believes that this drop is due to JioPhone inventory buildup from 1Q18.
Reliance Jio, as an attempt for clearing this inventory, recently introduced the "Monsoon Hungama" feature phone exchange offer and brought popular apps like WhatsApp, YouTube on JioPhone. The 2G feature phone segment continued to decline further as local players struggle for survival in this segment and segment is losing relevance due to the aggressive push in the 4G feature phone segment by Reliance Jio.
Company Highlights: 2018Q1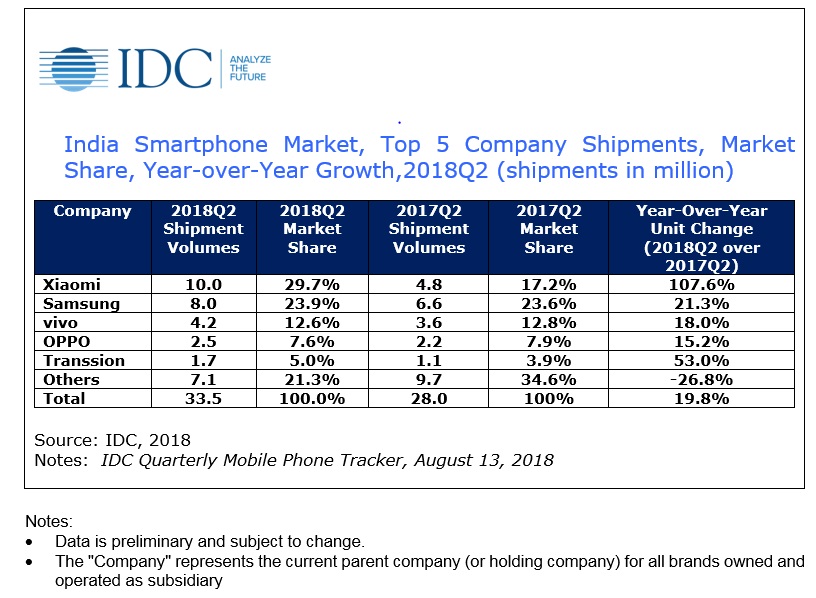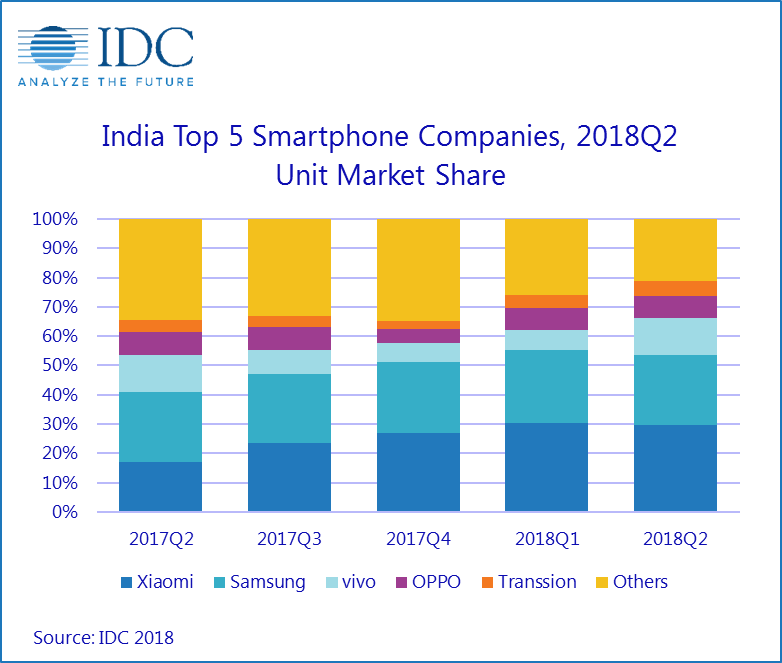 Note: The "Company" represents the current parent company (or holding company) for all brands owned and operated as subsidiary
Top 5 smartphone vendor highlights
Xiaomi maintained its leadership position with its highest ever shipments in a single quarter in 2Q18. The vendor's shipments saw a growth of 10% sequentially and grew more than two-fold annually. Its four smartphone models captured the top four slots in top models ranking, namely Redmi 5A, Redmi Note 5 Pro, Redmi Note 5 and Redmi 5, together accounting for 26% of overall smartphone shipments.
Samsung remained at the second position in the smartphone market with an impressive 21% Year-over-year (YoY) growth at the back of its newly launched "infinity" series model namely Galaxy J6. The brand continues to see strong shipments of its successful low-end models – Galaxy J7 Nxt, Galaxy J2 (2017) and J2 (2018), thus driving overall volumes. The high-end segment (US$500 and above) saw incremental demand with cash back offers and financing schemes across channels.
vivo reclaimed its 3rd position, as its shipments grew more than double from the previous quarter, registering a strong 18% year on year growth in 2018Q2. The hit models namely Y71, V9 and Y83 being the key volume drivers.
OPPO slipped to 4th position, however, its shipments grew by 15% Year-over-year (YoY) in 2Q18 due to fewer marketing initiatives and absence of attractive offline channel schemes.
Transsion continued to be at the 5th position, as its offline focused Tecno branded phones grew by 26% followed by itel with 14% QoQ growth in 2Q18. The online exclusive brand Infinix grew by 45%, registering an overall 53% Year-over-year (YoY) growth for the company. Transsion's stability in the market can be attributed to successful channel management, focus on the low-end segment and strong retailer connect.
IDC India Forecast:
"India will be the fastest growing large smartphone market for the next few years, making it a must for any smartphone player to be here. However, with increasing consolidation, it will be difficult for any new brand to carve a space here. IDC estimates the India smartphone market to continue growing in low double digits for the next couple of years. 2H18, with multiple sale events in the run-up to the Diwali festival, will be even bigger with growing aggression by online players, the sustained relevance of offline channel and several new launches planned by key vendors across price segments." says Navkendar Singh, Associate Research Director, Client Devices, IDC India.
This content extract was originally sourced from an external website (
IDC
) and is the copyright of the external website owner. TelecomTV is not responsible for the content of external websites.
Legal Notices
Email Newsletters
Sign up to receive TelecomTV's top news and videos, plus exclusive subscriber-only content direct to your inbox.