Google makes a big play for mobile Internet market in India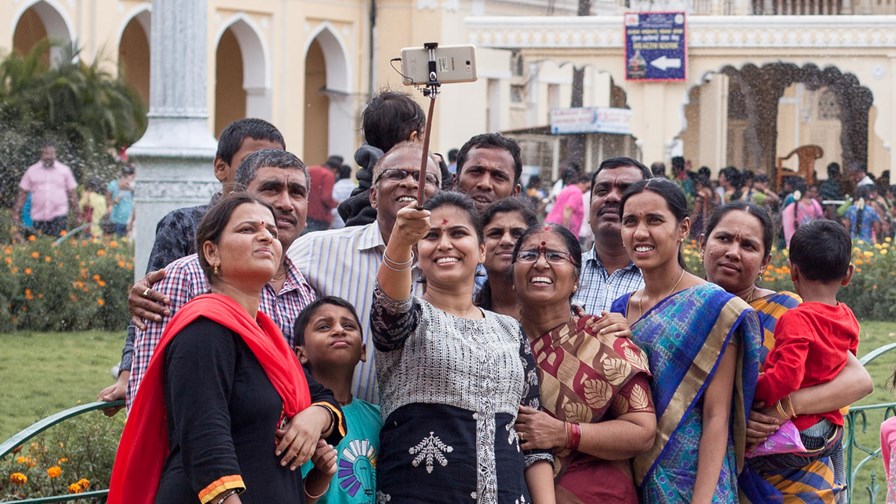 Missed out on China but determined to be a big force on the sub-continent
India's 'most active' smartphone users spend four hours a day on mobile apps
Last year Indian users spent 145 billion hours on Android devices
User ability to track data usage in near real-time seen as vital
Google was still on the paddle steamer out of Mountain View when the technology fast boat to China left from the Embarcadero in San Francisco. As a result it got to the party late and has failed to capitalise on the growth of the Internet in China - and that is a source of continuing corporate chagrin for Google.
However, once bitten, twice shy, and the company is determined not to make the same mistake with its latest target for major expansion - India. Each and every week, one million new Indian subscribers are getting online for the very first time, the vast majority gaining access through smartphone wireless technology. India has a population of 1.4 billion (and rising) and so far less than 30 per cent is either online or has access to wireless broadband.
Google wants a piece of what will be a very lucrative sector and so is focusing on the Indian market and investing heavily in a new version of its popular Android operating system (and associated apps) that will work well with relatively inexpensive smartphones that come with far fewer of the costly bells, whistles and go-faster stripes which put top-of-the-range handsets beyond the grasp of cash-strapped but highly aspirational (and predominantly young) Indians. Their budgets and disposable income might be less than those enjoyed by their contemporaries in the West but there are millions of new-to-the-smartphone-world consumers across the sub-continent desperate for the opportunity to join the information society. If Google can capture a goodly share of this new market - and keep it loyal - continued growth will be assured.
To that end, Google is drafting in a phalanx of its best developers and designers and tasking them to come up with ways either to adapt existing popular apps and services or scrapping the rule book altogether to create innovative new products from scratch. As Caesar Sengupta, the vice president responsible for Google's "Next Billion Users" division, says, "Figuring out how to build the right products for them is a top priority for Google".
Targeting the massive aspirational middle-class
The Indian mobile comms market is wide-open and booming and price wars are commonplace and cut-throat. However, much of that freebooting applies to the lower, basic end of the market and competitive and innovative data plans for the aspirational middle classes have been few and far between. The sector would grow so much more quickly if inexpensive smartphones able to store big video files and run apps were to become easily available in combination with data bundles big enough and manageable enough for subscribers to learn to measure and tailor their usage as their experience of the mobile Internet and its vagaries improves.
In the Spring of this year, the California-headquartered web analytics company App Annie published data showing that India's 'most active' smartphone users spend up to four hours a day on mobile apps, just behind users in South Korea and Japan whose most active spend five hours a day on apps, mainly mobile games.
The sub-continent also ranks among the top-five markets globally in total time spent on apps on Android devices. Furthermore, India is Android's largest global-base and also the top download market for Google Play Store apps. Last year, Indians downloaded 6.2 billion apps, up from 3.6 billion in 2015. What's more, they led the field in the most time spent on Android devices – 145 billion hours. No wonder Google is interested.
Indian citizens are also very interested in mobile shopping apps followed by travel and games. However, for some reason they seem not to be as enamoured of social media as their Western counterparts despite the fact that India is the biggest market for platforms such as Facebook, LinkedIn and WhatsApp.
That said, YouTube is a runaway favourite with Indian subscribers and often a bone of contention between them and their service providers. In general, few CSPs keep their customers aware of how much data they are consuming and all too often, subscribers gobble through their data allowance in the first couple of weeks of the month and are left for the remainder of the period with a feeble trickle of low speed access until the plan resets at the start of the next month.
Google is seeking to address this problem by providing packages of bundled apps that will work perfectly well on smartphones costing less than $25. It includes YouTube Go, a video downloading and sharing service, Google Go, a subset of the Google search engine that provides access to information by tapping the display screen rather than typing in a query. Also bundled are the Chrome browser and Maps.
Additionally Google has recently introduced "Datally" a data-saving application which, when opened, pops-up a screen showing how much mobile data a subscriber has used on a day-by-day, week-by-week or month-by-month basis. It also shows which apps on the phone are using data and allows users to block any or all of them.
There's also a new mobile payments app called "Tez" a well as Google Assistant, a voice-controlled virtual PA that accepts commands both in English and in Hindi. The lack of Hindi-language services and apps has, in the past, hindered the uptake of the mobile Internet in India and voice-controlled apps are very popular, so popular in fact that in India 28 per cent of Google searches and done by voice.
Email Newsletters
Stay up to date with the latest industry developments: sign up to receive TelecomTV's top news and videos plus exclusive subscriber-only content direct to your inbox – including our daily news briefing and weekly wrap.