Faulty VoLTE; dropped calls bring more bad news to LTE voice plans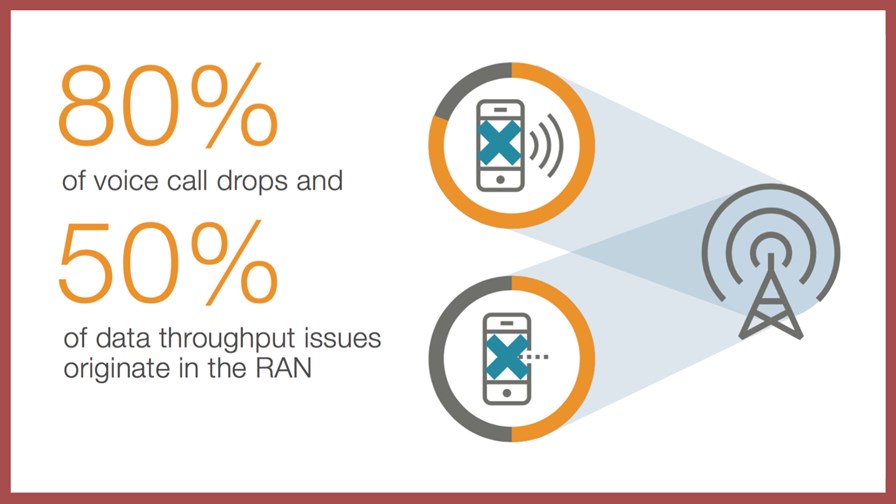 VoLTE call drops 4-5 times higher than calls over 2G or 3G
Six months or more to bring VoLTE call drops to within 20 per cent of 2G/3G
Only 5-15 per cent of mobile WiFi traffic can be attributed to WiFi offload
Network experience for roamers up to 25 per cent worse than for local users
Oh dear, is there ever going to be any good news for voice over LTE (VoLTE)? Technical problems, delays with implementation, roaming issues… and now we can add unacceptable levels of dropped calls to list of concerns over LTE's "problem child". At least according to BSS and OSS firm Amdocs, whose latest "State of the RAN" report claims that VoLTE call drops can be four to five times higher than calls on 2G or 3G networks.
Despite its problems, VoLTE is widely accepted as an important and strategic service for operators as it offers both OPEX and CAPEX reductions through the ability to repurpose 2G and 3G voice services. However, the new study suggests that the quality of experience VoLTE provides initially, post-deployment, can be less stable than the traditional voice service it replaces. The solution, says Amdocs, is for rather aggressive tuning by the operator. The company adds that in deployments, it can take over six months to bring VoLTE call drops to within 20 per cent of 2G/3G.
The research is based on analysis of more than 25 million voice and data connections from 80 different network operators around the world in the past 12 months. Amdocs says it highlights need for operators to optimise radio access networks (RAN) to contend with global doubling of demand for data, increased network complexity, increased demand for video viewing on mobile devices, and the initial instability of new services being introduced – VoLTE being a prime example.
"The research reinforces the sheer strain mobile networks are under," said Ann Hatchell, head of network marketing at Amdocs. "Service providers need to deliver a first-class network experience when and where it matters most. By leveraging the power of RAN software, service providers gain operational efficiencies and improved service agility with a centralised vendor-neutral approach. This allows them to optimise quality of experience, even under times of network congestion, and build better relationships with high value customers."
Network optimisation
As well as the dispiriting statistics on VoLTE, the research also highlighted the need for service providers to offload more traffic from cellular networks to WiFi networks, in order to realise greater cost and operational efficiencies. Currently, only 5 to 15 per cent of WiFi traffic going through mobile devices is able to be accurately described as WiFi offload. With Gartner predicting that the volume of mobile data usage is growing across the world at approximately 60 per cent year-on-year, Amdocs argues that more effort be made to facilitate RAN offload.
The report also revealed that 75 per cent of network traffic in cities is in-building – and during periods of network congestion, indoor users face up to a 25 per cent increase in network issues compared to outdoors users. The solution: better understanding of real-world patterns of demand, coverage and congestion, enabling operators to more effectively target network optimisation efforts at these problem areas to deliver a consistent, quality of network experience.
But the worst network experience is reserved for international roamers, despite the fact that they often generate higher revenues than a corresponding locally-based subscriber. The report suggests that their overall network experience can be up to 25 per cent worse than for local users. An obvious area for service providers to fix with optimisation work. And finally a rather unusual observation – we know that major sports and entertainment events create their own set of problems for service providers, but who knew that international roamers upload almost 50 per cent more data while at events than non-roamers? Well we do now, but we are still clueless as to why.
Evolution to 5G
Operators of multiple network technologies (2G, 3G and 4G) have a couple of options open to then to help reduce their management headaches. One is to adopt a software automation layer across these multiple technologies, and the other is to switch off one or more legacy networks – which requires a concerted effort to push voice and data traffic onto LTE. The latter approach holds the best promise, especially given the fact that 5G is now well and truly in everyone's sights, and consolidating networks will also lead to consolidation of staff and technical resources.
In the meantime, VoLTE rollout represents a viable target for operators already planning the longer-term evolution to 5G. However, as Amdocs' report concludes, "in the short term it generates significant risk around the core voice service as KPIs fall below those of existing offerings."
Email Newsletters
Stay up to date with the latest industry developments: sign up to receive TelecomTV's top news and videos plus exclusive subscriber-only content direct to your inbox – including our daily news briefing and weekly wrap.