Cisco predicts 292 exabytes of mobile data by 2019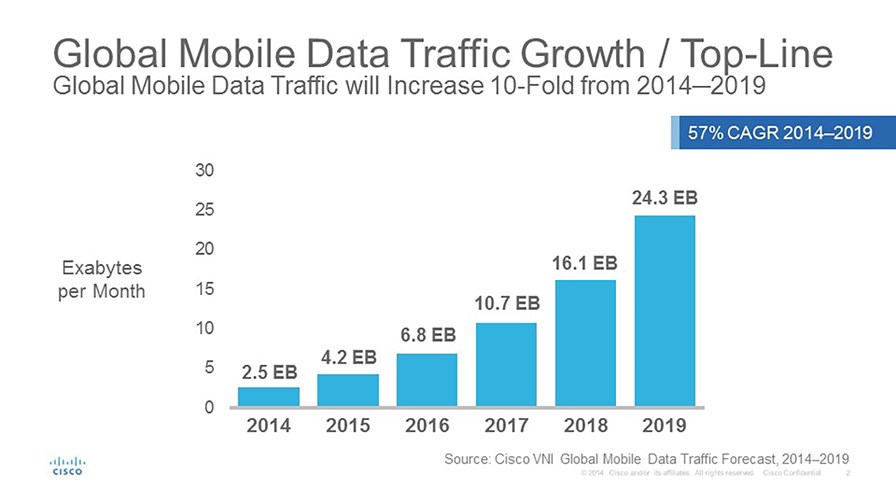 As the industry begins its manoeuvrings to define and standardise 5G technology, Cisco provides an extra incentive to move towards the next generation of mobile with the news that global mobile data traffic will experience a nearly ten-fold increase over the next five years. By 2019, annual traffic volumes should reach 292 exabytes (or 292 billion gigabytes), up from just 30 exabytes in 2014.
According to the latest annual update of its Visual Networking Index, Cisco predicts that as smartphones and M2M devices become more powerful, and as the use of 4G networks increases, so too will mobile data traffic. What's more, this traffic is getting "smarter" – last year, 88 per cent of global mobile data was "smart", with advanced computing and multimedia capabilities and a minimum of 3G connectivity, but that figure is expected to rise to 97 per cent by 2019, when 26 per cent of all global devices and connections will be 4G capable.
It also forecasts that 3G will surpass 2G as the most used cellular technology, based on connection share, by 2017. By 2019, 3G networks will support 44 per cent of global mobile devices and connections, with 4G networks supporting 26 per cent of connections (although 4G will generate 68 per cent of the total traffic).
"The on-going adoption of more powerful mobile devices and wider deployments of emerging M2M applications, combined with broader access to faster wireless networks, will be key contributors to significant mobile traffic growth in the coming years," said Doug Webster, VP of Service Provider Products and Solutions Marketing at Cisco. "This mobile-centric environment will give service providers a new landscape of challenges and opportunities to innovatively deliver a variety of mobile services and experiences to consumers and business users."
Over the next five years, Cisco believes the amount of mobile data traffic offloaded to Wi-Fi will increase from last year's 46 per cent to reach 54 per cent. Without offload, the report suggests that CAGR growth for global mobile data traffic would be significantly higher – 65 per cent instead of 57 per cent.
Cisco's latest study also includes an analysis of voice over Wi-Fi (VoWi-Fi), given that we are now starting to see carrier-grade VoWi-Fi services. By 2017, the study believes VoWi-Fi traffic will exceed VoLTE traffic, and that by 2019 VoWi-Fi minutes of use will account for 53 per cent of all mobile IP voice traffic, thanks mainly to the fact that by then the number of Wi-Fi-capable tablets and PCs will be nearly 3.5-times the number of cellular-capable tablets and PCs.
Cisco adds that mobile cloud traffic will grow nearly 11-fold from 2014 to reach for 21.8 exabytes per month by 2019, with cloud applications and services (such as video-heavy Netflix) accounting for 90 per cent of total mobile data traffic. In terms of regional growth, Asia-Pacific will dominate mobile data volumes, with an estimated 9.5 exabytes per month by 2019, far higher than second placed region North America with 3.8 exabytes per month.
Other nuggets of information from the report include that by 2019:
there will be 5.2 billion mobile users (69 per cent of the world's population)
there will be 11.5 billion mobile-ready devices and connections (8.3 billion personal devices and 3.2 billion M2M connections)
average global mobile network speeds will reach 4.0Mbit/s.
mobile video will represent 72 per cent of global mobile data traffic
there will be 578 million wearable devices globally
there will be 3 billion 4G connections globally
the average 4G connection will generate 5.5GB of mobile data traffic per month
The full report can be accessed here.
Email Newsletters
Stay up to date with the latest industry developments: sign up to receive TelecomTV's top news and videos plus exclusive subscriber-only content direct to your inbox – including our daily news briefing and weekly wrap.